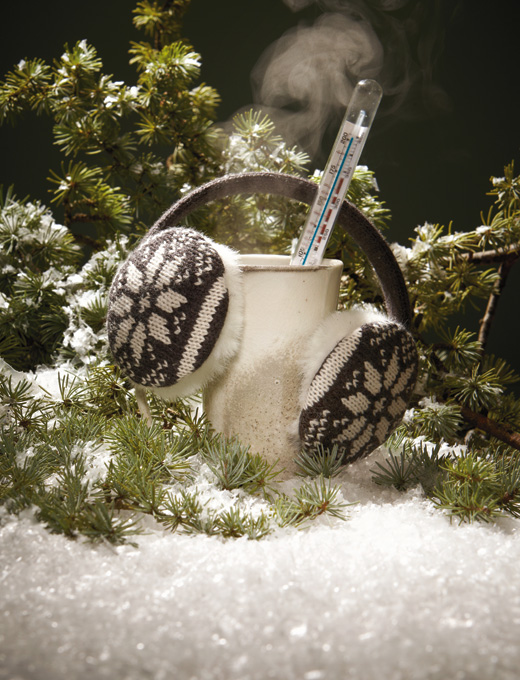 Saké: mercury rising
The Japanese rightly call this brewed rice "the drink of the gods."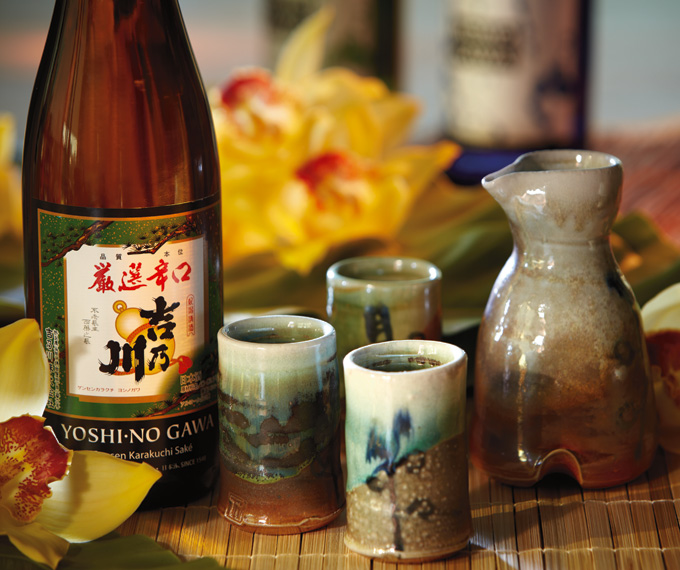 Yoshinogawa Gensen Karakuchi Saké, $20 for a 750-ml bottle. Four ceramic saké cups with pitcher by Terry Inokuma of Philomath, $60. All available in the SakéOne tasting room.
If you're accustomed to drinking saké at the same temperature as drip coffee, most likely you've been drinking lower-grade versions of the ubiquitous Japanese fermented rice beverage. That's because heat helps mask sharp flavors in lower-quality sakés. But in the past few years, some saké brewers have started making premium sakés designed to be served warm, says Dewey Weddington, vice president of marketing at SakéOne in Forest Grove (one of about 10 saké breweries in the U.S.).
He points out the dry Gensen Karakuchi saké from the Yoshinogawa Brewery. "When the brewer was here, he actually asked for this saké to be warmed for him," Weddington says.
Ask a knowledgeable saké purveyor for a recommendation, and plan to serve whatever variety you choose between 102 and 115 degrees Fahrenheit. Too much heat will destroy these delicate beverages. One way to ensure you don't scorch the saké is to place a ceramic saké pitcher, or tokkuri, filled with saké in a bowl of hot water before pouring the drink into the small matching cups.
Take your time. "A lot of Westerners look at these cups as shot glasses, but saké isn't vodka," Weddington says. "It's a brewed beverage. You should be sipping saké as you would beer or wine.
"These days, many aficionados are drinking saké out of white wine glasses (Riedel makes saké-specific glassware with and without stems), which make it easier to see color and cloudiness, and smell the nuances of the drink.
---
Chocolate: drink it down
Indulge in sinfully rich drinking chocolate.
A set of four cups, saucers and ceramic spoons; 1.1-pound bar of Felchin Grand Cru; and Hot Chocolat by Michael Turback, $50 for the gift pack. Available at Cacao Drink Chocolate.
Remember the first time you bit into a really good dark chocolate, the kind that made eating a Hershey's bar an exercise in choking down the bland and the waxy? Cross the same wonderful line with a cup of drinking chocolate, a thick, rich adult version that has little in common with the standard Swiss Miss with mini-marshmallows.
Drinking chocolate feels luscious and silky in the mouth, and is easy to make at home; it requires a few simple ingredients, a little patience and low heat. The secret to a good batch? "You have to use really good quality chocolate," says Aubrey Lindley, co-owner of Cacao Drink Chocolate, which has two locations in Portland. 
Cacao serves hot drinking chocolates, and the cafe's foundational chocolate drink is made with Swiss Felchin Grand Cru, what Lindley calls an accessible chocolate with notes of coffee, fruit and nuts (as opposed to say, hints of tobacco, mushroom or oak).
No matter what chocolate you choose to use at home, remember that the drink will be extraordinarily rich — a true quality over quantity experience. Pour the chocolate drink into small demitasse cups directly from the saucepan, and serve immediately.
Once you've mastered the basic recipe, don't be afraid to get creative. "You can go a million directions, from spices and cheese to bacon bits on top," Lindley says. "I've seen it all."
---
Cacao's Drinking Chocolate

(Adapted from Le Chocolat L'African recipe in the Hot Chocolate cookbook by Michael Turback)

Makes 2 demitasse servings

3⁄4 c whole milk

1⁄4 c heavy cream

4 oz Felchin Grand Cru, or other dark chocolate

In a saucepan combine milk and cream over medium heat until warm. Heat slowly with frequent stirring. Keep the temperature of the dairy below 170 degrees Fahrenheit to prevent the milk from caramelizing and scalding. Add the chocolate and remove from heat. Let the mixture sit for a minute or two, then stir until the chocolate is mostly melted. Return to burner to complete melting chocolate. Use a whisk to fully integrate, and scrape bottom of pan with a rubber spatula frequently. The finished drink should be completely smooth.

You can make the chocolate the night before. Reheat the mixture on the stovetop in a small pan over very low heat, as slowly as possible. Reheating should take 15-20 minutes total.

Serve immediately.

 
---
Hot tea: go your own way
Brewing a perfect cup of tea doesn't have to be a fussy affair. Just a little bit of care pays off in better taste.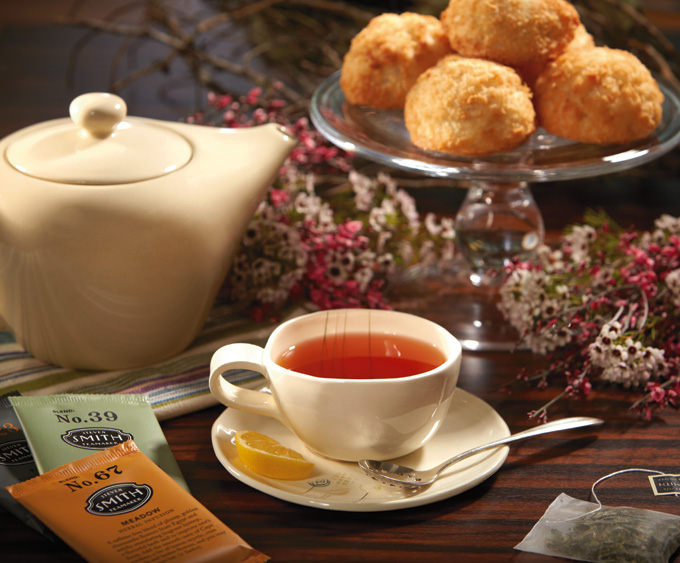 Cups and saucers, $36 per set, from Puji Studio, Portland; pujistudio.com. Available at Steven Smith Teamaker. Tokyo teapot byChantal.
Billions of people around the world start their days with steaming hot cups of tea. But imagine the Queen of England drinking a green tea powder drink prepared with a whisk, or Chinese president HuJintao pouring milk into his Earl Grey.
Tea is highly cultural, but that doesn't mean you have to follow any rules.Tea is a very customizable drink, says Claire Boyer, who works in the tearoom at Steven Smith Teamaker in Portland. "Drinking tea is about enjoyment," she says. "Find out how you like it."
Maybe you prefer your black teas strong, with a touch of bitterness. In that case you might steep the leaves with water right off the boil for more than five minutes, the recommended time at Smith Teas. For green and white teas, three minutes in 170-degree water is enough time to extract flavors from the more delicate tea leaves, but again, it's up to you.
Sachets and teabags are convenient ways to brew individual cups of tea, but in the tea room, Boyer always makes tea in a pot — even when using sachets — before pouring it into cups, even for a single serving. "It's how we upgrade the everyday experience to include a bit of ceremony," she says.