Whether you work out of a home office because your company encourages telecommuting or because you're newly self-employed, you need to think about form and function when it comes to an at-home workspace. Oregon Home asked a sound engineer, two interior designers and a home designer for advice on what works once you leave working in a cube.
[1. When It Comes To Wall Décor, Think Beyond The Taped-Up New Yorker Cartoon.]

Working from home, you have a lot more leeway in how you decorate your space. What you put on the walls and on the shelves can become an integral part of the design rather than just a way to relieve the monotony of cubicle partitions. "Your home office shouldn't look like a corporate cubicle," says Keith Abel, the owner of Keith R. Abel Residential Design in Lake Oswego, Ore.  "Be happy that you don't have to work in a cubicle and that in your office, you have the opportunity to express yourself. Working with a good designer can help bring out your personality. In my home office, I have a propeller in it and a guitar in the corner, and usually there's a tennis racket. If you've lived at all, you've collected things and had experiences and have some history, so mix in some of those things along with photographs of your family and your kids' art." 
[2. Do Some Sound  Reconnaissance Before Committing To The Location Of Your Home Office.]
Depending on your home's location, it may have peak noise times that may affect the room you will use for your office. "If you have a choice, sit in all of the possible rooms in which you can put your home office at various times of the day and determine which is the best for your needs," says Tobin Cooley, the president and the owner of Listen Acoustics in Portland. "You might end up picking a different space than the one you planned on."
 Once you've chosen the space, make sure to design it so that it also absorbs sound. "An office full of small, hard surfaces causes sound to move through the space in a way that can be fatiguing to your ears—and eventually to you," says Cooley. "Add some soft surfaces. Hang tapestries and add acoustical panels, which can help with sound in a room. They won't stop sound from coming into the room from outside, but they will improve your work environment."
[3. Use A Variety Of Soundproofing Solutions To Eliminate Nuisance Noise.]
While it would be nice to just close the door and block out the outside world to get down to work, it's rarely that simple. "A smart homeowner thinks about how sound gets into a house," says Cooley. "Pretend sound is water, and look for places sound can get inside your office. Find the weakest link in your home and concentrate on that.  If your house is next to something noisy, the biggest leaks can be windows and doors, so  you need good windows and door seals."
If you need help resolving your exterior noise issues, get professional assistance. "There's a science to the way sound moves, how it can be measured and how you can abate it," says Cooley. "An assessment based on a few hours of a sound engineer's time can give you a strategy that can pay a huge dividend in that it will keep you from wasting money on 'solutions' that don't work."
[4. Buy A Desk That Functions Well.]
Don't choose a desk just because you like its looks (think an old paneled door suspended over two sawhorses). Whether you're purchasing a vintage desk or paying twice your monthly mortgage for a new designer desk, make sure it fits your needs rather than an interior design fantasy. Think about the work you'll do on your desk and what you'll need to access, then plan the size and style accordingly.
"Ask yourself how you deal with paperwork, too," says Cecilia Kruse-Wright, the owner of Cecilia Kruse-Wright Antiques and Interior Design in Portland. "Are you a spreader? Do you make piles of paper on your desktop or do you consistently file things and just have a few working files? Do you need constant access to a computer? Once you've found a desk that might work, sit at it and make sure that the height and proportions feel right. If you have to hunch over your desk, you'll feel it in your body after the first day."
If you're a minimalist, don't select a desk so streamlined that there's no place to store a pencil. "At the very least, a desk should have a drawer for pens and other office supplies," says Julie Nordby, an interior designer and the owner of Nordby Design Studio in Portland. "If you want just a flat surface, then it's even more important to plan for storage such as putting shelves above the desk to store things you'll use while you're working."
[5. Learn Your Stcs.]
A sound transmission class (STC) is a rating of how well a building partition such
as a ceiling, wall, door, window or floor attenuates sound. If you're searching for products to reduce noise in your home, look for their STC rating. "A lot of manufacturers make claims about products reducing noise, but don't take them at face value," says Cooley. "Take windows: Just because a window has triple glazing doesn't mean that it'll be any more effective than a regular window in reducing noise. You have to find out a window's STC. A good STC for a window is 40. If a window doesn't have an STC, you should be concerned about its manufacturer's claims about it."
[6. Don't Go Crazy When It Comes To The Wall Color In Your New Home Office.]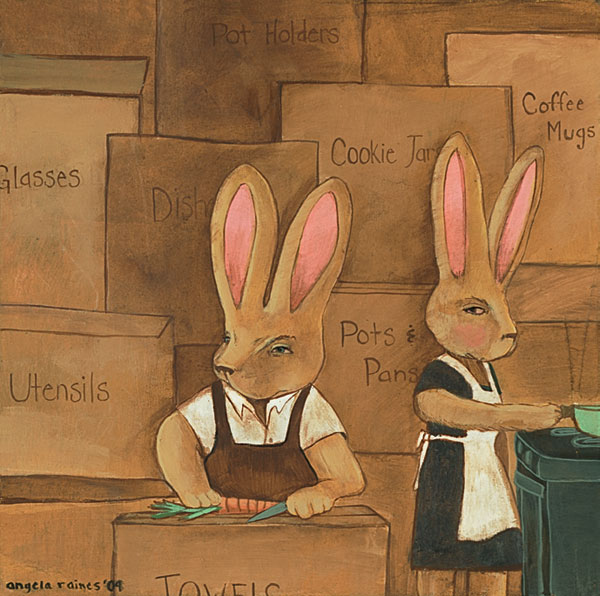 You're gonna work there, remember, so nix the boudoir-perfect lavender or the trendy-color-of-the-moment, Canary Yellow. Make sure the room is designed for work, not relaxation. "Keep the colors in your office light and bright," says Kruse-Wright. "You're in there to work, so keep the walls neutral, but in a warm tone."
[7. Add Noise To Decrease Noise.]
If you're working in silence, noises can be more distracting if there's no background for them to flow into. A white noise machine often alleviates exterior distractions. "It may seem paradoxical, but adding noise is often done in cubicle environments," says Cooley. "If you add a generic noise system such as pink or white noise at a low level, then sounds such as cars going by are somewhat absorbed into that and become less noticeable."
[8. Plan An Array Of Light Sources.]
"Natural light is a must," says Abel. "Otherwise, it can be depressing to work in a home office. My office is in the front corner of my house, so I get natural light from two sides. If your office is in a basement, you can do things such as increase the window wells and add light wells."
To complement the natural lighting, have a flexible lighting system to meet a variety of needs. "A great lighting plan is really important," says Nordby. "You often need task lighting when you're at a desk, but lighting needs change depending on what you're doing at a particular time. I like to use a track system because you can adjust the light as your needs change."
[9. Think About The Kind Of Work You'll Do In Your Home Office Before You Design Its Space.]
In a home office, space is a luxury, so you need to use the available space efficiently. "Ask yourself a lot of questions," says Nordby. "What are your specific needs? What work stations do you need? Does your computer area need to be separate from your administrative area? Do you need a meeting space for clients?"
Once you've answered those questions, you can plan the layout of the office and figure out what you need in it. "It's great to work from home, but it can be difficult to separate work from home, so your work space really needs to function as a work space," says Kruse-Wright. "I'm working out of a home office in the home of my business partner in a space that we designed to meet our needs, so it functions really well. We each have a desk, but a cabinet and project folders separate them. We also have a small library with design books that are crucial to our work and a small space to meet with clients."
[10. If You Must Share Your 'Office' With Your Family, Make Room For Them.]
While it would be nice to keep your home office off-limits from the rest of the members of your family, that's not always possible. If they'll be in or will be using your office, make sure they have their space. "One reason I wanted to have a home office was because I wanted to be a part of my family's life," says Abel. "If you're going to have a home office, learn to multitask and accept interruptions, although I do have hand gestures that let my family know when I'm busy. In my office, a closet serves as a computer area for my kids. They can be busy there, yet I can keep an eye on them while I work. When they're not in the room, I close off that space."
If your home office is too small to have a separate area for children or other family members who might need an occasional work space, furnish it with pieces that do double duty such as a U-shaped desk. "That will use as much of the room as possible and create some separate work areas," says Nordby.
[11. Don't Make Do With An Office Chair That's Ergonomically Unsound.]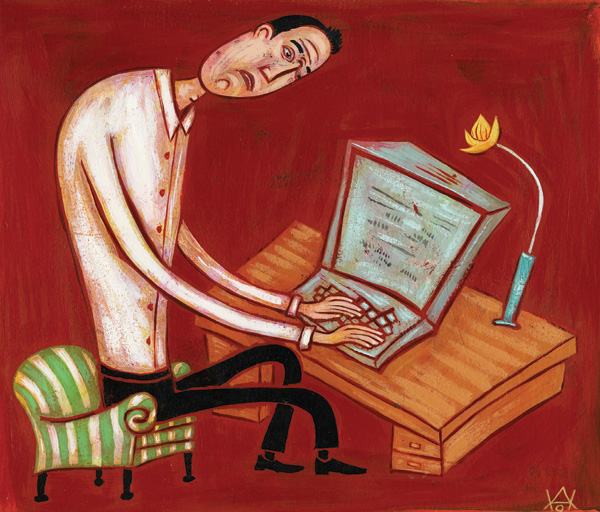 You may want the latest and greatest Herman Miller innovation, but if it's not comfortable when you test it, don't assume you'll get used to it or that you'll figure out a way to adapt it. "We all have different needs when it comes to chairs," says Nordby. "Sit in several, lean back, sit up straight and move around in it to see if it's really going to fit you. It's important that you're comfortable when you work."
[12. Analyzing Your Home's Flow Can Help Determine Which Rooms Are The Best Candidates For An Office Conversion.]
"When clients hire me to add on an office, I always suggest we first look at the layout of the home and see if they could use the space more efficiently," says Abel. "I like to look at the floorplans and ask people how they actually use rooms to find a space that could work for an office. Sometimes I can add built-ins to a former playroom or add a dormer to a room that wouldn't work for an office, and suddenly it can."
[13. Hire An Electrician To Wire A New Office Properly.]
There's nothing worse than looking for an outlet to charge your computer and realizing that the fax and printer are plugged into the only available one, but don't jury-rig getting more electrical power into a newly designated office space.  "Definitely beef up the electrical system," says Abel. "Make sure you have the outlets you need to run the equipment you'll be using. It's also a good idea to set up a separate circuit for your computer. If that's where most of your work and data will stored, you need to make sure it's protected."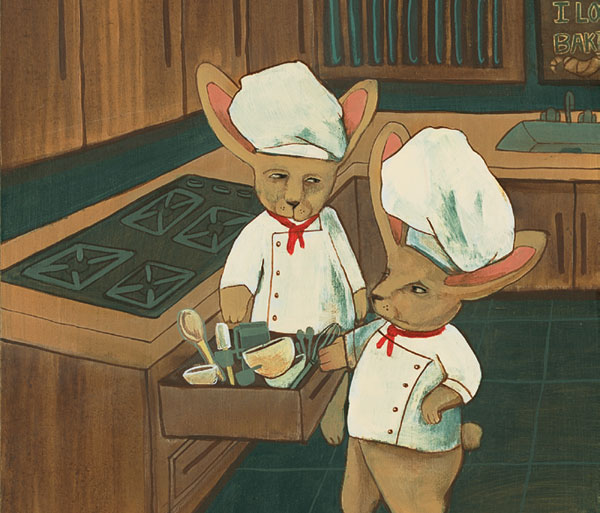 [14. Design A Good Supply Closet And Storage System.]
In a home office, storage and clutter control are key. "You can store documents in your computer or on a disk and try and go as paperless as possible, but for those things that you need in paper, make sure you have a place for them," says Kruse-Wright. "You can never have too many file drawers. You don't want to have to be jamming things in to make them fit.."
Maximize your wall space with vertical shelving. "Shelving is huge," says Nordby. "Whether you like boxes or baskets for storage, label them so you know what's in them and put the items you don't need regular access to on the upper shelves."
[15. Accept That Not Every Room In Your Home Will Make A Good Home Office.]
It can be tempting to turn your dining room table or kitchen island into office central during work hours. Don't! "Working in a heavily used room interferes with the functions that need to take place there," says Kruse-Wright. "You don't want  to not have people over because the dining room is covered in papers."