Third Thursdays at 2024 N. Argyle St. and surrounding area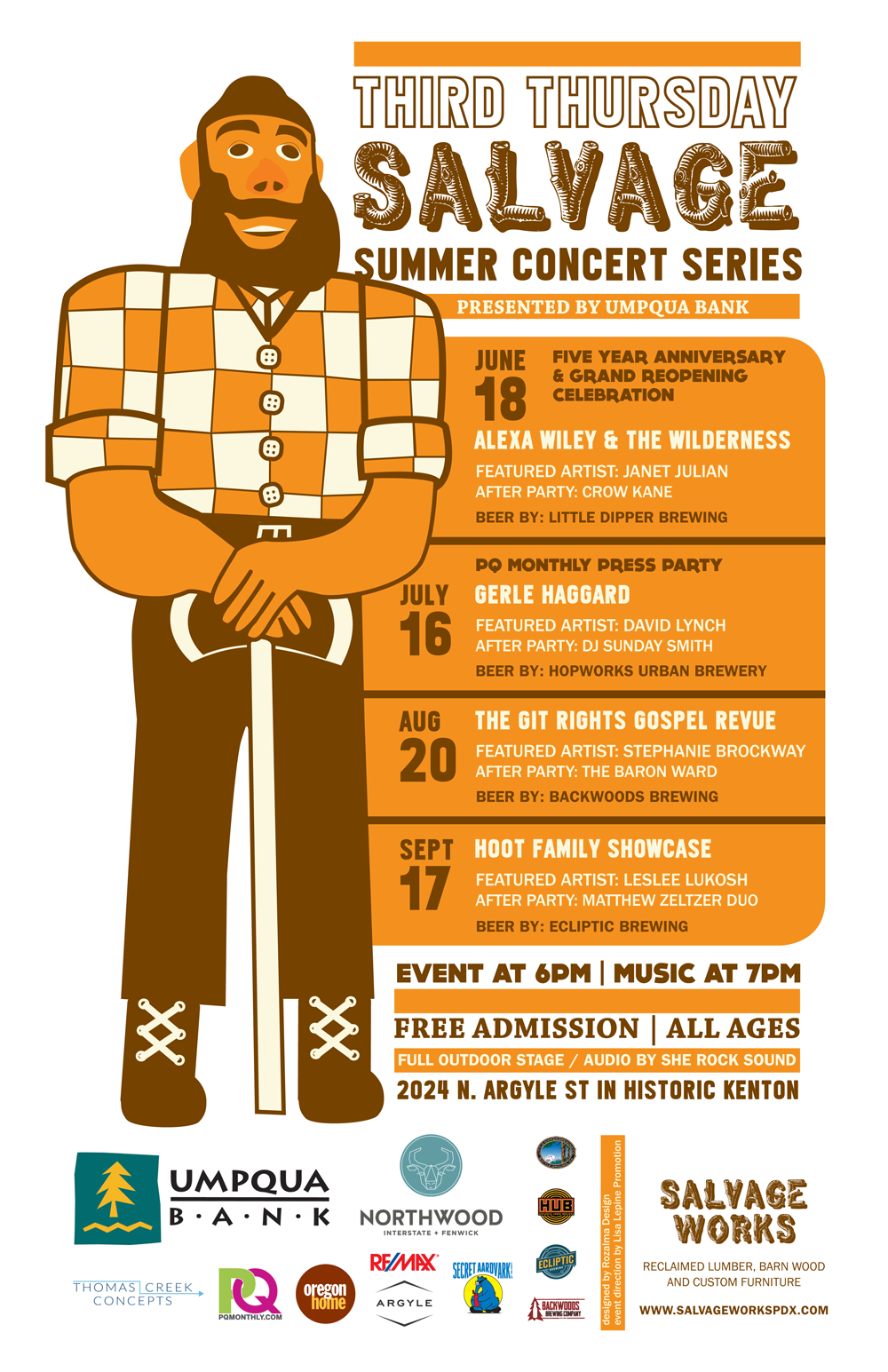 Oregon Home is happy to be a part of the Third Thursdays Summer Concert Series by Salvage Works in the North Portland's Kenton Neighborhood. We will be there with magazines, prizes and smiles while you stroll the neighborhood, listen to some jams and have a brew.
Salvage Works recently moved to a stunning 25,000 square foot warehouse complex. On June 18th Preston & Rachel Browning, the brother/sister proprietors, celebrate the grand opening of their new space, as well as five years in business. They also debut the first of four summer concerts held on their hand built courtyard stage as they expand their Third Thursday event.
Rachel says: "In the beginning we showcased art and then Preston added music to go with it. We have a real commitment to our local community. We provide a setting to see new art work, listen to great music and party with your neighbors. Always free and always fun – it's like an old time county fair…but in Kenton!"
This summer series becomes the biggest art and music summer series ever held in Historic Kenton. Designed by Lisa Lepine PROmotion Queen with audio support provided by Shira Otis of She Rock Sound, the event reunites the team behind the golden years of the Bite of Oregon, the Alberta Art Hop, and the Daisychain Music Fest (the largest female fronted event ever mounted in Oregon). They hope to make this a summer institution.
FEATURED MUSIC: Alexa Wiley & The Wilderness
Alexa is celebrating a new, highly acclaimed album produced by Gregg Williams (Wilco, Sheryl Crow). Paired with the Wilderness' instrumental virtuosity, her ensemble creates a superb sonic lyricism that might be described as wild metaphorical music that rocks.
The After Party act is the thrasher folk duo, Crow Kane.
FEATURED ARTIST: Janet Julian
Five years ago, Salvage Works' first gallery show featured scroll saw artist Janet Julian. Janet's whimsical folk art is accessible, but with sophistication that turns browsers into collectors. Janet incorporates ephemera and other treasures she unearths as she digs through Salvage Work's dollar bins. Her finds turn into mermaids, winged creatures and uncanny portraits.
FEATURED BREWERY: Little Dipper Brewing, Battle Ground, WA
This nano-brewery is located inside of Northwood Public House, and their beer is rarely available outside of the venue. The Guv'na, their small batch IPA, has a fruity complexity perfectly balanced with a clean bittering finish. Cheers!
ABOUT SALVAGE WORKS
The Salvage Works team sells wood from deconstructed barns and houses to folks who want a bit of authentic Northwest history in their homes, restaurants (Clive Common, Bollywood) and stores. TV and movie set dressers find their rustic motifs irresistible ("Wild," "Grimm") and The New Your Times and Country Living Magazine have featured the store in their publications. The highly skilled Salvage Works craftsmen also build furniture (for example, a gorgeous conference table for Pink Martini) in their on-site wood shop.