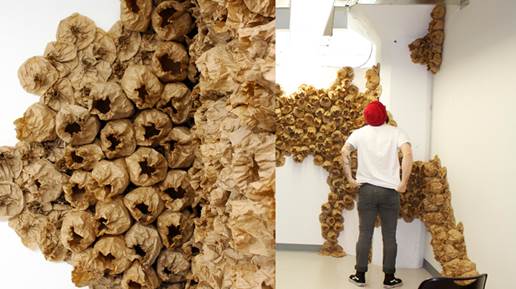 Portland, Oregon – Artist Jenna Reineking's upcoming installation in the lobby of the Portland Building, Temporal Ecologies, is designed to transform the architecture of the exhibition space into an activated environment; her choice of materials to accomplish this—the humble brown paper lunch bag: "I recently have become interested in creating systems using forms repeated in incremental units that can range from finite to infinite based on the constraints of the space."
The choice to use inexpensive, readily accessible materials allows the artist to create environments that ask the viewer to revalue the mundane. Reineking's process includes carefully manipulating or "sculpting" each bag and adhering them one by one to fit and transform the geometry of the Installation Space. She expects to use over 300 individual bags, "They will grow from the corners and utilize the walls, ceiling, and floor…and will be recycled upon completion of the exhibition." In the process the artist hopes to transcend the "thing-ness" of these simple, overlooked manufactured goods and create a new set of biomorphic forms—design elements that are reminiscent of nature and living organisms but do not aim to directly reproduce them.
The Portland Building is located at 1120 SW 5th Avenue and is open 8 am to 5 pm, Monday – Friday. Temporal Ecologies opens March 21st and runs through April 15th
.