One of the many enjoyable parts of our jobs here at Contract Furnishings Mart is the ability to keep a pulse on the trends happening in the industry. With so many interior designers and contractors in our showrooms every day, we have the unique opportunity to see what the area's talented professionals are designing and building today. We like to think of ourselves as counselors in flooring, cabinetry and countertops. We have all the tools available to help each person find the right selections for their project. And we are always happy to weigh in on specific products, as well as what is trending so we can help our customers make informed decisions. From the flow of the spaces to the specific products used we are excited to share some of these trends with you.
One trend we are continuing to see this year is the open plan layout and the use of hardwoods throughout the home to unify the design. Specifically we are seeing wider plank hardwoods with oil finishes, or an oil finished look. And everyone is looking for something unique, each job requires just the right look and with so many options in this category there is no typical solution or specific color that is trending. We are seeing the gray tones as more prevalent than they have been in past years, but a warm wood look is still a classic style that many homeowners prefer.
---
Another trend that is continuing to grow is the use of quartz countertops over granite or other natural stones. Granite is becoming a dated material due to the ease of maintenance and variety of designs available in quartz countertops. We are seeing the vast majority of countertop projects made out of quartz; it is a growing segment and we expect it to continue the upward momentum.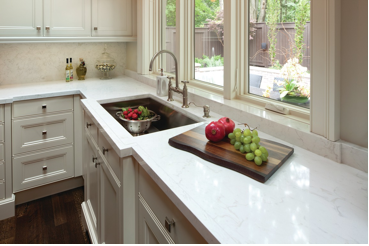 Torquay — Cambria Quartz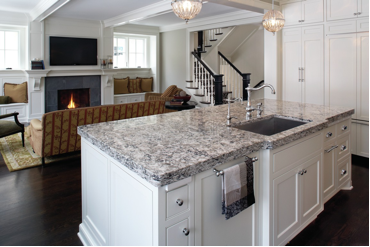 Bellingham — Cambria Quartz
A few hot trends in tile right now are vertical design accents, rectangular shapes are continuing to hold strong as a trend, large format and elongated subway tiles, and 3D sculpted tiles. With so many options available in tile, we are seeing these unique offerings stand out and catch the eye of both the consumer and the designer.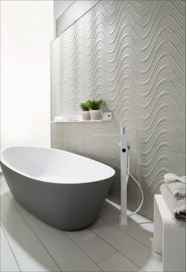 3D Sculpted Wall Tile — Porcelanosa Creta Gris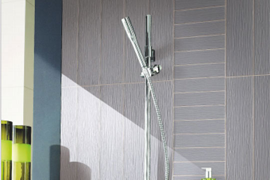 Elongated Glass Subway Tile with Vertical Accent — Pental Cascades
Sticking with kitchens and bathrooms, another trend we are seeing gain some ground this year is the integration of ADA accessibility in the bathrooms, including the curbless shower. With the baby boomer population getting ready for retirement, a lot of their remodel projects are looking to the future and including accessibility features now, or planning to have them easily added later. And the curbless shower is transcending age and design style, we are seeing them added to traditional and modern projects alike.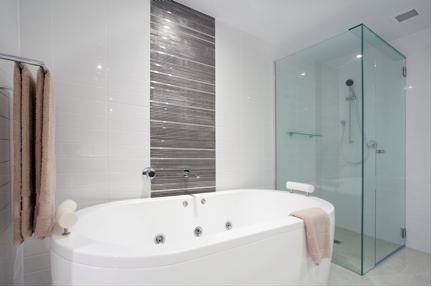 Curbless Shower with Elongated Subway Tile Walls
---
As far as overall design styles that are trending we are seeing that a transitional design style is king these days, with traditional and contemporary styles playing close seconds depending on the market. In our more urban showrooms, not surprisingly, we are helping provide the materials for projects that are more contemporary. While in our more suburban areas we see a bent towards traditional or transitional designs. But the one trend that we don't see going anywhere is the customization of each project. Everyone wants the opportunity to select materials which best suit them and their family; and the big box stores just don't have the variety and unique offerings that will work for the vast majority of the population. We live in an era with incredible ease of access to HGTV, Houzz.com, Pinterest, and many more sites that give customers the ability to design their dream home years before they start the actual construction process. Along with these dreams, comes a wonderful challenge to the professionals in our industry, find the materials to make it happen; well, that's where we come in. With 11 locations to serve our customers we are grateful to have the largest selection of floorcovering, cabinets, and countertops in the industry; and the experienced staff to help guide you through the process each time.
---
Contract Furnishings Mart is a family owned business that has been serving the flooring, cabinet and countertop needs of the Northwest since 1981.