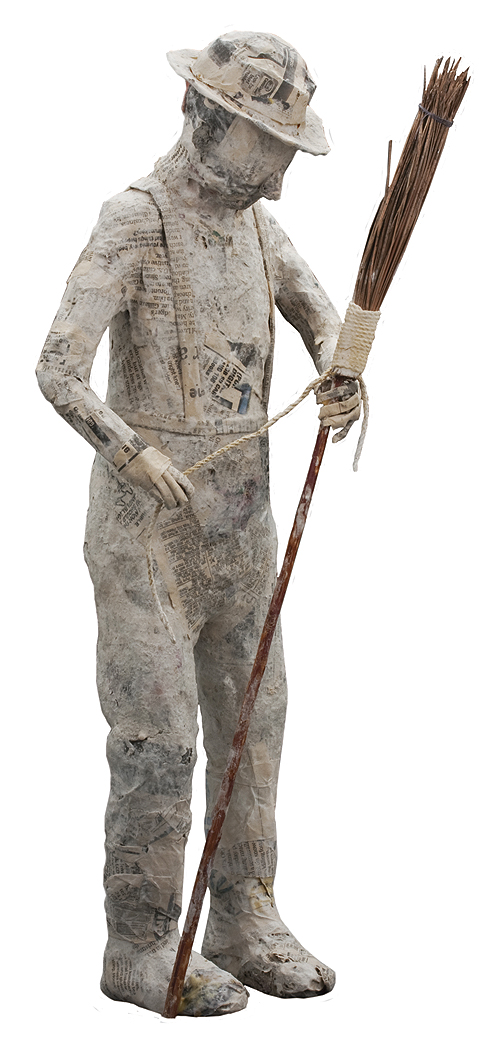 You see it every day: Passers-by hold up a cellphone and snap a digital shot of something they want to remember—a dress in a storefront window, a just-delivered plate at a spendy restaurant or a too-cute pug puppy. Then there's mixed-media artist Tom Prochaska. Relying only on his memory, he perfectly renders 20-inch-tall by 7-inch-wide papier-mâché figures that bring to life people he last cast his eyes on fortysomething years ago.
Take Switchbroom (left), a piece from the Portlander's recent show, "Brooms and Things." It depicts an Italian tree trimmer in the final stages of pruning street trees, a scene he happened upon when Prochaska, 66, was in his 20s. "I've always been drawn to people with brooms," says the Chicago native, who has an MFA in painting and print-making from Pratt Institute, a bachelor's degree in painting and art education from the University of Wisconsin, and a 23-year-long career teaching at the Pacific Northwest College of Art.
"When I was in my early 20s, I went to Europe for the first time and I had no idea whether things over there would be the same as they were in the U.S. I landed in Geneva, and everything was the same. Then I came across these Italian workers who'd just finished cutting suckers off of pollarded trees, and they were tying the suckers together to make a broom, and sweeping the sidewalk and street. That's when I thought, Okay, I'm not in the States anymore."
The scene simmered to the top of Prochaska's psyche a couple of years ago during a nostalgic time when he was thinking about simpler things and simple tools. Another fedora-wearing piece called At the Falls features a fisherman balancing a salmon-laden fishing net. There is a readable pride in his stance even though the papier-mâché prevents a see-every-muscle-and-ab technique. "It's a funny little game I play, when I work with papier-mâché," says Prochaska, who is best known as a printmaker (he co-founded the print-making studios Inkling Studios and Atelier Mars), plein air painter and glass artist. "There's no armature inside the figures. I wad up newspaper and shape the wads with paper tape, then slowly dry the piece in the oven for half an hour before I make more little tubes out of newspaper to make, say, an arm or a bent leg. Once I get something that looks like a human figure, the game continues as I try to get it to stand. A little bit of paper under each heel usually does the job." A protective acrylic topcoat and a couple of bay leaves inside the figure keep paper-eating weevils at bay.
"I like that my memories come forward and just pop up in my work," he says. "I'm working on a new black-and-white series and in one painting, a shape recently turned into a dead bull that I happened to come across when I was teaching a glass-making class in Scotland," he says. Switchbroom sold for $800. A similarly priced piece entitled Birth is still available.
Contact mixed-media artist Tom Prochaska via the gallery that represents him, Froelick Gallery (714 N.W. Davis St., 503-222-1142 or go to froelickgallery.com) in Portland.