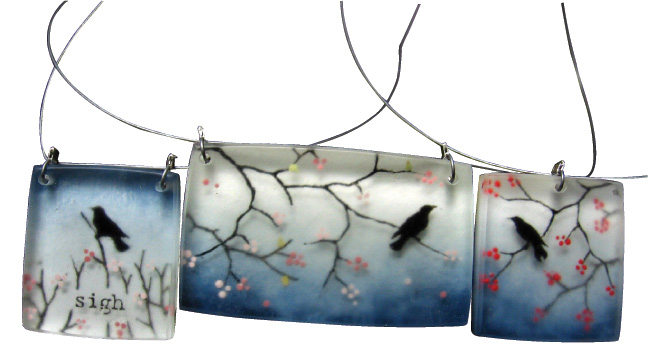 Faryn Davis started making jewelry three years ago by accident. "I was working on shaping a larger resin piece and an interesting sculptural bit came off," she says. "I put a hole in it and started wearing it as a necklace and people began asking me about it." Things she found while running around outside always fascinated Davis, who grew up on a farm in North Carolina. "When I was growing up, I always had a collection of things I'd picked up," she says. "I collected leaves and feathers and bones that I kept in small boxes. I think the idea of using natural elements in my art came from those childhood collections." 
  After graduating with a degree in art from the University of North Carolina in Asheville, N.C. in 2001, Davis moved to Seattle, where she lived until just a few months ago. Until her studio in the garage of her new Southeast Portland home is ready, she has been working in her house. "I'm doing resin in my guest room right now," she says. "I'm doing small batches, and it takes several days to do the resins."
  Davis' one-of-a-kind pendants are made from layers of natural resin that she hand-paints with toothpicks (above) or embeds with natural objects such as a Japanese maple leaf (right) that she's collected. "I found that maple leaf one day on the sidewalk," she says. "It's that beautiful red they get in autumn." After she completes a pendant, she smoothes it to a matte finish.
  Whether she's making jewelry, painting or sculpting, resin is her favorite material. "I love resin," she says. "It's an affordable medium, and you can dye it and cut it into shapes." Her pendants cost $60 to $150; each one-inch pendant hangs on a nylon-coated cable with a silver lobster claw clasp.
  Contact jewelry maker Faryn Davis via her website at fernworks.org. Her jewelry is available at Redux (811 E. Burnside, 503-231-7336) and Relish (433 N.W. 10th Ave., 503-227-3779) in Portland.