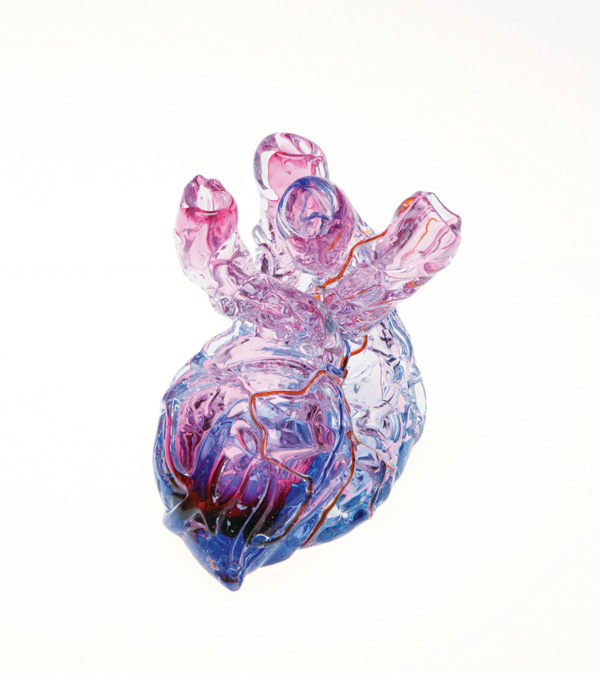 Water drops. Tree roots. Antlers. Soap bubbles. Everything from organisms to human organs serves as inspirations for glass artists Andi Kovel and Justin Parker, the partners behind the Portland-based esque studio. "Esque is a suffix—as in picturesque or burlesque," says Kovel. "We wanted a studio name that acknowledges that everything that surrounds us influences us."
Kovel, 37, who studied art at the University of Colorado and at the NYU School of Visual Arts, moved to Portland from Brooklyn in 2001. At a studio in a warehouse in an industrial area of North Portland, she and Parker, 33, together make their glass pieces—light fixtures, home accessories (think bottles, bowls and vases) and architectural details.
For the Jelly Drop Light (above), Kovel is the lead glassblower or gaffer. This 16-inch-tall opaline light fixture accentuates the properties of the light itself. The base of the glass is carved to sit on three points to allow the heat to escape, while the cord emerges out of a knot at the top. "The glass serves as a functional aspect to support the light fixture," says Kovel. "Usually, lighting design is conceived from the other direction."
A request for a glass heart for a cardiologist led to Anatomical Heart Vase, a 15-inch realistic representation of a human heart (right). Parker, who attended the Art Institute of San Francisco, is its gaffer. "I've seen other glass hearts, but I've never seen one so true to its real-life form," says Kovel. "This heart is a little gory, yet it's beautiful." The artists created 250 of the anatomically correct "organs," which they signed. When one sells, they donate a percentage of the proceeds to the American Heart Association.
At art school, Kovel planned to study sculpture, but glass intrigued her. "I like the immediacy and usefulness of the material," she says. "I can get an idea and create it in an hour. Recently,
I needed some pails for something I was working on, so instead of buying them, I just made them." Anatomical Heart Vase sells for $450; Jelly Drop Light costs $945.
Contact glass artists Andi Kovel and Justin Parker at 503-289-6392 or go to their website, esque-studio.com. Their glass can also be seen at Twist (30 N.W. 23rd Pl.; 503-224-0334) and Canoe (136 N.W. Alder St.; 503-889-8545) in Portland.