Thanks to my good friend Karinne, I was out shopping this past weekend in Lake Oswego. Did you know that Lake O has consignment shops? Oh yeah, baby, it does. Did you know that it rains in Oregon in June? Oh yeah, baby, it does that, too. Especially if you're walking around shopping.
First we went to The Clothes Closet on B Street. This store had a varied selection of clothes, shoes, and bags, plus new-with-tags workout clothes. I would say it's generally for more mature women, though there is a large selection of jeans.
Next up was New To You on A Street. This store is large. Really large, with a huge inventory. I spied Bottega and Prada shoes, a lovely Nicole Miller dress, an Herve Leger bandage dress (in pink). There were also racks and racks of hip, fun clothes. This is not Red Light or Buffalo Exchange; it has more of an upscale mall vibe. In other words, put it on your rotation. Variety is key when shopping for used clothing. And a well-stocked store with good prices needs to be on your hit list.
There is a third store in Lake O worth the trek: Consigning Women on McVey. While I have not been to the McVey store, I have been to their store in the Pearl, and if you're in Lake O, you should make sure to cruise this location.
Done with clothing, we went up to The Iron Gate Cottage on Boones Ferry. (This used to be Molehill Farm, for all those knitters out there.) The owner has antiques, reproductions, imported metal, and out back there is curated salvage. Gate pieces, parts of tools, ladders, totally my kind of thing. The ladders ranged in price from $35 to $75. (For ladder ideas, check out this Pinterest board. I really liked this store, and the proprietor, and will definitely be stopping by frequently to check for new old metal.
That was Saturday. Sunday was the Sunday Emporium, a collaboration between Portland Flea and Rejuvenation at the Rejuvenation store. This was the first event, and it will be held the last Sunday of each month through November. Truthfully, I had pretty low expectations given the inflated prices of flea market / salvage goods these days, but I was pleasantly surprised here. While the antique items were over-priced (IMHO), the work from local craftsmen was impressive and worth it.
Alert: these are my faves. As it's wedding season, check out the below links with wedding, Christmas, other holiday gifts in mind. Shopping local rules!
Mazama Pottery – the cups at this local potter were wonderfully sized. I particularly liked the short and fat cup for gin and tonic. (Actually, I just like gin and tonics, but this sweet cup makes it taste even better.)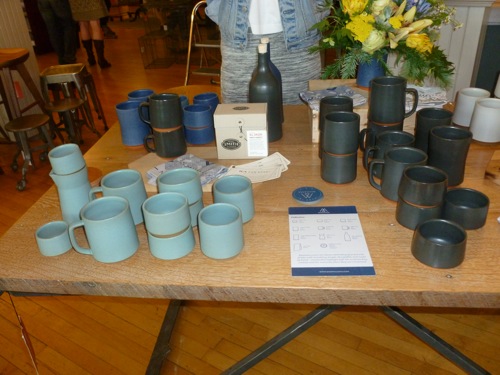 Kelly Pottery had a lovely medium size bowl – one of the most useful kitchen items ever. Their glazes were beautiful – understated, yet colorful. Another fantastic gift.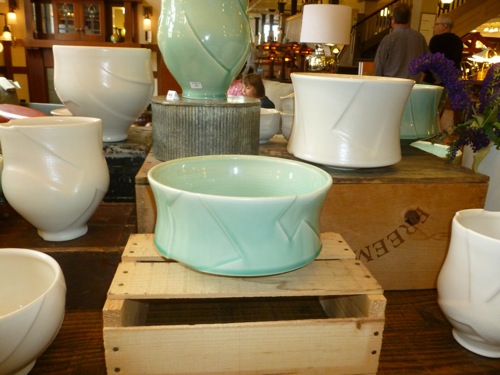 Nell and Mary textiles had beautiful napkins, linens, and pillows (with fill from recycled plastic bags – I prodded for more info on this great idea, of course). The blues currently in use by this duo are amazing.
Golden Rule provided the only item I could not live without on Sunday: this Mount Hood towel. It's topographical, and it came home with me. Love that towel.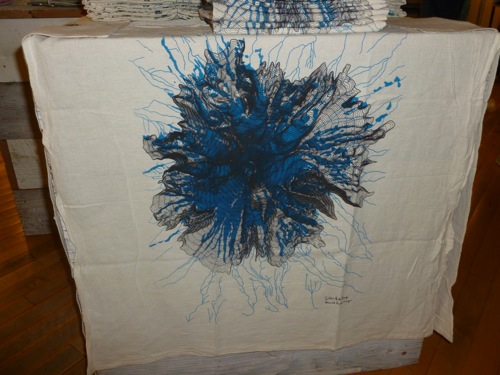 Wooden planters from Revolution Design House. This might have been one of my favorite finds of the entire weekend. I particularly like the boxcar in walnut with robin egg blue trim. These would look fantastic on any counter, coffee table, desk, or window sill, and at $62, why not by one for yourself and one for an upcoming wedding gift? Why not is right!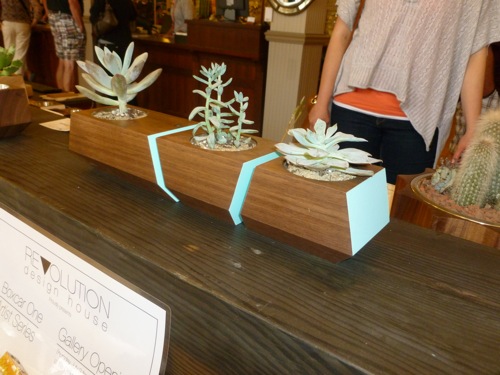 If you hear people preach about buying locally (like yours truly), these craftsmen create exactly what we're all talking about. Buying from local artists is good for the local economy, of course. It also means you're not buying packaged goods shipped from a factory overseas, doing god-knows-what to the environment. And, last but not least, you're buying something personal. Something unusual that you won't find at the mall. And that's really cool. Your gift recipients will appreciate this touch, too!