It was Wednesday. There were boatloads of carpenters in the house. I was miserable. What's a gal to do? Drink? Sure, but not very productive. Shop online? That activity belongs to another life, another gal, another mindset. Work? God no, never that. But the noise was insane, the dust was out of control, and I was about to be covered in plastic sheeting. Perhaps I would even suffocate. Something needed to be done.
Really, the best option was my favorite activity: salvage hunting. Is that a truism? Is my favorite activity always the best option? Perhaps, but that's too deep a philosophical — or semantic — discussion for today. Today's conversation is about escaping the house and searching for something unique. So I called a pal and off we went. (I felt like company and lunch with a friend. Lunch with a friend is one of the best remedies for just about any affliction, don't you think?) And now I have a shopping list for you. Whether you've been wanting to dip your toe in salvage, or you're already fully immersed in the joy of the old, here's a project list for you. Because you've been looking for another project. Obviously.
Our visual story begins at Grand Marketplace: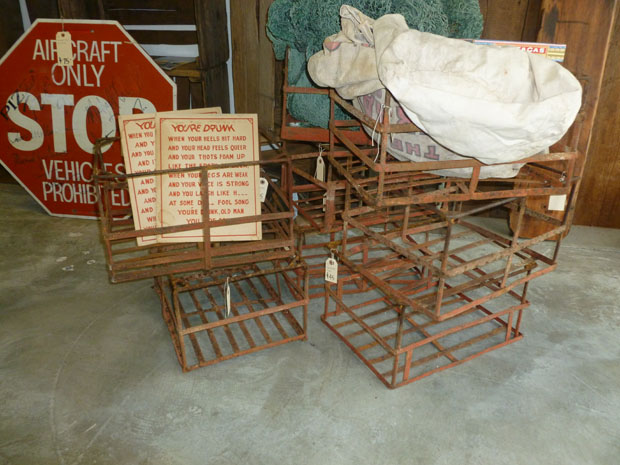 1. Check out the crates in the picture to the right. Have you been needing extra storage? Maybe in your bathroom or by your bed? Bolt these babies to the wall and you've got instant shelves for towels or books or art or whatever. Use them in the mud room (with or without casters) for off-season boots, hats, footballs. I once had a friend say to me: Why would I buy anything old and rusty and smelling like some other person's house when I can go to Bed Bath and Beyond and get something new? Oy. Where to start? First, these old crates smell like old metal, not a house. Old metal smells good. Are they dirty? Perhaps — so clean 'em. Now, visually compare them to a bland plastic shelving unit from Ikea. Which looks cooler in your mind's eye? The metal, of course.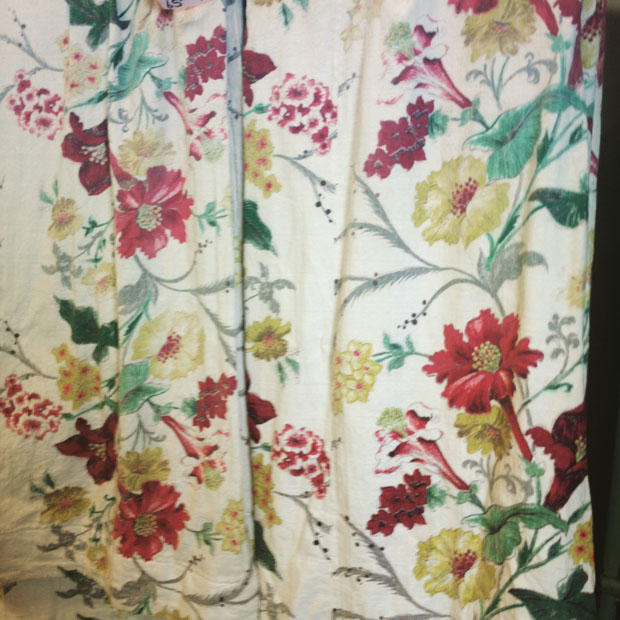 2. The picture to the left shows some old drapes. I am in love with this pattern (maybe I'm the only one?). If you love them, too, consider using these drapes as material for a variety of projects: A sofa cover, a set of cushions. Take off your ugly kitchen cabinet doors and make floral cabinet covers instead. Of course, you can always use them as drapes — inside or outside of the house. I love the idea of a pergola or gazebo, but I'm way to lazy to make an official one. I do, however, string drapes from the trees around my house with S-hooks for very informal shade. It's a good look.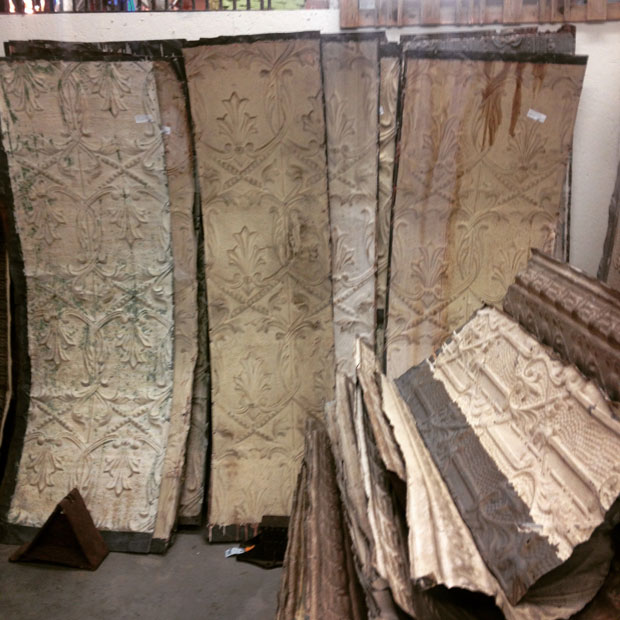 3. These tin tiles are a big find. They're ostensibly from an old building in California that once upon a time housed a brothel. Obviously they belong in the bedroom, maybe as an accent wall, on the ceiling, or as a headboard. Moving out of the bedroom, though, how about covering a bathroom with vintage tile? For a smaller project, frame an old mirror in salvaged tin.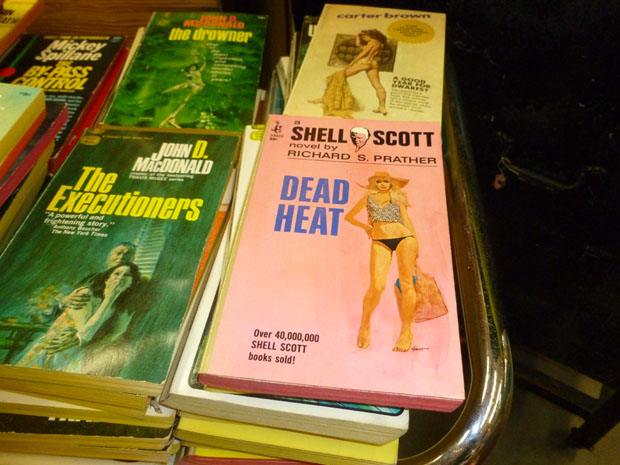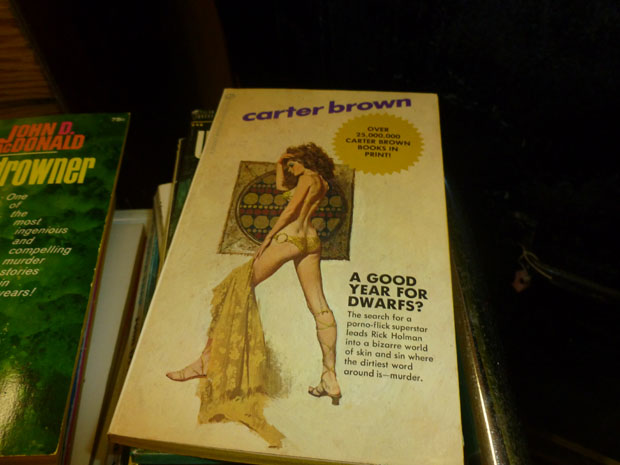 4. The books in the pictures above are my favorite finds of the day. These are pulp novels, the kind with under-dressed hot females and not-so-attractive middle-aged men on the cover. From the titles to the photos to the plot lines, these books are steamy, maybe offensive to some, and a lot of fun to many. My friend bought a small stack to use as décor in her reading room. Whether you frame them or strategically place them around the room, an old Mickey Spillane is a fun accent piece. I love the idea of leaving a stack of them in your guest bedroom for friends and relatives to enjoy. BTW – check out the bodies on those chicks on the covers! My niece would say these images perpetrate the Western European Body Image Myth. Agreed.
Next I made a rookie mistake. I went to check out the new Aurora Mills location on SE Salmon. I've been meaning to visit forever, so I hauled my friend over there. And they're not open on Wednesdays! For a (practically) professional shopper to make this mistake so many times is embarrassing. Check online or call first before arranging your route for the day.
Where did we go to lunch? Bollywood on SE Division. Yes, I go there A. LOT. However, I'm happy to report something new in neighborhood. Across from Ava Gene's (also on SE Division) is a new outpost of Adorn. Adorn sells new clothes — but not fast fashion. These are high quality clothes, some from west coast companies, that won't fall apart on you. They also carry jewelry from local artists.
Moving over to Monticello Antiques: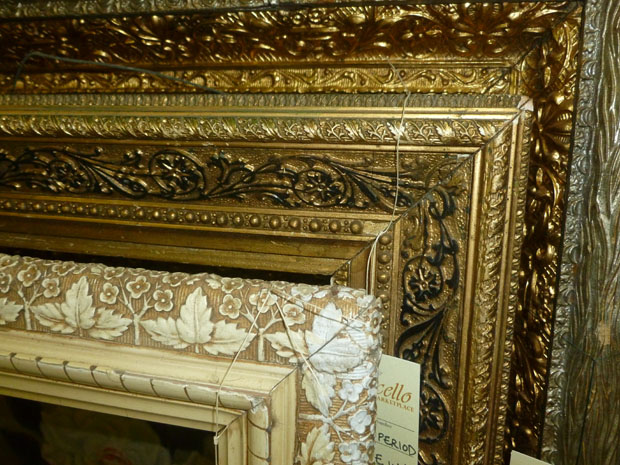 5. Old frames are one of the most overlooked finds out there, IMHO. A favorite use: Hang them on the wall,  empty and in patterns. Use them to showcase other fun items. How about incorporating them in to a freeform pattern? Other than that, no big finds at Monticello on this particular day. This is not unusual with salvage! Salvage searching is often not fruitful, which is awesome. It means you have to keep looking, and hit your favorite stores regularly. And Monticello is a favorite. One time I met a friend there on a Sunday morning. I was a bit hung over, and the café on the premises was cooking bacon for breakfast sandwiches. (Isn't the smell of bacon just the best? Even, or especially, when hungover.) Anyway, I had an egg sammy, felt better, and shopped for hours. So don't forget to stay hydrated and energized while shopping.
I know one of these struck a chord — even if it's just the bacon sandwich! The weather is good now, but it's going to get bad. You know it will. Pick a project, go shopping, and get supplies for your salvage creation. When it starts raining, you'll know what to do. Beautify. Modify. Nest.