One-of-a-kind merchandise, shopkeepers who still have the Chatty Cathy gene and a nice variety of restaurants (from pizza places to bistros) make Beaumont Village a good place to meet a friend for lunch and a boutique crawl.
Mother Nature's Floral Designer
Pussy willow baskets finished off with feathers. Twig furniture sized for fairies. Poppy pod thrones fit for a 4-inch-tall queen. Duck into BELLA FLORA (4439 N.E. Fremont St., 503-493-2330) and basketmaker and floral designer Elaine Falbo (right) will transport you to your girlhood. Remember those fantabulous days when your mom let you play dress up in her violet strapless prom dress and hand-sewed a pair of fairy wings to go with your tutu (girls age 3 to 90 buy Falbo's wings for $65)?
Buyers from New York City are among Falbo's fans. "Last year a woman from ABC Carpets bought 45 of my pussy willow baskets to display in the store's windows during the holidays," says the self-taught artist. "I'm into tactile beauty. I see beauty in things that other people don't. Like, I love vintage French flowers, so I make my own chenille flowers ($5) out of pipe cleaners, which I turn into headpieces. I collect my own moss, flowers, twigs and pussy willows for my projects, but I also go to estate sales to find things like vintage fabric flowers. I've paid $36 for a hat just to own one flower on it!"
Is this street big enough for two bellas?
Who knew eco-friendly products could be so luxe? At BELLA LULU'S (4323 N.E. Fremont St., 503-493-9522)—a bed, bath and home furnishings shop—we spotted 250-count twill bamboo sheets ($95 for a flat or a fitted queen-size sheet; $63 for two pillowcases) that would perfectly finish off your favoriite environmentalist's bed (one you really, really liked!). In the children's corner, a five-piece Sugarbooger baby dish set ($22) would make a sweet shower gift for a stylish little one.
Retro Haven is heaven for the bell-bottom set
Retro to mid-century are the eras that Astrid Guldenmann and Jim van Eaton focus on while procuring furnishings and accessories to resell at FLEA (4419 N.E. Fremont St., 503-282-0508). "Our specialty is, we don't specialize in just one thing," says Guldenmann. "Jim's into funky tools and stuff like this Wyatt Erp puzzle; I'm into retro lighting, pottery and jewelry." During a recent walk around the narrow shop, we wanted the Asian lotus chandelier ($95) with brass and glass petals, and the pair of 1970s lime-green bucket chairs ($200 for the pair) that were aglow in the window. Guldenmann, who could smell our desire for the swivelers, let us know that she was willing to wheel and deal if we were set on leaving with the chairs. "No, the price on the tag isn't firm," she says with a grin. "That's why the shop is called "Flea!'"
Four Paws up for eco-friendly dog supplies
The interior of GREEN DOG PET SUPPLY (4605 N.E. Fremont St., 503-528-1800 or greendogpetsupply.com) is your first clue that shop owners Christine and Mike Mallar live and breathe eco-living. The walls are fashioned out of reclaimed lumber. Old doors serve as new fronts on the cabinetry and as display stations for, say, leashes.
The product lines—all-natural dog shampoos, homeopathic remedies for cats and dogs, leashes out of retired mountain climbing rope ($18), dog beds made out of reclaimed soda bottles—are selected with the same green sensibility. "Christine and I really wanted Go Green to be our mission," says Mike.
Surprisingly, the Mallars are a dog-free couple. "We have one elderly kitty," says Mike, "but having this store is how we get our dog fix." He says the canines in the neighborhood—a mix of Labs, standard poodles, Bernese Mountain Dogs, Rhodesian Ridgebacks and good old mutts—are welcome to pad around on the store's concrete floor while their mistresses and masters browse the green goods.
Opposite a well-stocked corner filled with bags of cat and dog food, an old-fashioned scale marks the bulk biscuit station (left), where Peanut Butter, Cheese Hearts, Charcoal Peppermint and wheat-free Turkey Potato bones ($2.95 per pound) await being brown-bagged. Big Shrimpy dog beds ($109) will appeal to recyclers: The fleece-filled cushions are covered in a material made from reprocessed soda bottles. Striking Matt Warford pet portraits in oil are on display behind the counter (503-253-8035 or go to drawandpaint.com).
What gets the equivalent of a big  belly scratch from Mike's four-legged clientele? "These naturally shed deer antlers," he says, picking up one of the $14 treats. "Dogs love them and they're nature's own chew toy."
"May I suggest something in . . . hemp?"
Here's an unconventional way to name your shop: name it after the city in the 95-page fantastical story you wrote last year. That's what Joshua Brownstein (below) did when he launched LAYLAHMA (4759 N.E. Fremont St., 503-282-5731 or starstoearth.com), a boutique that sells bamboo and hemp clothes, and eco-friendly accessories and products. "Lola's Return is a fantasy about a crystal city named Laylahma on a planet to which cultures all over the universe take their high technology to live in peace and prosperity for thousands of years to come," he says.
Walking around Laylahma is like reading a few pages of Lola's Return. A bamboo floor simulates the color of the desert sand in the tale; walls are done in a desertlike clay-dyed paint. A sky-blue ceiling has "clouds" of hemp-silk fabric that billow through bamboo. Quartz crystals are scattered around the shop. "I wanted to connect my reality of living in Portland to the fantasy world I created," he says.
Mission accomplished. His selection of bamboo and hemp clothing—think Natural High Lifestyle beach pants ($65) and Ecolution bags ($39)—is spawned from technology that strikes him as futuristic.
"For machines to be able to turn a hemp plant or a bamboo stalk into a fiber is amazing," he says. "Hemp and bamboo are such gifts to the planet! Some people tell me that when they wear hemp or bamboo clothing, they feel as if they're not wearing anything."
Old + New = a SAVVY SELECTION
SAVVY (4120 N.E. Fremont St., 503-287-7114) stocks a fun mix of new and vintage goods. "I'd describe my look as Urban Vintage," says shop owner Lonnie Henry, who had a shop in Troutdale, Ore., for 8 years before relocating to the neighborhood. We found dresser-perfect small glass knobs ($3), a vintage faux-ruby brooch shaped like a rooster ($42) and this 1950s Nunez original ($75) that would look smashing behind a wet bar in a 1950s ranch.
gifts with 'tude
If you're looking for a gift for a slightly twisted co-worker, you'll find the perfect thing at WHEN PIGS FLY
(4605 N.E. Fremont St., #104., 503-282-7447 or whenpigsflypdx.com). "This is a gift shop," says Mark Bergal, a former actor, who owns the shop with school counselor Johnathon Guerra, "but it's more of a Museum of the Unexpected."
And how! Take Trailer Trash Talkin' Turleen ($33). "She's the opposite of Barbie," says Bergal of the 12-inch tall, pull-a-string-to-make-her-talk doll. "She says stuff like, ÔI'm not lyin' thru my tooth!' I've had to reorder her and her brother—JerWayne Junior—twice."
Other best-selling items include a coffin-shaped purse ($25), a Safe Sex handbag made of 16 condoms per side ($33), gnome-o-bilia ("Gnome stuff is always popular," says Bergal holding up a $10 mug decorated with a gnome on its side), a French Pylones cheese grater shaped like a peplum-shirted woman wearing a metal-eyelet skirt ($24), and toilet paper imprinted with G.W. Bush's image ($10).
"I've got people who come in and buy rolls of that toilet paper in bulk," he says.
Food & Finds
Pop into what you assume is just a grocery store—BEAUMONT MARKET (4130 N.E. Fremont St., 503-284-3032 or beaumontmarket.com)—and you just might emerge with a whimsical three-story birdhouse or a new pair of Home Chic Home dishwashing gloves ($9) that look as if some Suzie Homemaker whipped them up in the '50s: Each red latex glove has a sweet 5-inch ruffle of white at the cuff.
Owner Donna Nelson stocks the kind of store that you might see in a small town in the middle of nowhere, if you're lucky, where aisles of food and beverages are made better by, say, topping the dairy cases with merchandise that you typically see at a yard and garden store (the birdhouses), a home accessories shop (wire votive holders, $5 each) or a toy store (Retro rocket, $29).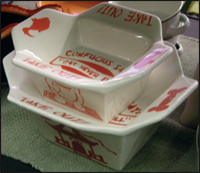 We laughed at the white-and-red ceramic bowls (left) for cat and dog food that are shaped like open Chinese food take-out cartons and that have CONFUCIUS SAY, "CAT NEVER FULL" or CONFUCIUS SAY, "DOG NEVER FULL" in the bottom of the dish ($12 for the cat dish; $15 for the dog's).
Beyond the shelves filled with a nice selection of wine bottles and stemware is a self-serve frozen yogurt stand from which you can dispense Yo Cream frozen yogurt  (99 cents per cone). Just heed the sign that gives your maximum cone height: 3 inches.
Goods for Baby or bride—or you!
Setting foot in THE ARRANGEMENT (4210 N.E. Fremont St., 503-287-4440), you'd never guess that the multi-room building was built in the 1920s as a Mobil gas station. "When we bought it in 1983, it still had the gas pumps," says Sue Mautz, the store's owner.
A whole-building remodel later, The Arrangement sells home decor items such as The Bamboo Collection from Circa Asia in Vietnam ($89 for a 4-piece salad bowl), baby gear such as the Daily Tea line of 100 percent cotton clothing (prices range from $7 to $24), accessories such as the Baggalini cargo bag ($98) that Portland-based flight attendants make, and paper goods such as wrapping paper, gift bags, stationery and notecards. "That's where the bays were to repair cars when this was a gas station," says Mautz, pointing to the racks of well-designed wrapping papers and cards. 
Modern and retro enameled-fused-glass plates, bowls, platters and trays by Peggy Karr Glass Inc. are big. We liked the standing-at-attention poppies in Flores (above), as a 13-inch triangular plate ($65). "A lot of young people have white dishes, so Peggy Karr's designs—which are microwave- and dishwasher- safe—really accent their table," she says.
Magical Sewing
If sewing projects you once couldn't wait to get to—turning that orange silk you bought in China into curtains for the living room, slip-covering that 1940s chair you rescued from Goodwill for $5 in that sumptuous $25-a-yard chenille you've stashed in a plastic bin under your bed—have become two more things on your TO DO list, it's time to consider hiring a professional like Nancy Gilpin, the woman who specializes in "fine sewing for interiors" as NIP & TUCK (4427 N.E. Fremont St., 503-281-1781).
"My older sister taught me to sew when I was in fourth grade and I've been making my own clothes since I was 11," she says. "Now I've been doing this for a living for 18 years."
Gilpin tackles bedding, slipcovers ("An average sofa costs about $475," she says), curtains, pillows and cushions. So which color seems especially hot to this design-forward seamstress? "Blue is coming back—finally," she says.