A MODERN MIX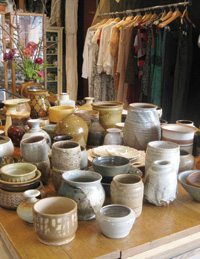 Who says you can't go home again? Meet Elizabeth Daniels, the creative force behind EASE (4823 S.E. Division St., 503-516-0335 or e-mail [email protected]), a new gallery-like home accessories shop filled with finds from Goodwill to the studios of local painters and furnituremakers. "I've been within a 10-block area my whole life," says the thirty-something proprietress, who retired from the U.S. Fish and Wildlife Service after spending 15 years in its human resources department.
Look for furnituremaker Lawrence Newman's bamboo cabinet with a sunflower seed and shell top, a vintage desk hand-painted by Lily Fisher in a chinoiseri style ($398) and mixed-media on wood canvases by Barbara Jones Griggs ($415). If you've got an angst-ridden teenager to buy for, the insect-encased necklaces are pieces infused with Morticia Addams cool.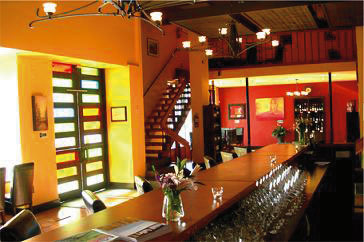 FIT TO BE TIED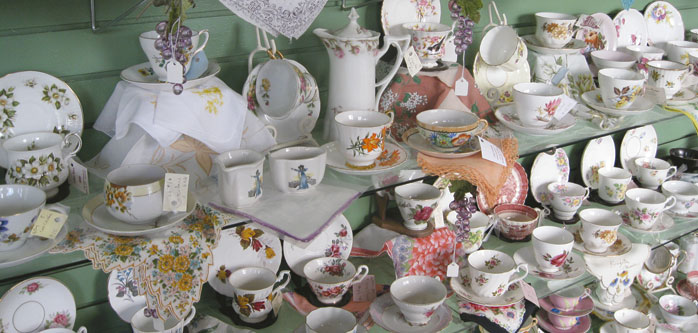 Who hasn't fingered a $150 bracelet of beads and thought: I could do that? If you want to learn the ins and outs of beading, head for a class at BEADS AT DUSTI CREEK (4848 S.E. Division St., 503-235-4800 or go to beadsatdusticreek.com), a shop that sells new, vintage and antique beads, including finished pieces such as this vintage Czechoslovakian necklace ($112.50). Vials are filled with TOHO seed beads ($3.30 for a tube) and small bowls hold such gems as pale periwinkle Lace Agate ($8.45). Small ribbon bags ($16 for 30 5- by 8-inch bags) for presenting the perfect stocking stuffer are here, too.
"How many beads are in the shop?" repeats Dusti Dickman, who owns the shop with her husband, Eric. "I have 130,000 inventory items, but just beads . . . probably a bazillion!"
THE BOOKS STACK HERE!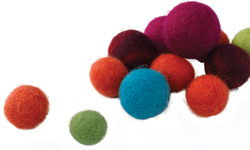 A lifelong love for books opened up a new chapter for Jon Hagen after he tired of making a living as a contractor. LONGFELLOW'S BOOKS & PERIODICALS (1401 S.E. Division St., 503-239-5222 or e-mail [email protected]) is the result of the career switch. "I was a booklover as a kid, and when I was a contractor, I looked at bookselling in a dreamy way," he says. "The Internet, however, has been a salvation for booksellers. Two-thirds of the shop's sales come via the Internet." Still this is the kind of used bookstore you want to peruse the stacks of if you're looking for gifts such as vintage Pogo titles ($8.50 to $25). Not a Pogo lover? No problem. Hagen has some 39,997 other books for you to consider.
LET LARRY LIGHT UP YOUR LIFE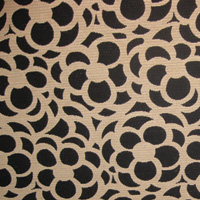 The next time you plug in a lamp at your favorite antiques store and the bulb fails to illuminate, don't automatically pass on the fixture: Pass the electrical problem on to Lawrence Jackson (pictured), the owner of LARRY'S LIGHTING REPAIR (3302 S.E. Division St., 503-238-1714), whose work, well, electrifies him. "I do everything from $12 jobs to the rebuilding of an 18,000-crystal chandelier that cost $22,500," he says. He's been in business for himself for the last 8 1/2 years, after stints at the Lighting Specialists and doing electrical work on Pullman cars.
"The workload gets ugly in the fall," he says. "I get about a six-week backlog when it starts to get dark at 4:30 p.m. People call me and say they just realized they can't see anything because their chandelier doesn't work. Or I get phone calls from a woman in a panic saying, 'Oh, no! It's my year to host Thanksgiving and four of the lightbulbs in the fixture over the dining room table are out!' I'm kind of like the 'Click and Clack' guys, but with lights, not cars. I just need a Click to my Clack."
GLORIOUS GLASS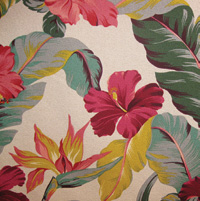 If you've never had an "Halleluja!" moment, step into the showroom at DAVID SCHLICKER STAINED GLASS STUDIO (4310 S.E. Division St., 503-231-0086 or go to davidschlicker.com), where a display of restored 100-year-old, stained-glass windows from churches—and new commissions such as this study of lilies (pictured)—will just about bring you to your knees. Or at least to within inches of the framed pieces so you can admire each beam of light as it passes through a different jewel-toned pane of glass.
"I'm a packrat so I've packed a lot in here," says David Schlicker, the artist behind these stained-glass creations. In the studio, which takes up 75 percent of the building, you see his female assistants ("Oh, they're tough!" he says) piecing together panes of glass with the dexterity of quiltmakers. They transport their fragile loads to different work stations atop old hospital gurneys until each glass "patient" is either pieced together for the first time—or restored.