THE LEFT BANK, WINE COUNTRY STYLE

With its architectural dressing rooms, artful displays and chandeliers, MES AMIES (522 N.E. Third St., 503-474-1721) boutique wouldn't be out of place in Paris. But, since it's in wine country, it has a local twist. Housed in a former tavern, sisters and co-owners Naomi Rubottom and Shanna Dixon (pictured) incorporated the original bar, giving the clothing shop a unique sensibility. "We've made it a social space that makes people welcome when they come in," says Rubottom. "We offer lattes and wine to our customers. People hang out at the bar and eat their lunch."
There are so many eye-catching wearables cleverly laid out on tables, in old display cases and in old trunks that you'll want to leave with the entire inventory! Popular lines include Arianne Lingerie ($55 for a sapphire-blue velvet tank), Eileen Fisher, Prairie Underground, Dick and Jayne ($141 for the ochre wrap sweater Rubottom is wearing) and Johnny Was ($174 for the embroidered tunic that Dixon has on). Some of the sisters' best items are found in the jewelry cases, which include necklaces and earrings from vintage metal designs by Alkemie or sterling silver and bronze necklaces made from old wax seals ($90 to $160) by Pyrrha. "Naomi and I used to talk about owing a shop like Mes Amies, and then a few years ago the previous owner made us an offer," says Dixon. "I love owning it. Sometimes, it feels like so much of my life has happened here on Third St."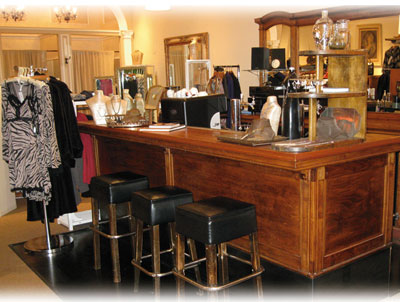 STYLISH HOME COMFORTS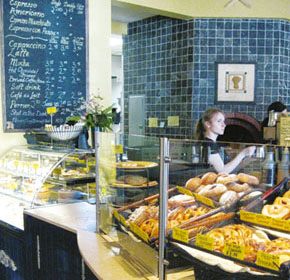 If you dream of turning your home into a space where can pull off that difficult trick of being luxurious and understated at the same time, LA BELLA CASA (406 N.E. Third St., 503-435-2313) is the place for glorious goods. Owner Rhonda Feero started the store eight years ago in a small vintage house and has since expanded to a 3,500-square-foot space downtown. "I like to have nice things and a variety of things," says Feero. "Your home is your refuge and you want to have accessories in it that enrich your life. I like my store to be a place where you can relax and come in and browse to get ideas."
A wall by the cash register displays Sid Dickens' intriguing, beautiful hand-poured and hand-painted plaster tiles ($78 each). Sugarboo handmade photo box frames ($260) add style to traditional snapshots. Deck out your bedroom with a 4-foot by 5-foot rusticcurved mirror ($575) and sink into a comfortable bed with a matelasse cover ($250) by Peacock Alley. Up the romance factor with tall antique brass candlesticks ($38 to $52) and you'll have a room you'll never want to leave!
BY THE NUMBERS
May we suggest: Park your car on N.E. Third St. or one of the adjoining cross streets. (The parking is free!). The five-block stretch of Third St. just off Baker St., between Cowls St. and Ford St., is jam-packed with all sorts of shops in charming turn-of-thecentury buildings. Pick your favorite from our lineup as your place to start your shopping stroll!
1) 313 N.E. THIRD ST.–HONEST CHOCOLATES. Chocolatier Dana Dooley creates fresh, handmade, hand-dipped chocolates. Her specialty is chocolates for wine-tasting. You'll want a box to take home!
2) 326 N.E. DAVIS ST.–NW A WINE BAR. Try a Northwest wine with a bite to eat in this sophisticated, yet casual tasting room.
3) 406 N.E. THIRD ST.–LA BELLA CASA. In the market for candles or oversized mirrors? This home furnishings shop will have what you're looking for–and what you didn't know you were!
4) 421 N.E. THIRD ST.–PACIFIC FRAME AND GALLERY. If you've got something odd you'd like hanging on your wall, take it here for a standout custom frame.
5) 448 N.E. THIRD ST., SUITE A–COWGIRL MERCANTILE. Owners Lindsay Enos and Jean Peterson have put together a great selection of Western-themed clothes, accessories and housewares.
6) 448 N.E. THIRD ST.–ACCOLADES GALLERY. Showcasing local art, the gallery also shares space with a tearoom and offers classes in art, writing and cooking.
7) 522 N.E. THIRD ST.–MES AMIES. This French-inspired boutique offers free lattes and wine along with its fabulous selection of women's clothing, jewelry and accessories.
8) 532 N.E. THIRD ST.–CURRENTS GALLERY. This artists' co-op has a constantly changing display of works by local artists, many of whom also work in the shop.
9) 546 N.E. THIRD ST.–MCMINNVILLE ART AND WINE GALLERY. Collect china? Well, this store has great finds, ranging from commemorative plates to teacups plus a fun display of cookie jars!
10) 585 N.E. THIRD ST.–WINE COUNTRY KITCHEN. Find wine accessories, pots and pans, colorful colanders and much more in this kitchen haven.