Hey, Frugal One! When your staycations become too boring to adhere to, gas up and get away to Astoria, "The Little San Francisco of the Northwest." The oldest American city west of the Mississippi—it was founded in 1811—the town was once the Salmon Capital of the World. These days, it feels as if gentrification is just around the bend, so get there while the funky and the refined still stand side by side.
From The Himalayas To Oregon's North Coast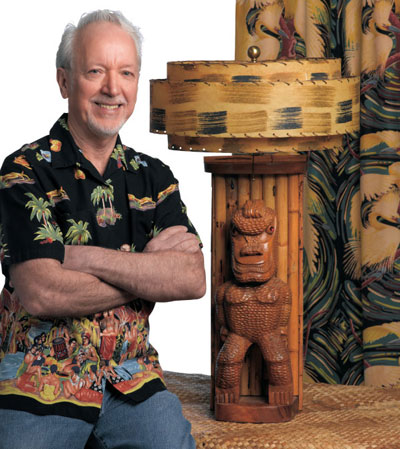 Walk toward the Columbia River for a fun mix of Fair Trade products that celebrate the artistry of the Himalayas. When 11th St. meets the river, you'll see PIER 11 BOUTIQUE (77 11th St., Suite B, 503-338-3831 or go to pier11boutique.com ), where co-owners Cathy Carter (above) and her son Jerome Moreno, showcase their finds from afar, many of which Carter designs and sells under the Lei Lotus and Mt. Everest Valley Gear Wear labels to some 400 stores nationwide. Look for wool felt hats ($38), cotton tie-dyed jackets with hand-carved water buffalo bone buttons embellished with a lotus ($50), throws woven from recycled silk yarn ($89), passport bags ($12 for a 6-by-8-inch bag) and pendants, rings and bracelets handcrafted from reclaimed singing bowls, which are Himalayan musical instruments.
"I was designing my own clothes when I was 17, then I started sewing clothes for other people," says Carter, who spent 30 years working for a large Los Angeles-based retailer before launching her own boutique. "Now I go to Nepal twice a year to work with my vendors, many of whom have become friends. See this picture? That's Puja; she's the one who made that bag over there."
Carter also animates her shop with imported novelties such as hand-painted papier-mache purses ($12) and felted-wool animal slippers ($15) and baby booties adorned with felted ears, tails and thread faces. We loved this wee pair of turquoise puppies for our favorite newborn. (Wait. Are they mice? Eeek!) 

Seadog City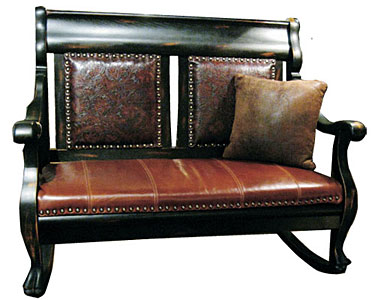 If you've got your heart set on a nautical theme for the Man Cave you're finishing off, sail in to PHOG BOUNDER'S ANTIQUE MALL (892 Marine Dr., 503-338-0101 or go to phogbounders.mosaicglobe.com ), where you'll find a motherload of maritime antiques such as this oversized sampler of more than 60 knots ($275) on quartersawn plywood, a 1920s half-model of the S.S. Preston ($3,850), hand-carved cork decoys ($100) and Japanese fishing floats ($8 each) found off of the Alaskan coast. Clock aficionados will like the metronome-like ticktock, ticktock in the NOW'S THE TIME booth, where the proprietor of Erwin's Clock Repair and Restored Antique Clock Sales displays face after face of timekeepers such as this 1900s wall clock ($175).
So Good Baked Goods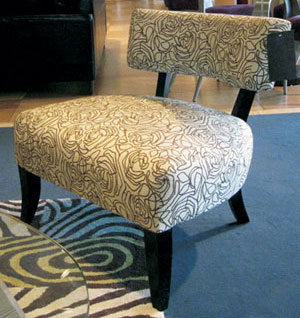 Yeah, the low prices are good at the DANISH MAID BAKERY & COFFEE SHOP (1132 Commercial St., 503-325-3657), but the way the treats taste is even better. You'll find Kathy, the daughter of owners Jan and John Lindstrom, serving up your pruned hearts (75 cents), apple turnovers (95 cents) and squares of Florentine almond cake dipped in Swedish chocolate (70 cents). If you have a Copenhagen-born grandma who loves to bake, you don't have to make this old-school bakery your last stop out of Dodge. Everybody else, spend $5 here for love in a box!
By the Numbers 
OKAY, HERE'S THE HOW-TO!
May we suggest: Ditch your car near 9th Ave. and Marine Dr. after you arrive in this city of 10,000. Then zig and zag through these well-stocked shops and boutiques. And here's a handy map, click it to open in its own window: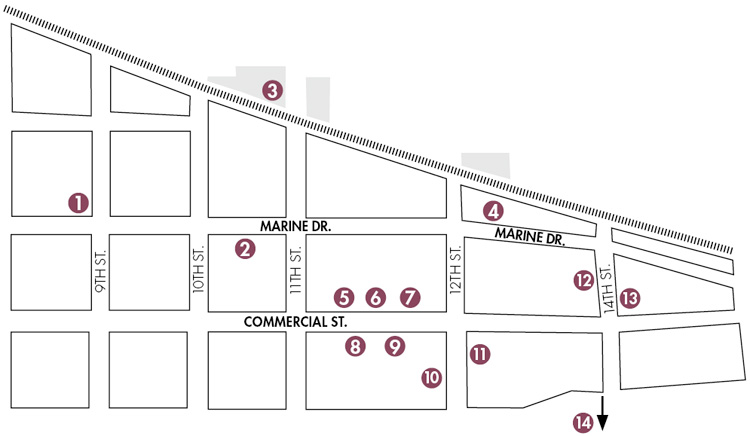 1.) 892 Marine Dr.—PHOG BOUNDER'S ANTIQUE MALL. Ship portraits and all things nautical such as this sailor's knot sampler on plywood make it clear that you're next to the Columbia River and near the Pacific Ocean.
2.) 1045 Marine Dr.—LIGHTBOX PHOTOGRAPHIC GALLERY & FINE PRINTING. Don't miss the mix of reasonably priced fine photography in this beautiful two-story gallery that a Portland couple left the Rose City to recently launch.
3.) 77 11th St.—Pier 11 boutique. Save air fare to Nepal and buy your Himalayan hats, silk throws and too-cute kiddie slippers here.
4.) 1230 Marine Dr., Suite 101— Bronze koi beads. Tabletops of specialty buttons round out this small shop's offerings for crafters.
5.) 1132 Commercial St.—DANISH MAID BAKERY & COFFEE SHOP. So many sweets . . . so little time. Don't head for your hotel without your midnight pinwheel in hand.
6.) 1160 Commercial St.—RIVER- SEA GALLERY. This sprawling gallery has a selection worth seeing.
7.) 1174 Commercial St.—ADAGIO. Japanese woodblock recuts from the 1930s will enchant you here.
8.) 1133 Commercial St.—LUNAR BOY GALLERY. From its retro sign to its quirky offerings, this gallery will make you smile as you check out its pillows, paintings—and more!
9.) 1161 Commercial St.— Jo-ANN Fabrics. Fabrics and novelties such as paintable girl monkey masks are here.
10.) 357 12th St.—HOTEL ELLIOTT. You'll love this renovated 1924 hotel with the comfy beds!
11.) 332 12th St.—JonAthon's Ltd. Vintage jewelry and antiques are sold in this small space.
12.) 229 14th St.—AMBIANCE. We love the shell-shaped soaps and vintage furniture in this boutique.
13.) 258 14th St.—The commodore hotel. A Scandinavian minimalist vibe infuses this hip hotel.
14.) 475 14th St.—VINTAGE HARDWARE. Architectural hardware and upcycled antiques are here.