FARAWAY FINDS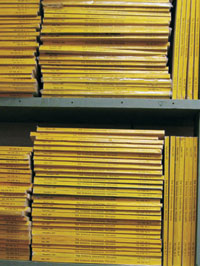 Trek over to The Monkey & The Rat (131 N.W. 2nd Ave., 503-224-3849 or go to monkeyandrat.com ) the next time you're looking for things from the Silk Road. You'll find jewel-toned silk scarves  ($15 to $24, left) hanging from dowels in a small room off the entry, near organic modern Light Pillars ($100 to $165, depending on size) from North Thailand (think circular and square casements of dark rattan paired with muslin linings.)
Hand-carved buddhas and monks from Thailand ($34 to $40, below) are perfect to adorn a tabletop or a sacred space such as a home altar. "I love the colors of the folk art pieces from Thailand and Burma," says shop owner Christopher Yarrow, who makes two buying trips a year to Thailand and biennial shopping trips to Vietnam. "They're really special."
Amid the easily portable finds are large pieces of furniture such as a 1930 British Colonial Deco hutch from Burma ($1,050) that will require the kindness of a truck-owning friend to haul home. "People who've been to Thailand recently come in and find something and say, 'I didn't see this when I was over there!'" says Yarrow.
NICE DIGS, GOOD DRIPS
From the colorful sign hanging outside of FLOYD'S COFFEE SHOP (118 N.W. Couch St., 503-295-7791 or go to floydscoffeeshop.com ) to the stylish black-and-green linoleum floor laid on the diagonal inside, this "Mad Men"-perfect coffee shop entices you to warm up with a house drip ($1.75 for an 8-oz. cup), a hot chocolate ($2 for an 8-oz. cup) or an order of red beans and rice with cornbread ($4.95). It's little wonder, then,
that the handsome spot is a magnet for men on laptops—and for meetings for creative types at the large table near a vintage walk-in phone booth. "We wanted to do a Depression-era Deco coffee shop—without getting too cute," says owner Jack Inglis.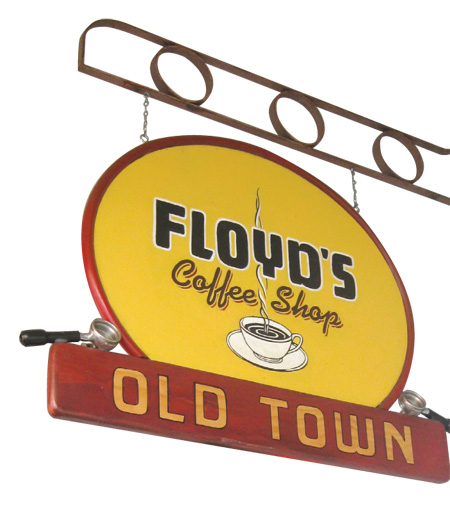 THE ORIENT—STYLISHLY EXPRESSED

A collaborative project between the city of Portland and its sister city in China, Suzhou, the LAN SU CHINESE GARDEN (239 N.W. Everett St., 503-228-8131 or go to lansugarden.org ) a.k.a. The Garden of Awakening Orchids, is a world-class destination that merits at least an hourlong tour. But if Chinese goods are what you're after, the small gift shop to the left of the ticket booth will awaken you, too. We liked this bell ($325 for a 23-inch-high, 10-inch-wide bell adorned with the Japanese kanji design for FRIENDSHIP) that Vancouver, Wash.-based artist Michael Correll makes from recycled steel tanks. Jewelry lovers will flock to these lotus-patterned earrings ($34) and pure silver bangles made from Chinese ceremonial hair sticks ($165). If you need a gift for a child, don't miss the miniature terra cotta warriors ($5 for a 6-inch-tall soldier; $10 for an 8-inch figure), a child-sized bamboo rake ($10) or a 1920s pair of baby shoes ($85). Silk-covered eyeglass cases ($6) and silk-and-wool scarves ($29) are tactile-lovers' dreams.
FROM THE FAR EAST TO OLD TOWN CHINATOWN
Got the urge to write COMMERCE in Chinese calligraphy to get your household money center rising again? Head for DRAGON ART (302 N.W. 3rd Ave., 503-223-3388) where you'll find beautiful calligraphy brushes such as this one ($46). Shanghai-style silk dresses ($49), inexpensive souvenirs from China (think fortune-cookie-shaped coin purses, $2.50) and silk slip-over-a-wine-bottle covers ($6.50) that look like mini versions of bartender vests are here, too. Upstairs, the import emporium has a couple of rooms stocked with furniture such as herbal medicine chests ($490) and Elm chairs ($520). Across the street, GREAT ERA ORIENTAL IMPORTS (239 N.W. 3rd Ave., 503-222-3636) has ricepaper lanterns ($7.50 to $10) in white or red, and mantel-perfect Foo dogs ($395 a pair).

TALKING CANVASES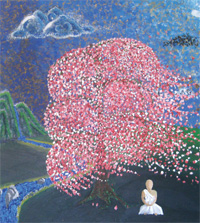 Homeless and parentless young people aren't the only ones going through the doors of the offices of P:EAR (338 N.W. 6th Ave., 503-228-6677 or go to pearmentor.org ), a nonprofit program dedicated to creatively mentoring homeless youth through education, art and recreation. Savvy home-owners who are drawn to emerging and outsider art know to check out the TRIM/VOJDANI GALLERY AT P:EAR, where photography and paintings from the hands of p:ear youth artists and guest artists are on display and sale. P:ear believes that the arts offer a powerful medium for captivating the imaginations of their clients, as in Peace of Mind by Mycol Budd ($150, above). "Students in our programs keep 90 percent of the money when their artwork sells; guest artists keep half," says program director Pippa Arend. "What they say through their work amazes me."
LET WESTERN STYLE LASSO YOU IN HERE!
If that little royal-blue tag with the gold WARRANTED TO BE A PENDLETON embroidery has a hold on you, don't miss PENDLETON HOME (220 N.W. Broadway, 503-535-5444 or go to pendletonhomestore.blogspot.com ). You'll find room vignettes featuring your woolen needs from nursery ($64 for a wool-and-cotton crib blanket) to second home ($160 for a handsome blanket in the Glacier National Park series). Sprinkled amid the Pendleton wares are too-cute DayLee Design hand-crocheted baby hats shaped like lamb heads ($25), Gianna Rose Atelier soaps and books where cabin-perfect inspirations await.
GLIMPSE THE 1940'S JAPANESE EXPERIENCE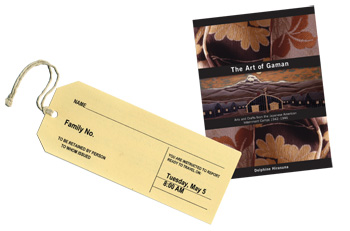 Spend just 15 minutes walking around the well-curated vignettes at the
OREGON NIKKEI LEGACY CENTER (121 N.W. 2nd Ave., 503-224-1458 or go to oregonnikkei.org ) and you will change the way you see people of Japanese descent whose permanent residence is outside of Japan (known as "nikkei").
In 1890, there were 25 people of Japanese descent in Portland. Two decades later, some 1,200 lived in the city. By spring of 1942, a Japanesetown with more than 100 businesses thrived in an 8-block area and kept thousands of people stocked in staples and tied to their homeland.
Sadly, an executive order in 1942 mandated the incarceration of 110,000 people of Japanese descent, who were relocated to internment camps with little notice and much loss. Don't miss this brief history lesson. 
SOUK STYLE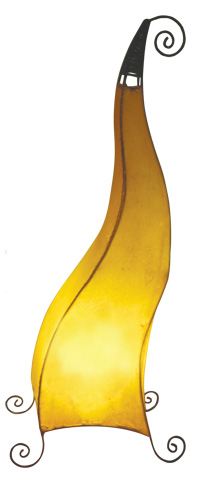 If haggling in a souk is so not your style, yet you've got a love for exotic accessories such as leather poufs, head for Moroccan Treasures (139 N.W. 2nd Ave., 503-227-8264 or go to casbatreasures.com ), a six-month-old shop dedicated to what you usually have to travel to Marrakech or Casablanca to snag. We liked this curlicue-topped sheepskin floorlamp ($375 to $475, right) from Marrakech (others are embellished with henna designs on camel skin). Leather ottomanlike poufs ($160) will turn any coffee table into a dining table.
"Everything here is handmade," says Abdallah Rmidi, who often tends the store, which other family members own. Look for tagines for cooking ($55 to $90), end tables ($140), Berber pillows ($65) and new and antique filigree-handled daggers ($55 to $110) that look as though they belong in a palace vault.