There are crafty types out there who, with imagination and hot glue gun, can transform a bunch of recyling bin rejects into hip home decor.  I'm not one of them. I wish I were.  Doing old fashion crafts just feels so modern. I want to be that. I love the idea of being crafty so much that I sometimes convince myself that my talents are not dead but merely faint and will quickly snap-to with the first whiff of Elmers' glue. Unfortunately, I'm usually about knee deep in materials before I realize my error.  I might have the mural sketched out, the paint bought, and the brushes waiting when I realize that my bird on a branch looks less like a member of the avian family and more like a disease on a tree. Or maybe I'll meticulously measure and cut the curtains in my daughter's room for hemming before pulling out the sewing machine only to discover that sewing machines, when neglected 20 or 30 or so years, no longer function. And so I curse Martha Stewart and all those cute young crafty things who make making things look fun! And easy! And modern! Then I put everything away in a back closet and hope the outline of the frightening bird on that bedroom wall can be covered up with a good coat of paint and forgotten. And it is. Until the next project.
So, naturally, when I saw these lights I just knew that I could make them.
I mean, they're wine bottles with lights in them, right? How hard could that be? We missed recycling day this week so have a few extra bottles in the garage. Perfect! Now all I need is a glass cutter, a template, some acid for eitching, an electrician . . . hold on!  Instead, let me stand back, admire and dream of buying the latest design from Meyda Custom Lighting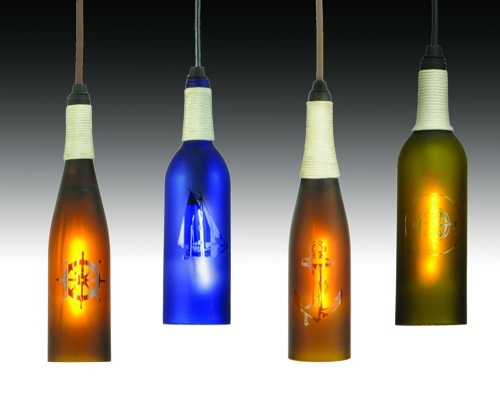 The newest addition to their Wine Bottle Pendant collection has a nautical theme. (Seriously, they have an entire collection of pendants made from old wine bottles so who really has the crafting problem? )The recycled bottles are sandblasted and etched with charming maritime designs like anchors, sails and ship steering wheels. I like to think of ithe look as "Yo ho ho and a bottle of really nice Cabarnet."
The bottles are hand-wrapped with white whip line at the necks and hang from cloth-covered cords. They look rather sophisticated which is just as one might expect from the company that has been producing glass work for Tiffany for decades. Each wine bottle light is hand-crafted in upstate New York. They look gorgeous. I bet the people doing it are really nice, too.
So, I will steer clear of all wine bottles in my garage for now.
However, I can make no promises about the water bottles I've been saving for years on a shelf in the basement. They're blue! I mean a gorgeous, gorgeous blue! The kind that would look really good with light bulbs shining through.