As a kid, I couldn't understand why adults were content to live in boring houses.  I knew that when I was old enough to have my own place,  I would decorate every room in a completely different style. The two I remember best:  A tented circus theme living room with multiple trapezes instead of chairs,  and a bedroom with a floor of water on which an inflatable canopy bed would drift throughout the night. It  never occurred to me that swimming to and from bed would ever be anything less than wonderful. 
Despite my best efforts, I grew up and grew boring.
Maybe that's why I love the fact that in our otherwise modern, circa 1939, house with its clean lines and airy feel, is one room completely out of character from the rest of the house.  It is dark. It is paneled in knotty pine. It has three built-in beds like bunks on a pirate ship, a built-in chest of drawers, a built-in desk, and inexplicably, a ceiling light with a small chrome propeller airplane suspended in perpetual orbit. The room served as the perfect treefort-like bedroom for two adventurous little girls growing up and, more recently, as a rather peculiar guest room in which visitors, no matter how chummy, sleep Bert and Ernie style in permanently separate beds.
Now I have a fantasy of decking it out in steampunk lamps, moving metal cogs and clock parts ala Martin Scorcese's movie Hugo.
A few years ago, that would have been an unattainable dream. But look at the light fixture from Rejuvenation, pictured at left. It captures that "eccentric Victorian inventor" aura.  But one of my favorites is the simple table lamp below for under $100. 
There is a site devoted to creating steampunk interiors called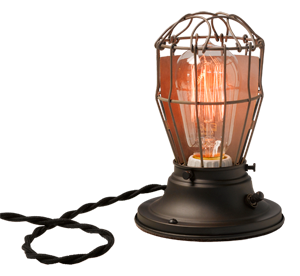 Trial By Steam.   
The corset chair, below, by English designer Sarah Louise Dix is a long way from Oregon. But with so many creative upholsterers around, including Acanthus and Nip & Tuck it should be easy to create a one-of-a-kind chair with the steampunk feel.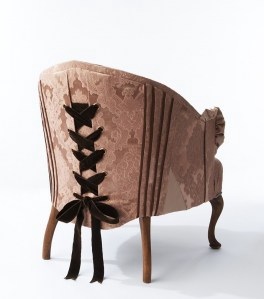 Who wouldn't want to spend  a night or two behind a giant clock face overlooking the Eiffel Tower, or in this case, a mysterious wood room overlooking the lights of downtown PDX with a clock, below, from Williams-Sonoma?  It would be intriguing.  It would stir sentimental nostalgia. It would be, like the kid's hideaway in Hugo, a nice place to visit but they wouldn't want to live there.  
And isn't that the perfect guest room for when grown-up children visit?