At the end of each week, after logging long hours at Bistro Maison, the French bistro they founded in 2005, Deborah and Jean-Jacques Chatelard retreat to their Neskowin beach house, a serene sanctuary near the Neskowin Beach Golf Course. They sip wine on their deck overlooking the local wildlife refuge, meet friends for brick-oven pizza at The Café at Hawk Creek, and walk the pristine beach with their two boxers, Louis and Belle. Their life there is a refuge from the pressures of restaurant life, but not from the elegant hospitality they practice at their restaurant.
"Coming from the Caribbean, I'm used to the beach being blue and white, while your home might be white, pink, peach—soft colors," Deborah says. "But here, because it's brown and green, the colors of our home are reds, oranges and yellows, with dark wood and big Italian tiles, so it's much warmer and cozier."

After trading their fast-paced, globe-crossing culinary careers for the small-town charm of McMinnville, where they own Bistro Maison, the Chatelards balance the demands of restaurant life with weekly Oregon Coast retreats and jet-setting jaunts to exotic international diving destinations—with plenty of good food along the way.
Paris-born Jean-Jacques' foray into the world of fine dining began at age 16, when he enrolled in culinary school. After an apprenticeship at the InterContinental Paris Le Grand, and a stint at a two-Michelin-star restaurant in Saint-Tropez, he opened a French bistro in Rome, developing an affinity for diving for mussels during trips to southern Italy. Jean-Jacques' next stop was New York City, where he became a chef-partner at the now-shuttered French favorite Ferrier Restaurant.
---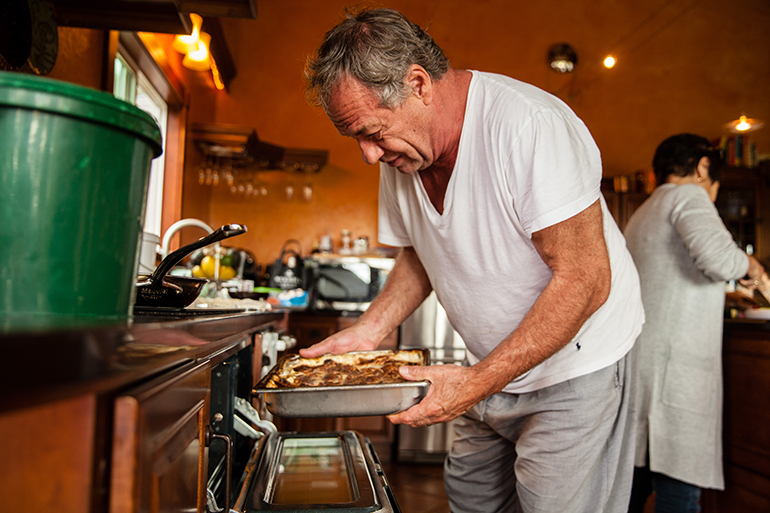 ---
Raised in New York, Deborah spent school holidays at her family's second home in Cancun, where she'd stroll the burgeoning beachfront, marveling at the grand resorts springing up along the sand. Her early interest in the industry led her to hospitality management school in Switzerland, an apprenticeship at the InterContinental Geneva, and positions at New York's Lowell Hotel, Essex House and Tavern on the Green. Accompanying a friend to dinner at Ferrier one night, she met a charming French chef she had quite a lot in common with.
In 2005, while visiting friends who'd recently relocated to Wilsonville, the couple happened upon McMinnville, pausing to peruse the listings in a downtown real estate office window. Less than six months later, they opened Bistro Maison, where executive chef Jean-Jacques turns out French classics with a Pacific Northwest twist, like Nisqually oysters poached in Pernod butter, coq au vin in pinot noir sauce and Oregon white-truffle fondue. Deborah acts as the Grand Dame of the front house—taking reservations, managing the 11-member staff, and playing matchmaker between the bistro's guests and wine list.

The kitchen at the Neskowin house stands in sharp contrast to the enclosed Victorian space on McMinnville's Third Street. Jean-Jacques designed it to be open and airy, with a 40-foot bank of floor-to-ceiling windows that invites the lush coastal scenery inside, while inviting touches cultivate a coziness that helps temper the long, dark Oregon winters.
The Chatelards' lifelong love of the sea is reflected in both their living space and their dinner-party menus, which are deeply influenced by the Pacific Ocean's bounty as well as the area's dense, misty forests, where Jean-Jacques spends many a contemplative hour foraging for wild morel, chanterelle and porcini mushrooms.
---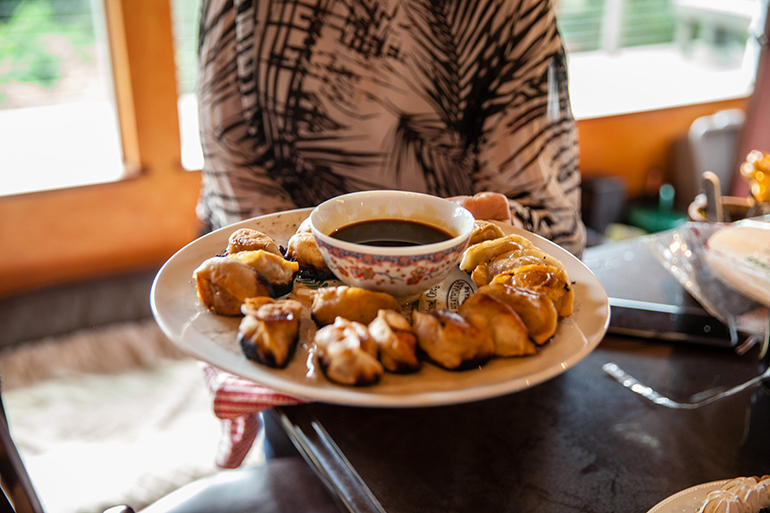 ---
Most Monday nights, the couple gathers a group of friends both coastal and country, like Jess Davis, the chef at McMinnville's Youngberg Hill winery, Doug Tunnell and Melissa Mills from Brick House Vineyards in Newberg, and Pat and Jackie Dukes from Dukes Family Vineyards in Amity. Everyone brings something to the table, be it a bottle of wine from their cellar or a beloved dish.
"Our friends Jack Rovics, Jr. and his wife Cuicui, who is from the Shandong province of China, bring dumplings made with a mustard green they grow called Shepherd's Purse, chive, ginger, water chestnuts," Deborah says. "We go to Barnacle Bill's and buy lots of Dungeness crabs, steam them and cut them into quarters, and everyone eats crabs and dumplings as appetizers."
Afterward, everyone tucks into Jean-Jacques' wild Chinook salmon gravlax, cured with lemon, thyme, mint and dill, and served with Meyer lemon crème fraîche, chopped red onion, capers and parsley. And in a nod to Jean-Jacques' French heritage, there are always a few rounds of Époisses and Brillat-Savarin cheese on hand.
For the main course, Jean-Jacques grills a honey and coriander-rubbed rack of pork over mesquite, letting the rich fat drip down onto a medley of pink-cheeked Red Bliss potatoes, squash, parsnips, leeks and onions culled from the couple's community-supported agriculture share from Weppler Farms in Brownsville, which supplies all the produce for the restaurant, as well.

Platters of sliced heirloom tomatoes with fresh basil and a drizzle of Puglian olive oil, along with a salad of shaved fennel, crisp radishes and bright, peppery greens from nearby Corvus Landing Farm round out the feast. Adding to the general merriment are bountiful bottles of Willamette Valley wine—perhaps a magnum of Brick House's 2005 gamay noir, or a bottle of Tendril Cellars' 2011 White Label chardonnay.
---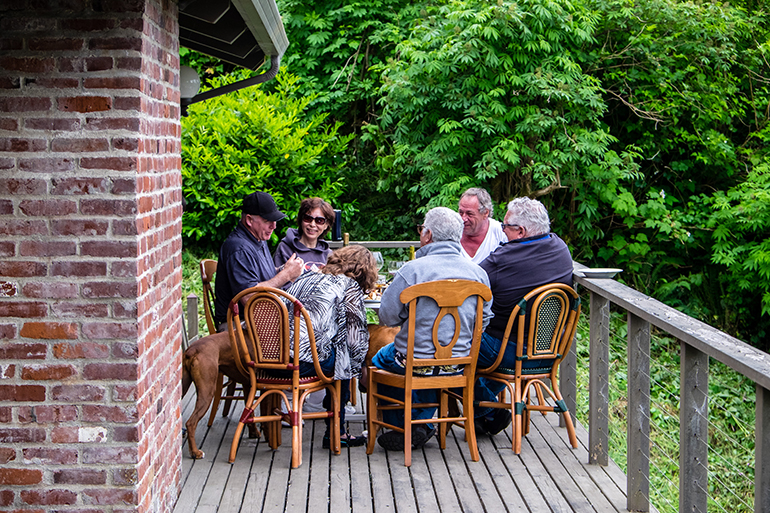 ---
It's hard to imagine leaving this life behind even for a few weeks, but the Chatelards somehow manage; every January, after shuttering the bistro for their annual five-week break, the couple immediately sets sail for a remote stretch of sand. Selecting a different destination each year– be it the Maldives, Malaysia, or Oman– they live aboard a boat and scuba dive up to five times a day in crystal-clear waters, communing with the underwater sea life in a way Deborah says helps foster an even deeper appreciation for the sea's riches.
"You understand what's plentiful in certain parts of the world, and where the stocks are being depleted from overfishing and pollution," Deborah says. "There's such a purity to it, and it makes you realize how beautiful the salmon and crab are here in the Northwest, how lucky we are."