While sheltering in place, cookbook author Martha Holmberg puts her garden to work.
Photography by Natalie Gildersleeve
---
Martha Holmberg was standing in her driveway when she got her heart broken for the last time.
"The Brandywines never get ripe before the weather turns cold and rainy again," the Portland-based cookbook author says of the popular heirloom tomato. "I just won't grow them anymore. My heart has been crushed too many times."
When you're so passionate about tomatoes that it makes your heart hurt, that you cover your driveway in pots because it's the only spot in the yard with enough sun, that you comb through seed catalogues like some people pore over dating profiles, then declaring your love in a lasting way with, say, a tomato tattoo, should come as no surprise to anyone. So far, her tattoo is still in the planning stage, but another tomato-inspired project with serious longevity has already moved into production mode: a cookbook for Artisan Books featuring 75 recipes for using tomatoes fresh, preserved, frozen and canned.
"I just have a thing for them," Holmberg says. "They're beautiful. And delicious. And I love the smell of the leaves."
The book will be a love letter of sorts to tomatoes, one that she hopes will inspire people to embrace them for far more than pasta sauce and BLTs.
---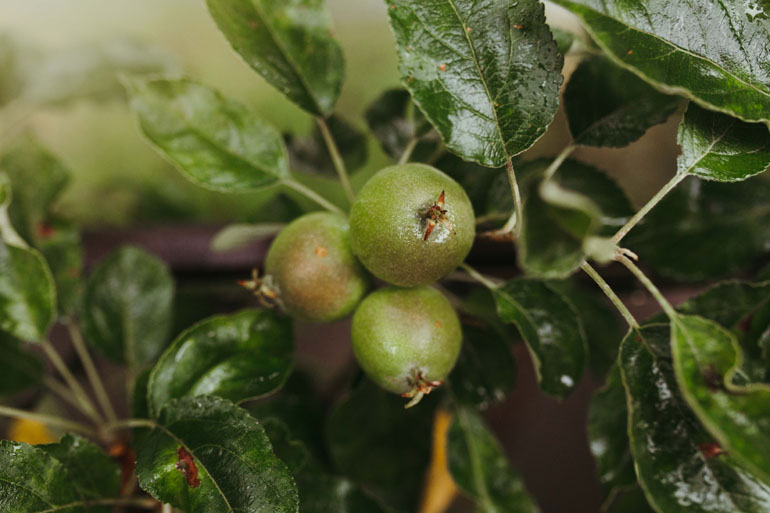 ---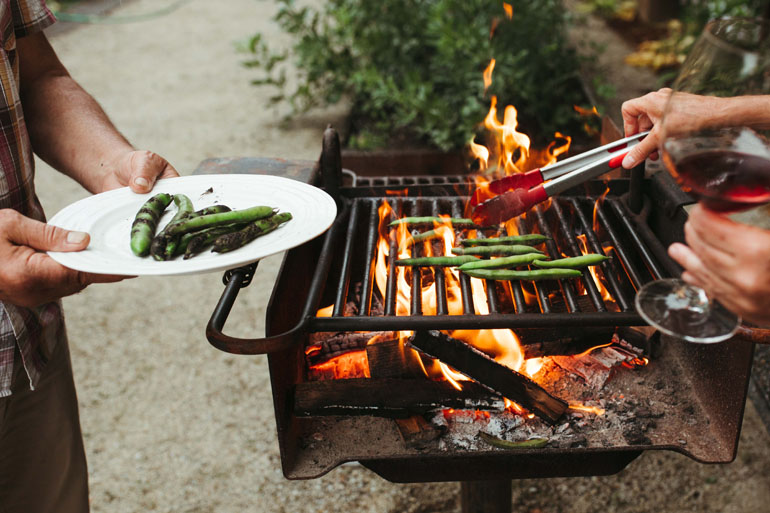 ---
"I have been thinking about doing this book for a long time," she says. "It's really a celebration of tomatoes all year long. I'll have lots of recipes for using them fresh, but I'll also be showing people how to preserve them by roasting and freezing or making tomato paste."
Showing people how to make the most of their ingredients is what Holmberg does best. As the former food editor at The Oregonian, founder of dearly departed MIX Magazine, the former editor-in-chief and publisher of Fine Cooking Magazine, and the author and co-author of several award-winning cookbooks, including Six Seasons with Portland chef Josh McFadden, Holmberg has spent decades teaching people how to make their lives more delicious.
Her approach is simple: Use techniques from the past to turn what's fresh today into a meal worth savoring, preferably with friends. Her upcoming tomato cookbook is a natural extention of that, as she pulls from a repertoire of pastry doughs, sauces, and dishes she learned at La Varenne cooking school years ago, and deconstructs them to create something entirely new with the ingredients she has on hand.
"My experience in France is always the framework for what I'm doing," Holmberg says. "I'll use basic French techniques, but the inspiration comes from going to the farmers market or what's growing in the garden."
Last year, she took her show on the road, so to speak, by collaborating on educational yet intimate wine-centric dinners with her partner, wine industry veteran John D'Anna.
---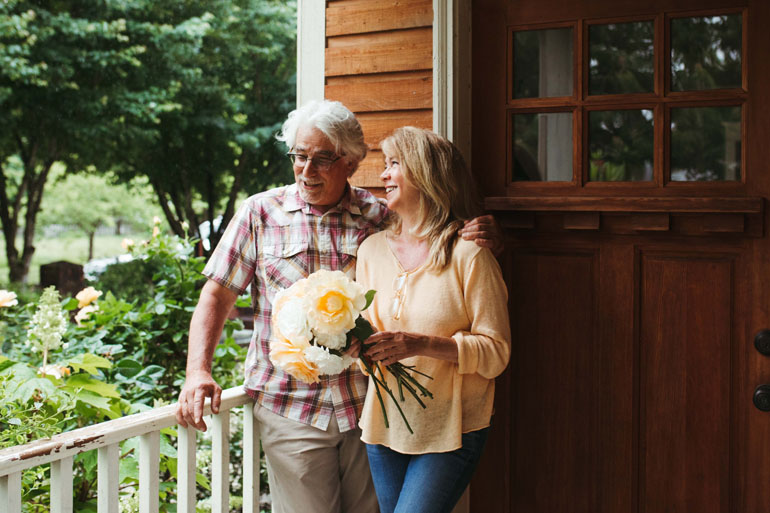 ---
"The core concept is: Oregon pinot, know before you go," she says. "It's like a virtual wine tour where you can taste through different styles, AVAs and producers. People come here from all over the world, and they get to the wine country and it's overwhelming. Their experience will be much more enjoyable if they know more."
While D'Anna leads the small group of eight to 10 people through the tastings, Holmberg creates a dinner showcasing the freshest Oregon ingredients. The menu: Chinook salmon with a lovely tomato salad made with Sungolds from her garden, some fresh corn kernels and a little mint and cilantro. D'Anna chooses the wine pairings.
"We just wanted it to feel like we were hosting a dinner party, because that's how it started," Holmberg says. "John is the anti wine snob, and we both really like cooking, setting a beautiful table and hosting people."
Of course, like the rest of us, Holmberg has had to put the dinner parties on hold as we weather the pandemic crisis. Meanwhile, though, her garden continues to thrive, providing her with the ingredients and inspiration she needs to create an ode to tomatoes we can all cook from someday soon, ideally in the company of friends.
"Let's eat something delicious and drink something delicious," she says. "That's what it's all about."
---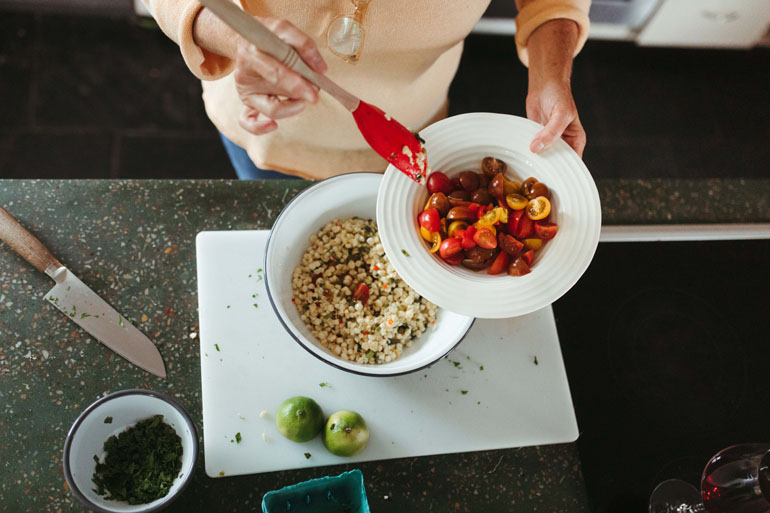 ---
Cheerful Cherry Tomato and Corn Salad
Recipe by Martha Holmberg
Sungold tomatoes are a superstar variety — easy to grow, super productive, and so sweet and fruity. Lots of Oregon farms grow them, so look for them at your local farmers market, or even at a good grocery store. For the fresh herbs, I like a mix of cilantro, basil and mint, but you can pick just one or two, if three seems extravagant. You can saute the scallions and chile up to a few hours ahead, but don't mix the other ingredients until close to serving time.
Serves 4 to 6
Extra-virgin olive oil
4-5 scallions, trimmed and sliced crosswise into thin rounds
1 fresh hot chile pepper, such as jalapeno, cored, seeded and finely chopped
Kosher salt
2-3 ears fresh corn, shucked, kernels cut off
1 pint cherry tomatoes halved, preferably Sungold or a mix of yellow and red
Freshly ground black pepper
Dried chile flakes or Aleppo pepper
1 lime
Small handful mixed fresh herbs, roughly chopped
1. Heat about 2 tablespoons olive oil in a large skillet over medium heat. Add the scallions and chile, sprinkle with a pinch of salt, and saute until soft and fragrant — but not browned — about 3 minutes.
2. Turn up the heat a bit and add the corn. Saute the corn quickly, just to take the raw edge off but no longer, about 1 minute. (Note: If your corn isn't super fresh, you should cook a bit longer to be sure it's tender.)
3. Scrape the corn mixture into a large salad bowl, add the tomatoes, season with a bit more salt, a few twists of black pepper, and the dried chile flakes. Toss.
4. Squeeze on about half the lime, toss and taste, then add more lime juice to your liking. You want the sweetness of the tomatoes and corn to be dominant but balanced by the tang of the lime juice.
5. Drizzle on a few tablespoons of olive oil, toss again, and taste. Dial in the flavor with a bit more salt, chile flakes, or lime juice, then add the fresh herbs and give the salad one final toss. Serve and enjoy the season!
---