The nostalgic Russian eatery Kachka dishes up some sweet takes for summer.
---
While the pandemic raged, Bonnie and Israel Morales pivoted, both at their restaurant, Kachka, and at home, where they remodeled their family's kitchen in a nostalgic mid-century style. With their beloved Soviet-era-inspired restaurant just reopening to in-person dining, the Moraleses are back to what they do best: feel-good Russian fare with an Oregon twist. Here, Bonnie shares two of her favorite summer recipes featuring strawberries.
---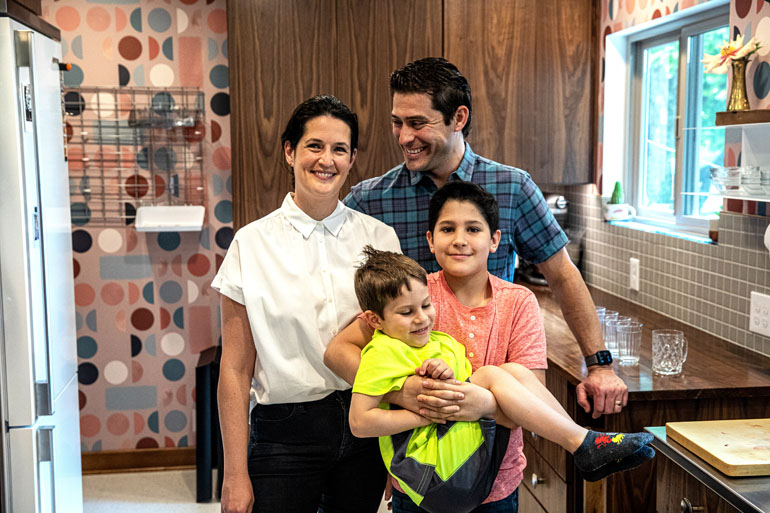 ---
Kachka Summer Kompot
It's hard to classify this as strictly a beverage — because it's also a rather lovely heat-of-summer dessert, something between a punch and a fruit cocktail. My grandmother laments that fresh kompot in her childhood only contained wild blueberries and strawberries (chernika and zemlyanika) — as stone fruits like peaches didn't grow that far north. That variation sounds delicious, but the kompot of my childhood in Chicago was much more varied. My mom would gather up all the various fruits that were ripening too fast, and turn them into a refreshing summertime treat. Kompot can also be made with dried fruit any time of year, but the summer version is what makes me weak in the knees — especially when topped with a big scoop of vanilla ice cream and squirt of club soda.
---

---
In the true spirit of kompot, feel free to adjust the recipe to what you currently have in season.
2 peaches, pitted and quartered
3 plums, pitted and quartered
3 apricots, pitted and quartered
1 cup strawberries, washed and hulled
3/4 cup granulated sugar
1 ½ quarts water
Vanilla ice cream and club soda (optional)
Place all ingredients in a medium pot. Bring the pot to a boil, and stir to dissolve the sugar. Reduce the heat until it's just high enough to maintain a simmer, and simmer until the fruits soften and release their flavors, up to five minutes. Taste and add more sugar if desired, then remove the pot from the heat, and cool to room temperature. Refrigerate for about 4 hours, or overnight, to cool completely.
When the kompot is cold, ladle both the liquid and fruit pieces into mugs, and serve with a spoon. To turn your kompot into a soda-fountain-inspired treat, add a scoop of vanilla ice cream and float an ounce or two of club soda on top.
---
Strawberries & Smetana
When my parents immigrated in 1980, my mother didn't know any English. So she figured, why not have another child, since she wouldn't be able to find a job anyway? This is the very practical way in which I came to be. And once I was born the following year, she started watching other immigrants' kids too — again, very efficient use of resources. One of her very first charges was Rosa Gordon, who became my close childhood friend. I loved playing at Rosa's house, and I especially loved the snack her mother would feed us: strawberries sprinkled with sugar and mixed with sour cream. Back in Belarus, this would have been made with zemlyanika — tiny, fragrant wild strawberries that cover the forest floor in early summer.
This recipe is heavily inspired by that midday snack at Rosa's — with a bit of influence from the classic American strawberry shortcake. Tangy cultured smetana, and strawberries that get a boozy kick from a little bubbly (I use Sovetskoye Shampanskoye, but anything you'd use in a mimosa would work). The cake here is a welcome addition, but highly optional if you're looking for a quick no-bake option. What's not optional is the use of locally picked, super-ripe fruit. As a good Oregonian, I am required to preach the gospel of in-season berries!
---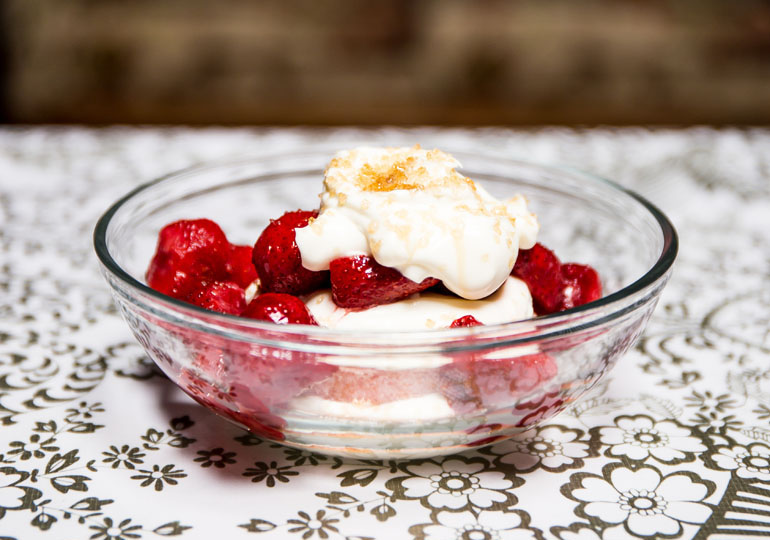 Photo: Carly Diaz
---
Serves 8
Strawberries:
2 pints strawberries (if it's past strawberry season, feel free to substitute raspberries, blackberries or whatever berry is at its peak)
2 to 4 tablespoons granulated sugar
1/2 cup off-dry sparkling wine
Cake:
Unsalted butter for greasing
1/2 cup pastry flour (65 grams)
1/4 cup plus
2 tablespoons granulated sugar (75 grams)
1/2 teaspoon baking powder
1/4 teaspoon coarse salt
2 tablespoons neutral oil (canola or sunflower)
2 large eggs, separated
3 tablespoons water
Zest of 1/2 a lemon
1/2 teaspoon vanilla extract
1/8 teaspoon cream of tartar
To Finish:
2 cups smetana, or crème fraîche
2 tablespoons sugar
Turbinado sugar
Wash and hull the strawberries, and halve or quarter them (depending on how large they are) into a bowl. Sprinkle in enough sugar to sweeten them and make the juices come out — it'll vary depending on how sweet your berries are. Let them sit and get nice and juicy while you prepare the cake.
To make the cake: Preheat your oven to 325° F. Line an 8-inch-square pan with parchment. Butter and flour the sides (if the pan is nonstick, you can skip this step), and set aside.
In a large bowl, whisk together the flour, sugar, baking powder and salt. In a separate bowl, whisk together the oil, egg yolks (reserve the whites — you'll need them soon), water, lemon zest and vanilla extract until well combined. Fold this wet mixture into your dries until just combined.
In the bowl of a stand mixer fitted with a whisk attachment (or a large bowl with a hand mixer), beat the reserved egg whites until foamy. Add the cream of tartar, and continue to beat until stiff peaks form. Gently fold the egg whites into the batter, taking care not to deflate them, and pour the mixture into your prepared pan, smoothing out the top. Bake until the cake is set and a tester comes out clean, about 20 minutes.
While your cake is baking, pour the sparkling wine into the strawberries, give it a good stir and set aside.
When the cake is done, place it on a rack to cool. Place the smetana in a large bowl (or the bowl of a stand mixer fitted with a whisk attachment), and with an electric beater or a whisk, beat it until it balloons up a bit, like whipped cream. Sweeten with sugar to taste (there's a lot of sweetness in the strawberries and cake, so you just need a little bit). Strain the strawberries, reserving the syrup.
To serve, cut the cake into 8 pieces. Take a square of cake and dunk it halfway down into the strained syrup (it'll soak up the sweet red boozy syrup, which is exactly what you want). Top each serving with a ½ cup of strawberries and a generous ¼ cup dollop of whipped smetana, and sprinkle with the turbinado sugar.
---
Recipes excerpted from the book KACHKA by Bonnie Frumkin Morales. Copyright © 2017 by Bonnie Frumkin Morales. Reprinted with permission from Flatiron Books. All rights reserved.