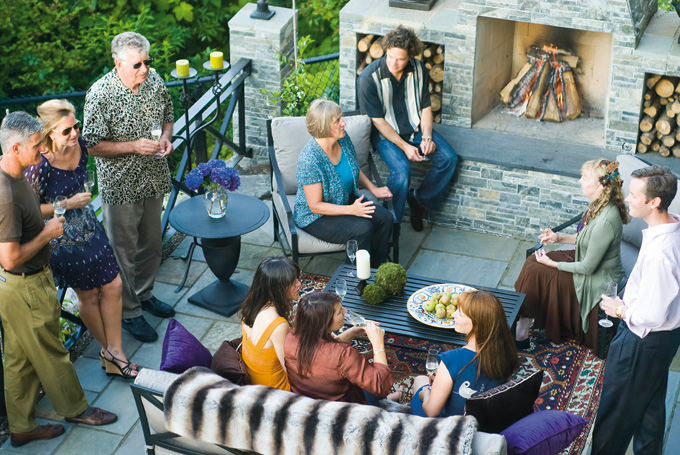 Guests gather around the outdoor fireplace as they wait for the pizza oven to reach the perfect temperature // Photo by Paula Watts
As the sun began its slow sink behind Portland's West Hills, Derek Jensen pointed a laser — a high-tech infrared thermometer — inside the dome of his outdoor pizza oven, which was being licked by flames to 1,000 degrees Fahrenheit. He'd just slipped his hand out of a welding glove, an uncommon party accessory that, tonight, meant the fun had already begun.
Jensen and his wife, Julie Gulla, were gathering some friends at their home for an Italian-themed celebration. They'd toast to summer evenings, fine wines, good company and, most important, the wood-fired oven that Jensen was managing with precision.
The previous fall, the couple joined the ranks of fanatical outdoor oven enthusiasts when they installed a Forno Bravo pizza oven outside, part of a dramatic backyard overhaul that created an elongated terrace geared for entertaining.
"I'd been making pizza in our kitchen for a long time and wanted to step it up to pro-style pizza," Jensen explains. After a few frustrating, getting-to-know-the-pizza-oven-less-than-perfect pies, Jensen found solid advice online from a man known as Frankie G, the Internet guru of outdoor pizza ovens and cooking techniques (fgpizza.com).
Since then, Jensen has heated the oven with different kinds of wood and bought a long-handled metal "banjo" peel for sliding pizzas in and out of the oven. He also perfected his recipes for dough, which rises overnight in the couple's climate-controlled wine cellar, and a simple tomato sauce.
---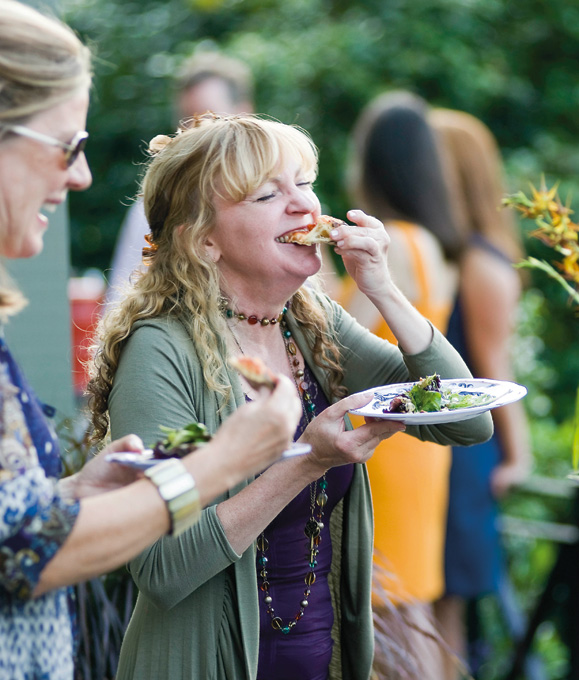 Guest Kristal Jensen samples slices of wood-fired pizza right as they come out of the oven // Photo by Paula Watts
Before party time, Gulla did as much prep as possible so she could relax when guests arrived. She made an antipasti platter and salad; set up a food table, complete with napkins and utensils, away from the pizza oven; arranged a beverage zone for room-temp and chilled wines, nonalcoholic drinks and beer; and created ambience with tabletop centerpieces and an intimate seating area around the outdoor fireplace.
When guests walked through the door, Gulla poured glasses of prosecco. "I always like to begin a dinner or party with a glass of sparkling wine or champagne," she says. "When someone has a glass in their hand, it makes them more relaxed."
Meanwhile, Jensen manned the oven. He threw the dough to create even, round discs before choosing toppings prepped beforehand: roasted garlic, peppers, coppa, pesto, sun-dried tomatoes, fresh basil, olives, goat cheese and feta.
Even though Jensen prefers his pizzas simple — with nothing more than tomato sauce, mozzarella, fontina and Parmesan — he knew his guests might not share his tastes.
"With a group it's nice to have some variety. I'll even make one with Canadian bacon and pineapple. But begrudgingly," he says, laughing.
The evening stretched out like good dough, with guests noshing on pizzas pulled from the oven, one at a time. As stars began to appear in the sky and a chill crept onto the terrace, the oven's coals glowed. The warmth was just another reason to gather round.
---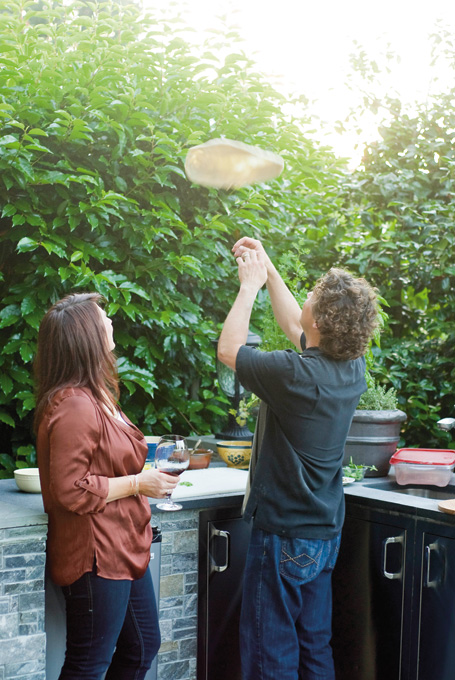 Hosts Julie Gulla and Derek Jensen prepare the evening's first pizzas // Photo by Paula Watts
Derek and Julie's tips for throwing a stellar pizza party
Prep as much as possible before the party, including side dishes, pizza toppings, and the sauce and dough. (Jensen recommends making dough that requires a 24-hour rise time at a low temp.)
Enlist helpers beforehand: kids who can clear plates or guests who might be able to stop by early to set up furniture.
Wear comfortable clothes for the party.
Start the evening with a glass of prosecco for each guest.
Offer more types of toppings than you would normally want.
Place prepped toppings in little bowls near the oven to spark appetites and conversation about the food.
Always offer a dessert. Gulla suggests cutting cookies, brownies and lemon bars into bite-size pieces for a relaxed sweets course.
Above all, have fun!
---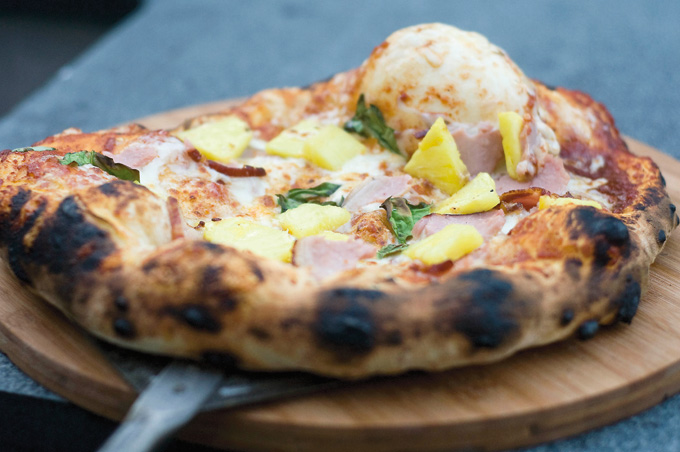 // Photo by Paula Watts
Tips for making wood-fired style pizza in your home oven
By Cathy Whims, executive chef and owner of Portland restaurants Nostrana and Oven & Shaker
Preheat a pizza stone in the oven at least one hour before making pizza. Oven should be at its highest setting: 500 to 550 degrees. Pizza stone needs to be brought up to temperature slowly; a cold stone placed in a hot oven can crack.
The thicker the pizza stone, the more it will help approximate a wood-burning pizza oven.
At 500 to 550 degrees, a thin crust pizza will take 9-12 minutes to cook.
Assembling all your pizza toppings ahead of time allows you to make pizzas like a pro.
If you don't have a pizza peel to slide pizza into the oven, the back of a baking sheet works well. Just be sure to flour a peel or baking sheet well.
For the best tomato sauce, puree drained canned tomatoes (San Marzano tomatoes are the best) and season with salt. No need to precook.