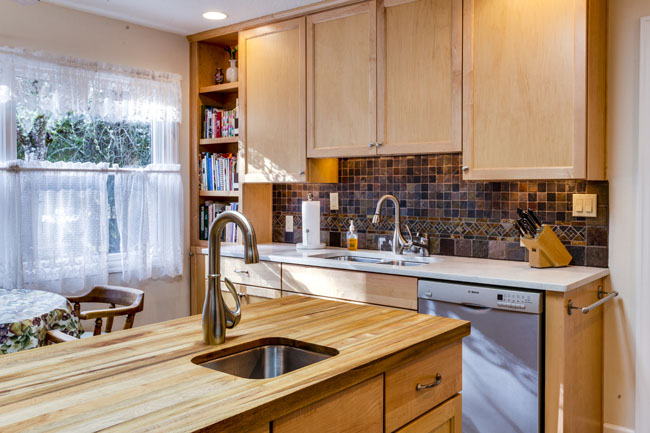 "Lighting was key. We stayed away from glaring surfaces."
Written by Addie Hahn | Photos by Jason E. Kaplan | M.P.D. Construction: (503) 341-8451
When Beverly Vogt moved into her 50s Ranch home in the southwest Portland Raleigh Hills neighborhood in 1972, she wanted to renovate the original galley kitchen that featured fluorescent tube lights and darkly stained, plywood cabinets, as soon as possible. Still, for well over the next three decades, Vogt cooked in the dim, cramped space.
After being diagnosed with macular degeneration, an eye condition that creates visual distortions, Vogt knew that a kitchen overhaul was truly necessary for the space to remain functional to her. While seeking a contractor, Vogt and her partner, Richard Bartels, received a recommendation for Mike Dunnahoe, GCP (Green Certified Professional) of MPD Construction, who specializes in remodeling spaces of all sizes.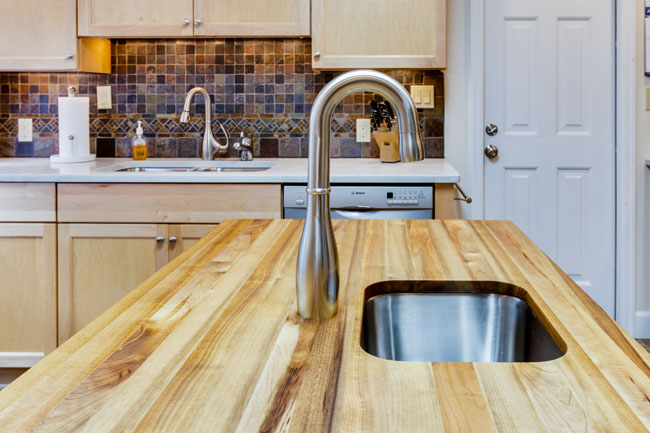 The island countertop is  an Oregon-made Madrone 
countertop.
Dunnahoe, who honed his skills working on a variety of high-end building jobs, finds satisfaction in attuning himself to his clients and building strong relationships. To accommodate Vogt's changing vision, he researched how her eye condition was likely to impact her experience in the kitchen.
"Lighting was key," he says. "We stayed away from glaring surfaces and used honed ones instead." The addition of soft can lights overhead and under counter lights helped to further illuminate the room.
To create a more open, inviting space, Dunnahoe tore out the galley kitchen and pony wall that separated it from the dining area, and added an island. Handsome maple cabinetry helped to brighten up the room still more.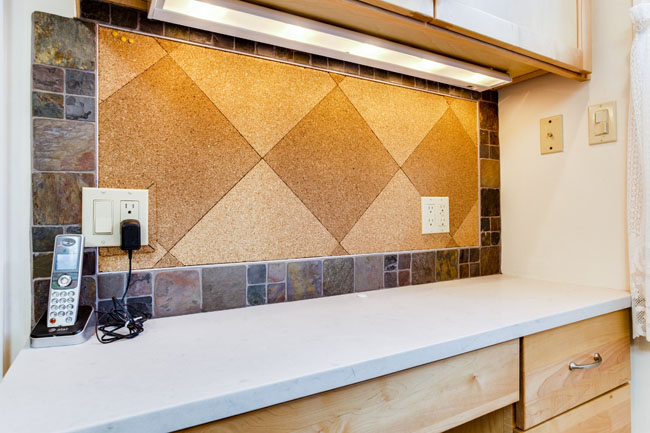 A useful cork board was installed within the tile backing.
To make the considerable task of choosing materials less overwhelming, Dunnahoe accompanied Vogt and Bartels to design showrooms where he helped the two retired geologists, who were stumped on which stone countertops to go with, to opt for a light shade of Ceasarstone and backsplash tiles in warm, muted tones.
The newly updated light-filled space, he says, was "what the room always wanted to be but didn't have the chance to become. I work to preserve the character of a home," he continues, "and the kitchen is always a good place to start."
Vogt, who has continued to hire Dunnahoe for other projects around her house, remains thrilled with the beauty and functionality of her kitchen, even five years after its renovation was completed. "Mike worked patiently to figure out what would be good for us," says Vogt. "He understood our house and he came up with a plan we dearly love."