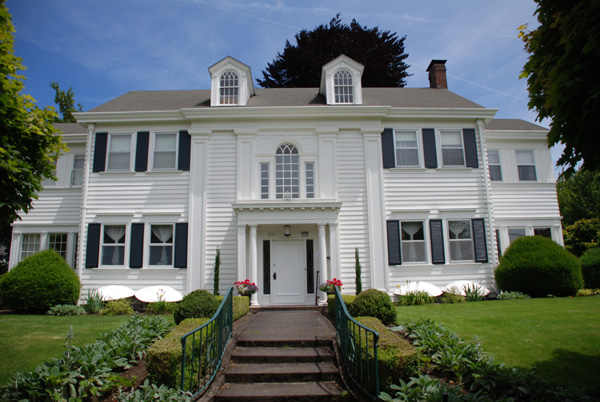 Coleman-Scott house from Carol Scott Hess
Readers Remodel: A home remodeling project, like any good adventure, is best when shared.  We asked readers for tales from the homefront. Carol Scott Hess writes about the challenge of remodeling a family home in a matter that respects the historic design yet works for contemporary living.

Home remodels can be challenging enough for one family to deal with, but when two families are involved, and the home has historic restrictions, the challenges become exponential! 
The Historic Coleman-Scott House has been in my family since it's completion in 1916.  Our great-grandfather John D. Coleman hired notable architect John Bennes to design a home in Portland's Irvington district, and the home was to include a player pipe organ.  The organ is still functional, but like the rest of the 96-year-old home it has plenty of maintenance issues, and was desperately in need of upgrades.
My husband, Monte, and I are the resident owner-caretakers.  My oldest brother Harvey is also half- owner and lives in Seattle with his wife, Claudia, and their two children. Harv and I have both been much attached to our grandmother's house, and when our parents died in 2005, the question became, "who's going to take on ownership and live there now?"  Their family was well settled in Seattle and our niece and nephew were just beginning high school.  We, on the otherhand,  were empty-nesters wanting to move back to Portland from the Bay Area.  We moved in in 2006, with a bit of trepidation over all the work involved; sorting through copious family belongings, displaying historical memorabilia, hosting tours for historical societies, and serving as an occasional "bed and breakfast" to extended family and friends.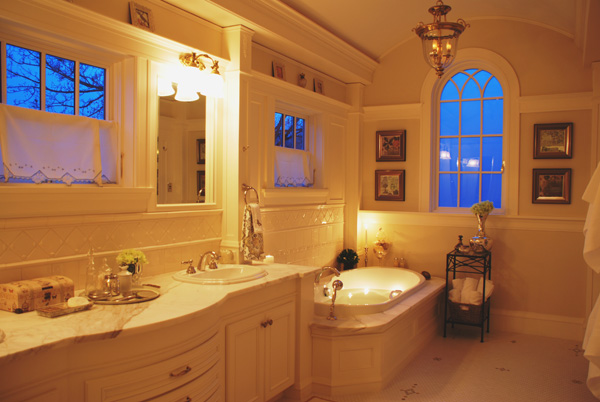 The final bath from Carol Scott Hess
A major remodel was inevitable since the kitchen was small and dark, and not configured for modern family gatherings.  The master bathroom had a tiny, tub-less arrangement of toilet, pedestal sink and deteriorating 1970's shower stall.  All the exterior doors on the main floor were warped and difficult to operate and lock.  The plumbing was ancient.  As one contractor pointed out, "it's not a matter if the plumbing will burst, it's a matter of WHEN."
Since Harv and I were so familiar with the house, and had had many years to contemplate changes either of us might make, we believed we were ready to hire a designer and begin the project.  High on our priority list was to find someone who would be able to keep up with a possible blizzard of email communication.
We had learned about the design-build company  Arciform through a friend whose whole early 1900's home had just been remodeled.  She raved about their timeliness, and attention to period detail, so we decided to interview their designer, as well as designers from two other well-established Portland companies.  Arciform's Anne DeWolf arrived at the house and with contagious enthusiasm, immediately shared numerous options for updating our kitchen and bath and also described her computer design system.  She indicated that she was very willing to provide frequently updated computer graphics through email.  It was critical that each of us be able to remain in the design loop, even if out of town.  It sounded like a great fit, but first we hired Arciform to do some work on the front of our house as a way to see the quality of their workmanship.
Arciform specializes in the re-use of existing and/or authentic materials whenever possible, and they were able to recondition our front door, sidelights and original shutters and reinstall them with great results. We then proceeded to  hire them for our kitchen, master bath, and back porch projects in the summer of 2009.
Our master bath needed to be an addition to the second story, above the existing kitchen,  and would involve new exterior elements that would require approval by the city, and a neighborhood association.  Anne's historic review application was praised by the city as being both thorough and very well organized, and the approval went very smoothly.  The city asked us to make just a few adjustments to the windows of the master bath, and it resulted in some interior adjustments as well.  One challenge regarding the bathroom was coming to grips with how the exterior windows dictated much of the interior floor plan.  There were fewer options for the placement of the tub and shower.  But the biggest challenge was deciding on surface materials; the tile, flooring, and countertops.
By the time we got to this point in the process we had gone over-budget with our design costs and tried to design these surfaces ourselves.  This was very frustrating and we found that in the end, it worked much better to let a professional develop several complete concepts, and then just choose the one we liked the best.  It is really important to understand how complex the finish material choices can be, and I would encourage anyone considering a large remodel to leave room in the design budget for those later tasks!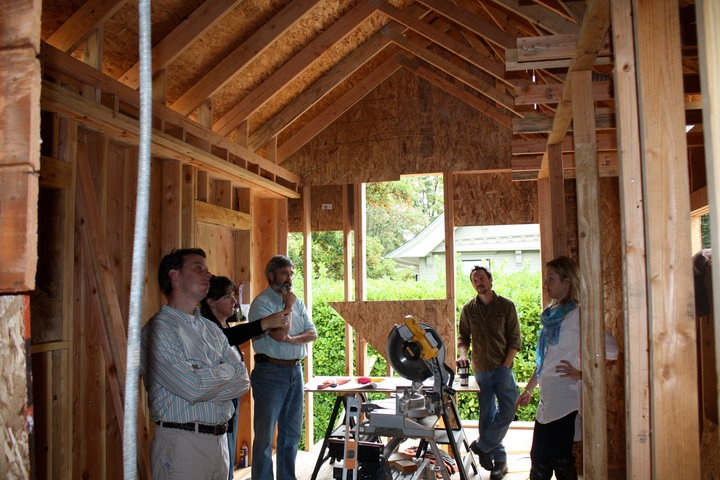 Down to the bones from Carol Scott Hess
There were other things we would also do differently, if we had them to do again.
1. Before working with a designer, both couples should have spent about six  months visiting many showrooms together, purchasing duplicate copies of design magazines (one for each couple….easier than faxing, emailing or amassing hundreds of internet links)
2. Discuss the differences between "lump sum" contracts and time- and materials- based contracts, and also understand fully, the implications of "client supplied" purchases and subcontracts.   Some of us didn't mind doing research and legwork on purchasing fixtures, and materials, and others found it tedious and preferred to trust our general contractor to oversee that. 
3. We also wanted to allow our new son-in-law, who was a cabinet-maker with Powerline Cabinets in Halsey, Oregon, the chance to participate in this family project.  He constructed the kitchen cabinets to Arciform's design and specifications.  We did not anticipate the complexity of the communication involved with the cabinets being "client-supplied" nor the extra time it required, but we are certainly pleased that the younger generations of our family are forming connections with the house as well.  When future grandchildren come to visit, and help in the kitchen we can say "these are daddy's cabinets!" Or "Uncle Leon's!"
4. We  topped-off the project with the help of our daughter-in-law, Brenna from BHome Design. She selected and staged the accessories seen in this after photo of the master bath.  The soft greens and blues of the Calcutta marble and hex-tiles inspired the choices for wall art, towels and rugs.  Many of the antiques and glassware were items found in the other rooms of the house, as this place is almost a bottomless pit of trash and treasures. 
5. What other things would we do differently?  Take more three-day vacations in the middle of the week!  Monte and I are both semi-retired and have home offices, so we were here 24/7.   While the whole Arciform crew were courteous and reliable and quiet, it's sure nice now not to have all the disruption and to not have to get showered and dressed by 7:30 EVERY morning!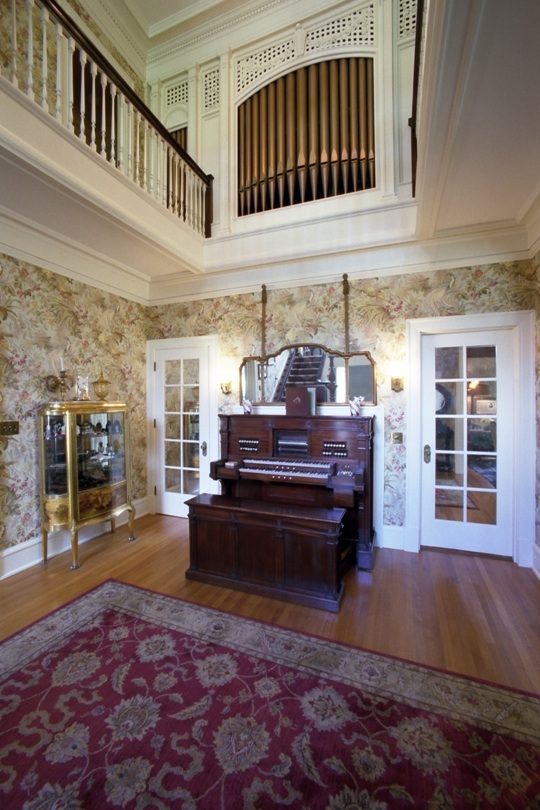 Pipe organ from Carol Scott Hess