Bend-area architect Steve Nuetzel turns a refined eye toward rugged pole-barn construction.
---
Architect Steve Nuetzel's love of pole barns started accidently. Late in his career designing and remodeling homes in Southern California and Eastern Oregon, Nuetzel found himself called upon to build a number of barns for Sunriver clients on land where groundwater is too high to allow septic tanks. Such lots are unusable for residential construction, but they're perfect spots to build barns where owners can store boats, equipment and other recreational gear.
"I became fascinated by the structure and how different it is from conventional stick framing," says Nuetzel. "When the time came to build a home for myself, I decided to build a pole-barn house."
His resulting 2,100-square-foot barn sits on a half-acre forested lot near the Deschutes River and includes a 1,000-square-foot rustic modern living space tucked into the back. The rest of the structure holds Nuetzel's workshop and is open and large enough to park an RV or semitrailer and truck.
---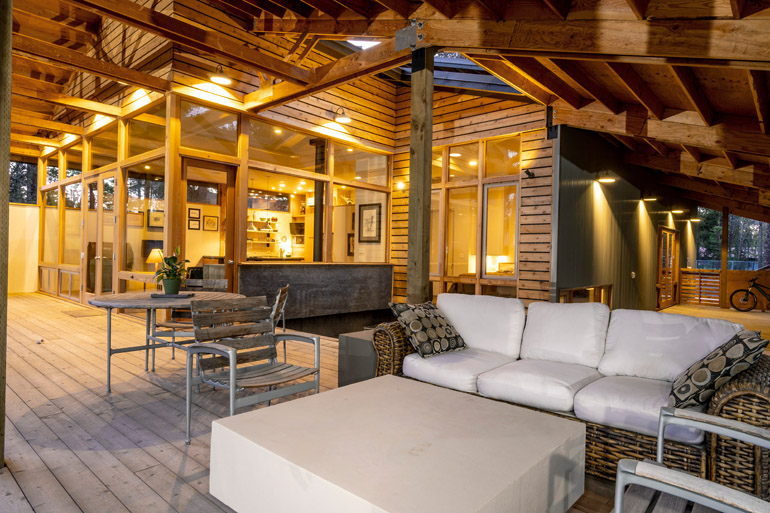 ---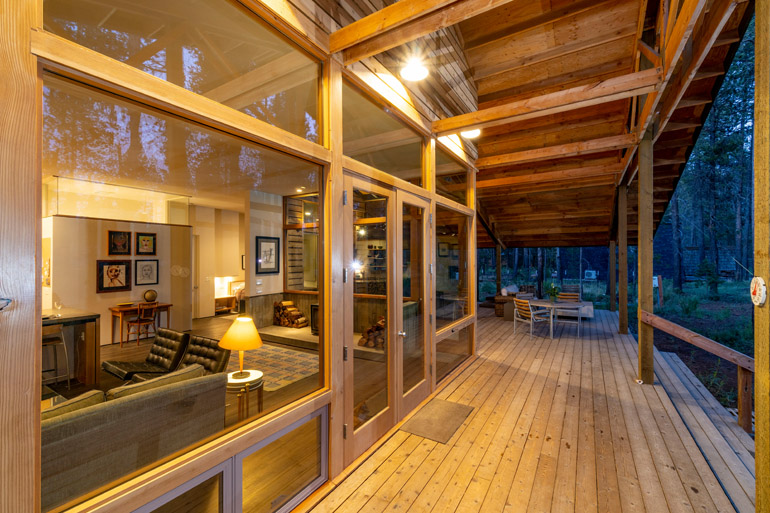 ---
As their name implies, pole barns are supported by wooden poles, which are set into 4- to 6-foot-deep holes filled with concrete. Nuetzel's barn uses 12-foot spacing between poles, but in general, poles can sit between 6 and 12 feet apart. After the concrete sets, trusses are bolted to both sides of the poles and the remaining structure is built.
Nuetzel sees his home as a prototype for future projects. The 12-by-12-foot modular construction lends itself to both horizontal and vertical expansions of the building's one-bedroom, one-bathroom footprint, making it customizable for individual needs.
Nuetzel, a modernist architect, enjoys his home's modern-rustic fusion, and played upon the juxtaposition of fine interior finishes with a rougher hewn, barn-like exterior. He instructed his building crew to treat rustic-ness as a feature.
"'It's just a barn,' I told them, 'so don't be fussy about it,'" Nuetzel says. "It's meant to be built in a rough, barn-like manner."
---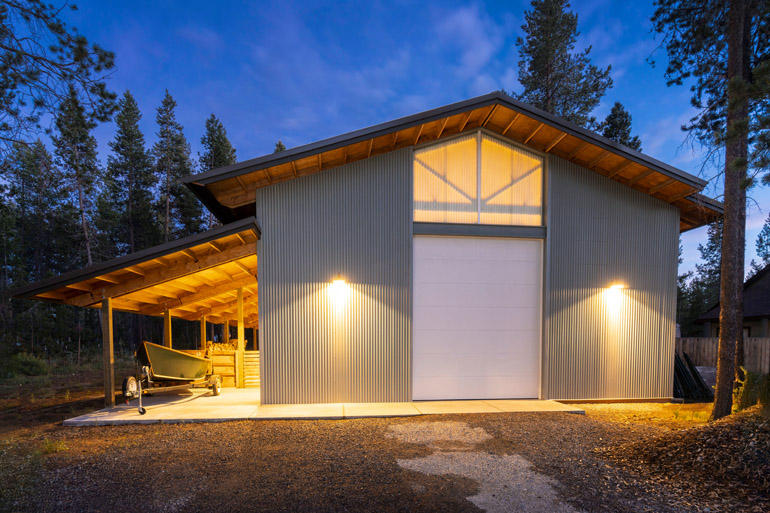 ---
Elements of the structure, such as bolts and connection plates, remain visible on the exterior, and corrugated metal wraps around the three "barn" sides of the building. Where the residence starts, Nuetzel envisioned the corrugated metal peeling back to reveal timber-framed construction of 6-by-6 posts mortised together to form the exterior walls. The entire structure is topped with a metal roof.
Pole-barn construction offers several advantages. It's less expensive than stick-frame construction, a bit easier and quicker to build, and allows for wide openings that don't require structural walls. That freedom allowed Nuetzel to create a large, open living area and install floor-to-ceiling glass on three sides of his residence that lets light pour in.
Clear, vertical-grain Douglas fir is used throughout the home, including for the kitchen cabinets, and molded concrete countertops are ground to a high-gloss finish. Along with the walls of glass, 11-foot ceilings add to the sense of openness. French doors lead to a 1,200-square-foot covered patio for protected outdoor living and wildlife viewing — migrating deer, neighborhood elk herds, many birds and the occasional bobcat. A 10-by-10-foot opening in the deck's metal roof allows sun and rain to reach a planting area below.
---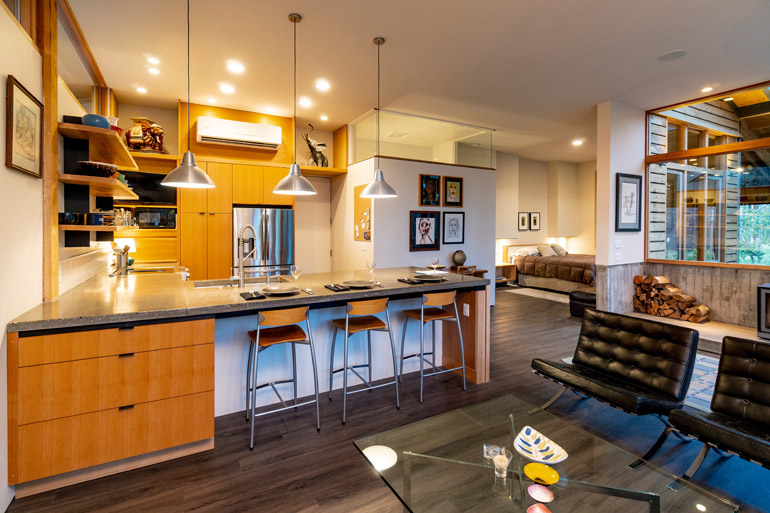 ---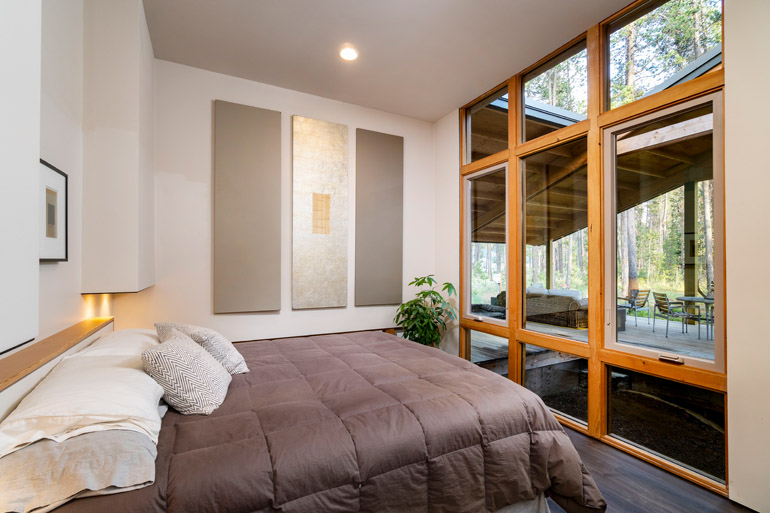 ---
Nuetzel is a sole-proprietor architect working mostly in Bend these days on remodels, barns and new home design. He works with a regular construction crew, and owning his own business lets him dedicate himself to client projects.
"I do all the drawings myself and am involved directly with everything on every project, from planning to execution," he says.
Having begun his career as a building contractor and carpenter, Nuetzel has a notable appreciation for materials, especially timber. And living among trees in his pole-barn home feels right.
"The poles and trusses are similar to the trees in the forest around the home in a very real way," Nuetzel says. "That's what I like about this building in this location. It's an abstract representation of the forest surrounding it."
---