"Will you come over to my house and tell me how to fix it?" My brow furrows, eyes start to well, mouth opens in horror, the look of absolute terror fills my face. I get this question often, like all the time. It makes sense to ask me. I have a degree in Architecture, 25 years in interiors experience and own a very successful home staging company. If your going to ask somebody, ask a somebody with experience, right? The problem is that most people who ask me to work for them for free are friends and family. Because they are friends and family, I of course, would never charge them for my work, but I really cherish my relationship with them so I would also never say anything to hurt their feelings, and that's the rub.
 
If you are asking a friend for interior design advice, prepare your self for one of two scenarios. One: They will just lie to your face so that your feelings will not be hurt. Or two: They will be brutally honest with you and hurt your feelings. Either way the outcome is not exactly what you're looking for.
 
My best advice is to hire a professional (who is not a friend) to help you. Pay them for their time. Get honest unbiased advice.
 
That being said, most folks don't have piles of cash allotted for interior design so here are the top things I would love to tell everybody to never put in their home.  These are the mistakes I see most often. They will never, ever be ok. Like never.
 
FAKE PLANTS, FLOWERS, FOOD, ETC.
(photo at top)
You live a real life, with real people and you eat real food. I understand that you may not have a green thumb and real plants might die in your care. That is really ok. I kill just about every plant brought into my house. That does not mean I should run out to buy a bunch of "real" silk plants to fool people into thinking I am a super good horticulturist.
 
Whoever said that houses have to have plants in them in the first place? I think some silk plant maker in Po-dunk, Nowhere started that rumor. Stop listening to them. If you need to have something plant-like in your house, consider a weekly trip to buy fresh flowers after work on Fridays. It will start your weekend off on the right foot and let you enjoy the flowers when you are actually at home instead of at work.
---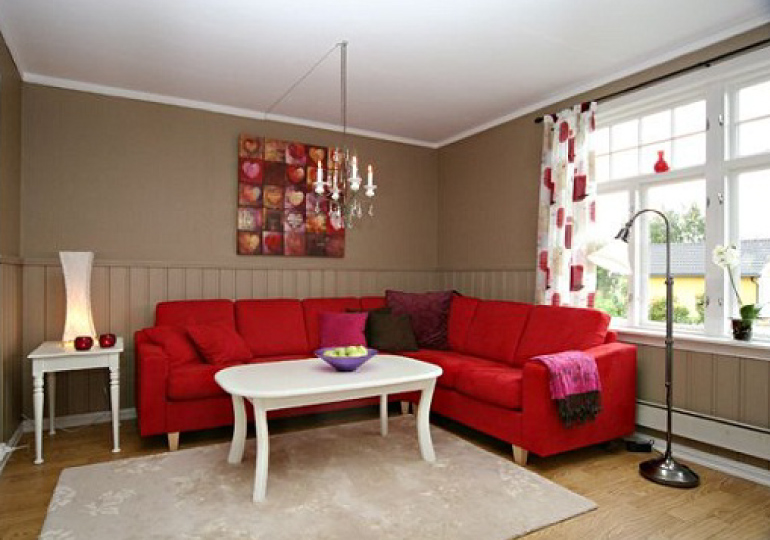 ---
EXPENSIVE COLORED ITEMS 
Colors come and go… neutrals are forever. First, let's define color. Think the rainbow as in red, orange, yellow, green, blue, purple and all the colors in between like mauve, puce, and cyan.  The neutrals on the other hand are not found in the rainbow. They include white, cream, beige, grey, brown and black as well as neutrals in between like charcoal, buff and tan.
 
Decorating can be expensive. In order to keep that expense down, relegate your colors to items that are not expensive like art, throw pillows and blankets, accessories, and coverlets. Your expensive items like sofas, carpeting, chairs and tables should be purchased in neutrals. This way, the hope is that they will stay in style longer. If you purchase a red couch and get bored with it, you will need to spend thousands of dollars to replace it.  But if you bought a neutral couch and a few red throw pillows and blankets, you could change that couch to a blue or orange or even a puce sofa with less than $100 by simply swapping out the throw pillows and blankets.
 
---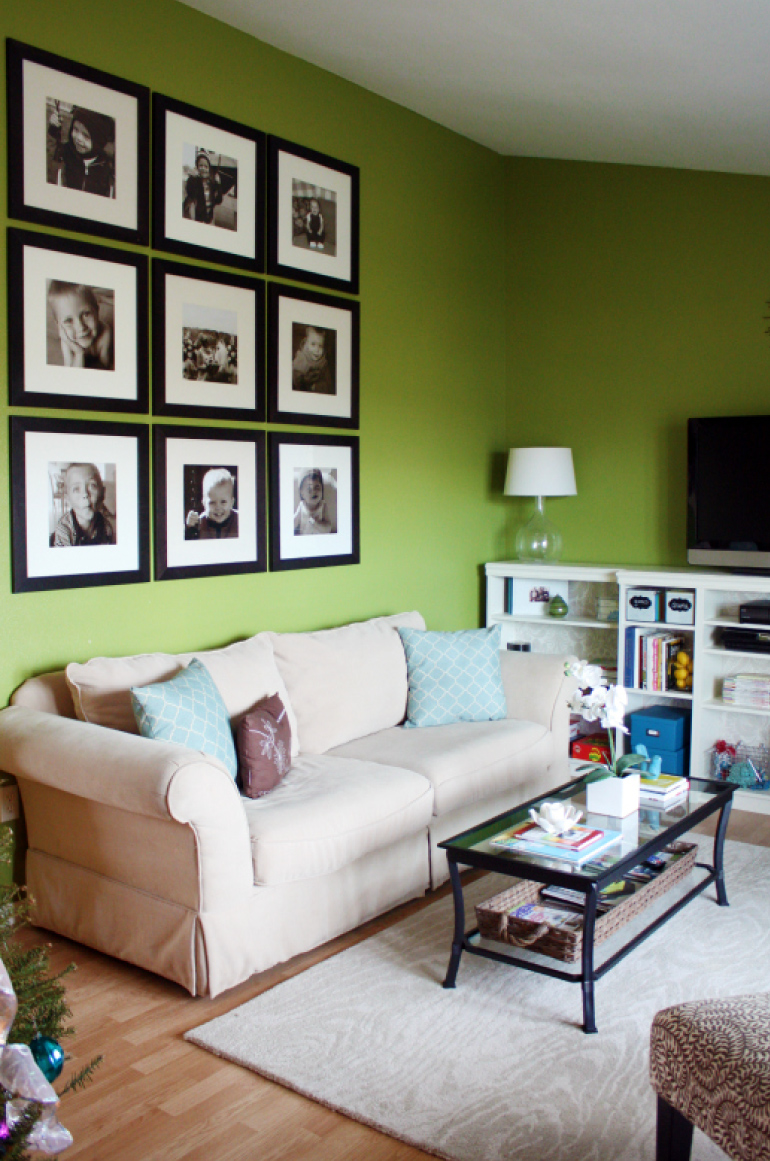 ---
FAMILY PORTRAITS ANYWHERE BUT THE HALLWAY
This one is so popular right now and I fully blame a certain home decorating catalogue that comes every week. Big black and white photos of perfectly lovely families hung smack dab over the sofa in the living room or the master bed are not OK. The Victorians had a perfectly good rule to follow when it came to family pictures. Family pictures belong in hallways and areas of transition. By hanging a picture of your family in your living room you are telling the world that YOU feel your family is so beautiful that they are actually pieces of art. It's ok for other people to feel that way about your family but for you to feel that way, comes across a vein and shallow and just… eewww. Having a picture of your favorite people in a small frame on your nightstand, sure, why not. Having giant prints of your children hanging over your bed? Super not sexy.
 
Hallways are a great place to hang family pictures. Folks who visit can look at them to find out more about your family, your story, your life. Then they can step away and go back to your living room, dining room and kitchen and talk to you without being stared down by pictures of your family.
 
---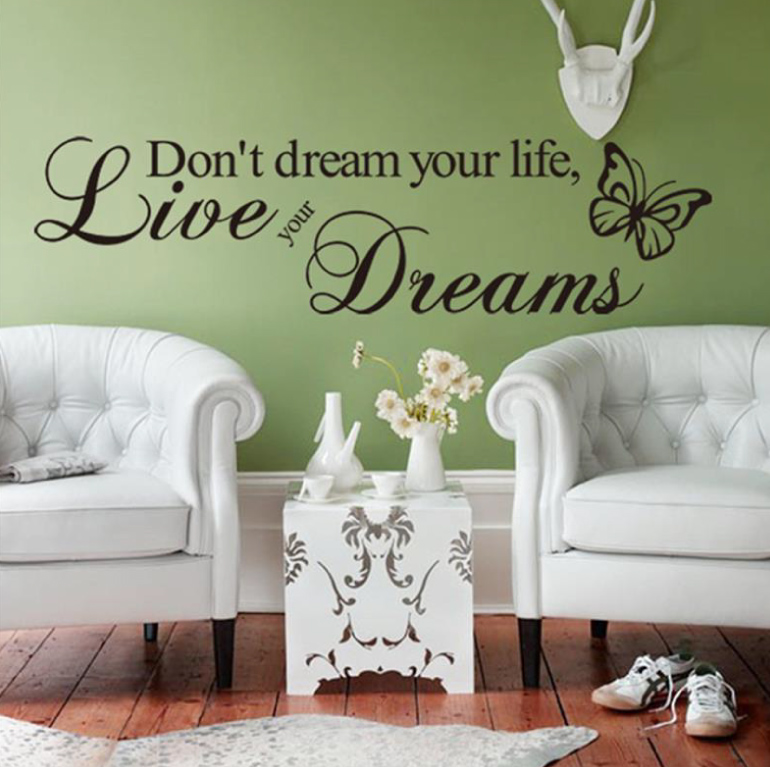 ---
WORD ART
How many times will I write about word art? It is still just as terrible as it was the first time I wrote about it years ago. It comes in various forms, sometimes it's lots of words on a picture frame like MAN'S BEST FRIEND, BOW-WOW, FETCH, SIT, STAY, FUR, ROLL OVER.  (Just in case you were wondering you are supposed to put a picture of your dog in this frame, I know… creative, RIGHT?!) There are signs you can hang on your wall. They are usually sets of instructions with words like LAUGH, LOVE, LIVE or DREAM BIG! (I am still looking for one that says BARF!) There are even vinyl words you can put right on your wall. They are often reminders of who you are with words like "THE JOHNSONS" or "EMMA" just in case you forget who's house or bedroom you are in, a gentle reminder is but glimpses away. There is no situation in which word art is acceptable. Please stop buying it… NOW.
 
---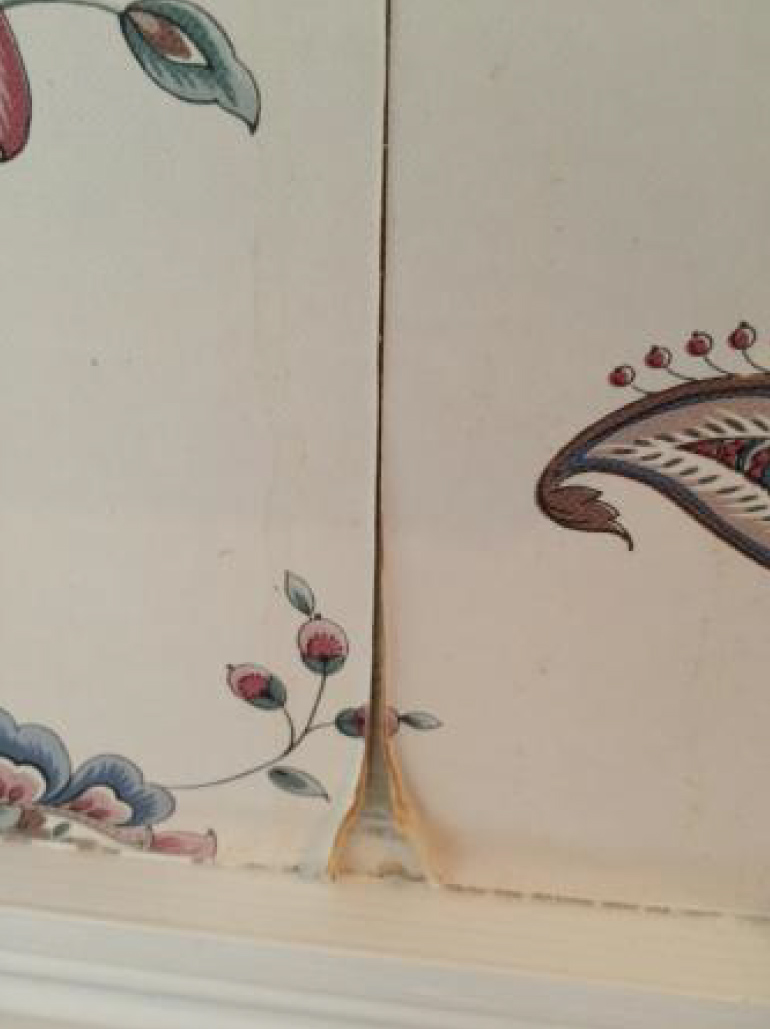 ---
WALLPAPERS IN BATHROOMS, KITCHENS, OR LAUNDRY ROOMS
This one is just simple logistics. I see this often. I like wallpaper, seriously, I am a huge fan, but this is not about wallpaper, this is about glue. Kitchens and bathrooms are places where lots of moisture lives. Glue tends to lose its best quality (stickiness) when it comes into contact with moisture too often. Nearly every time I see wallpaper in these rooms; the seams are starting to rise, making even the best wallpaper look bad. Use wallpaper, knock yourself out, just relegate it to rooms that do not have plumbing fixtures. In rooms with moisture content, stick to wall tile and semi-gloss paint. You will be much happier in the long run. (While we are at it, just apply this rule to wall-to-wall carpet as well. Moisture and carpet go together like socks and flip-flops, its not just a no, its a hard no.)
---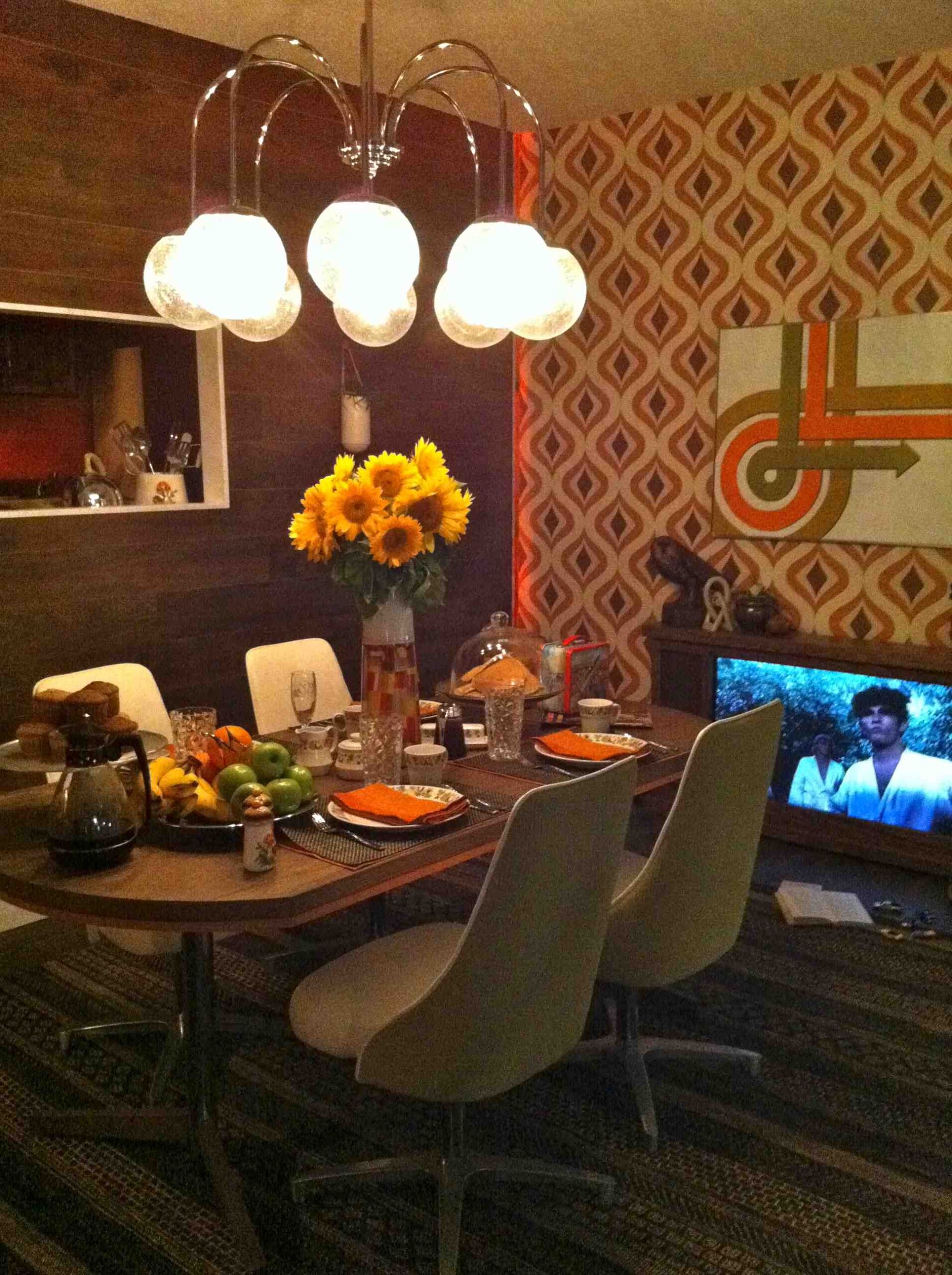 ---
Justin M. Riordan, LEED AP is the founder of Spade and Archer Design Agency. As the creative energy behind Spade and Archer, Riordan fuses his formal training as an architect with his natural design savvy to create beautiful and authentic spaces for clients.
 

Prior to opening Spade and Archer in 2009, Riordan practiced interior architecture and interior construction for twelve years, bringing an esteemed skill set and diverse background to home staging. With more than a decade of hands-on project management and design experience, Riordan delivers an unmatched level of precision, expertise and service to his clients. Since founding Spade and Archer, he has personally prepared over 2,100 homes for market.