Produced by the marketing department of Oregon Home
When Ron and Linda decided to remodel the kitchen and family room of their 1,150-square-foot home in West Linn, they knew exactly what they wanted: thoughtful and functional storage spaces, natural hues and textures to augment the extensive gardens outside and fresh appliances to make cooking a breeze.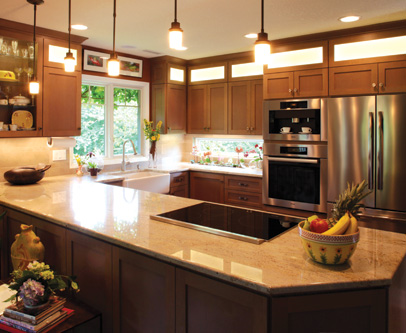 // Photos by Fred and Holly Stickley
They turned to Mountainwood Homes, a Beaverton-based design/build contractor that specializes in seamless remodels and renovations. As with every one of the company's projects, the team worked with the clients to choose all materials, lighting, appliances and paint before beginning construction.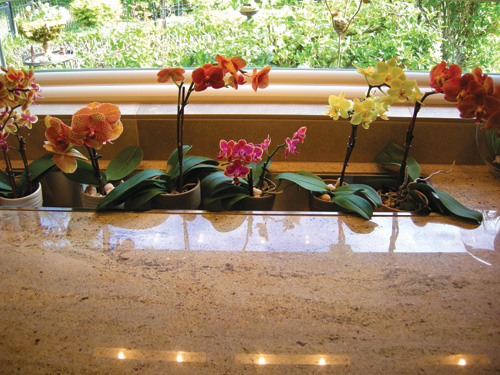 That meant packing the small footprint with a puzzle of custom storage: a space for Linda's great aunt's china, a rollout cabinet for dog biscuits and deep drawers to hold pots and pans. "Ron and Linda thought of everything," says designer Heather Wood.
The end result feels modern and sophisticated — Ron's design aesthetic — but also warm and earthy thanks to granite countertops and custom-stained alder cabinets with illuminated milky specialty glass.
Finding the perfect stain for the cabinets meant creating dozens of sample doors. "They never gave up on us," Ron says. "Heather said, 'We'll keep doing it until we get it right.'"
The design team recommended moving the washer and dryer upstairs, next to the master bedroom, which created counter space and room for a built-in Luxury Miele coffee maker.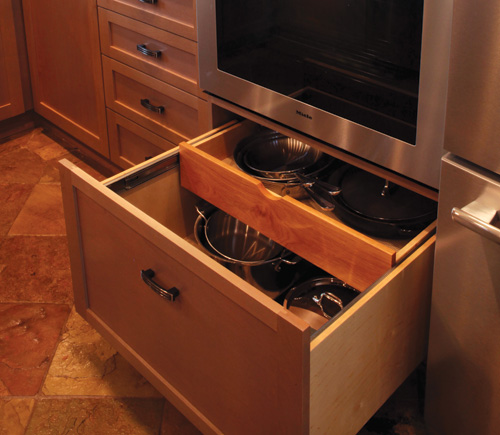 Other details reveal a careful consideration of the couple's interests: a sunken metal tray in front of a backsplash window cradles florist Linda's potted orchids. Paint colors enhance the couple's vast collection of original art. And the refreshed rooms feel connected to the home's verdant gardens, which were designed by Linda.
"I wanted to look out and be wrapped in an English garden, and that's what I do now every single day," she says.
"The fun part of any job is making sure the rooms turn out exactly the way the clients want," says Robert Wood, president of Mountainwood Homes. "There's no better endorsement of our work than seeing clients like Ron and Linda absolutely ecstatic about the final result."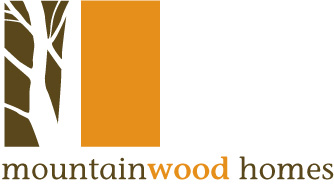 For more information, please contact [email protected] or visit mountainwoodhomes.com.