BY STACY GREEN
 PHOTOGRAPHY by ECKERT & ECKERT
When you find what could potentially be the perfect home, a small dark kitchen could be a deal breaker. Robert Stacey and Celia Dervan were undaunted by the 1960s remodeled kitchen that blighted the home they bought in Portland's West Hills.  Instead of turning on their heels, they turned to Craftsman Design and Renovation, a local, award-winning design-build firm that specializes in restoring homes and improving their livability.
Collaborating closely with Stacey and Dervan, the Craftsman Design team knew exactly what was needed to blend the kitchen with the rest of the 1920s English Tudor and give the room greater functionality. They designed cabinetry with carved brackets underneath to reflect the home's vintage and incorporated modern functionality by designing small upper cabinets with screens to hold stereo speakers.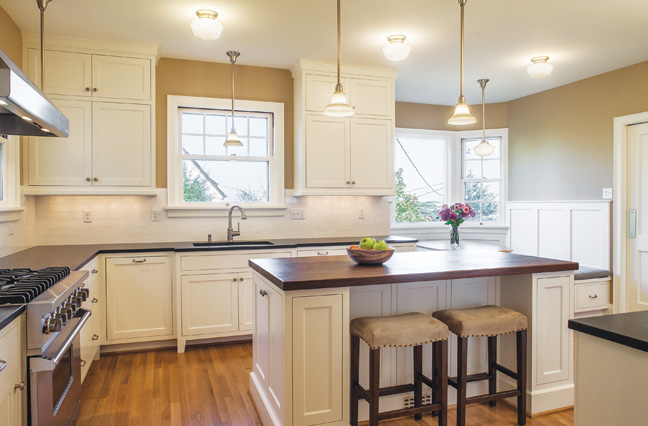 The clients and designer together designed a more open space and brought in natural light and spectacular vistas by removing the wall separating a breakfast nook. The expansive feel is heightened by the white cabinetry, woodwork and tile backsplash. Hiding the dishwasher behind a cabinet front maintains the unbroken run of white woodwork, while black Cambrian countertops provide needed contrast.
Like many homeowners, Stacey and Dervan envisioned using their kitchen for more than just cooking. The new design incorporates a built-in dining nook that accommodates a cozier dining style and a central island that boasts a large work surface, abundant storage, and seating for additional dining or guests to sit and visit with the cook. 
Meticulous about each detail, Craftsman Design's carpenters took great care in replicating the trim, wainscot and other woodwork to blend seamlessly with the original home. "No matter how good your design, you can't cut corners on construction and expect it to look like the craftsmanship that went into building homes 100 years ago," says company owner Wade Freitag. "It just won't look authentic."
Cognizant not only of authenticity, but also the client's budget and the environmental impact, Craftsman Design restored existing windows rather than replacing them, incorporated locally-sourced western walnut for the island countertop and expanded the kitchen while staying within its original footprint.
The company's commitment to their clients' needs and wishes, and to the highest quality design and construction, produced a result this couple loves. 
---
Craftsman Design specializes in historically sensitive remodels. For more information, email [email protected] or visit here.