By Addie Hahn | Photos by Jeff Freeman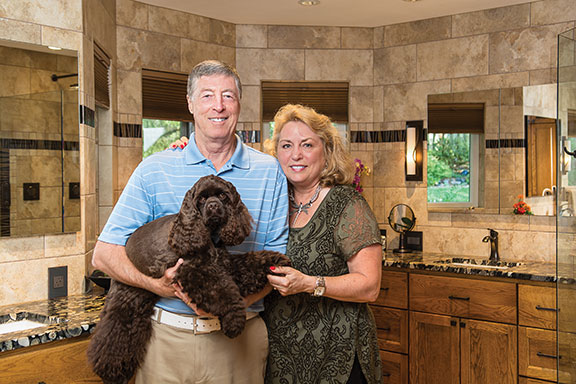 When Carol and Renner Winston first met Shawn Knoch of All Phase Remodeling, the master bathroom in their '80s Lake Oswego home was in need of a serious renovation.
Knoch's warmth and professionalism in that initial meeting inspired the couple to think seriously about creating a magnificent, updated bathroom.
"Carol was very specific about her wants and needs which included lots of storage, a decent size shower and an overall updated look," Knoch says. "Through a collaborative design process, the Winstons and I were able to come up with a design that hit all of their desires."
Shawn and his wife, Kim, founded All Phase Remodeling—a full-service residential design/remodel company—in 2007. "The primary goal was to find good people with interesting projects and help them navigate through them as quickly and painlessly as we could," he says. Having integrity has been—and will always be—important to him.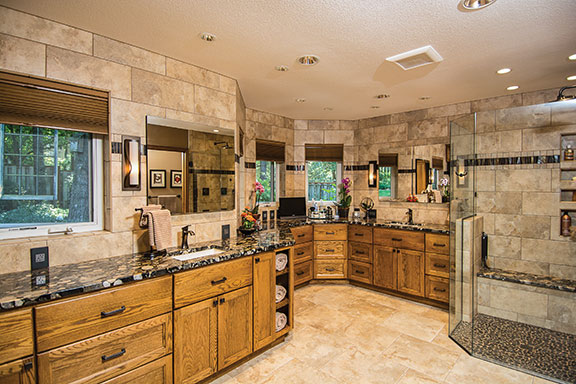 Construction began on the Winstons' master bath in April and wrapped up in July. The result is a calming and sophisticated retreat full of modern comforts. The heart of the new room is the handsome custom-built oak cabinetry. Golden Marinace granite— a natural material with embedded white, off-white, tan, black and gray stones—tops the counters. Full-height tile walls in rich, earthy tones create an elegant backdrop for the tall, hand-forged sconces above the sinks.
To create ample storage space—including the house's first linen cupboard—Knoch and his team incorporated several well-tested kitchen storage ideas. They installed a lazy Susan in a corner cabinet and a series of tiered drawers. Additional pull-out storage areas were added under each of the sinks.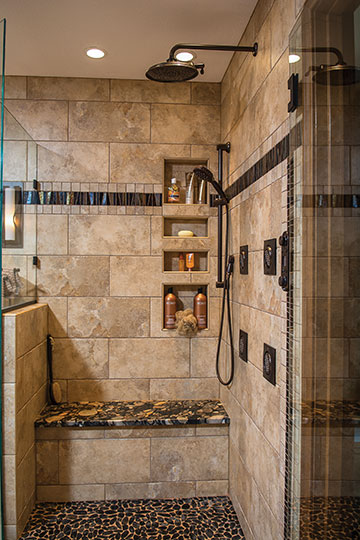 All Phase replaced the Winstons' aging shower with a roomy new curbless, digitally controlled model that allows Carol and Renner to set their individual preferences for temperature and overhead water and body jet placements. Heated tile floors controlled by a programmable thermostat keep the couple's feet warm on chilly mornings. While they bathe or brush their teeth, they can enjoy music via a wireless Sonos system, which also functions throughout their entire home.
"I absolutely love the room," Carol says. "I can honestly say there isn't anything I would change—and that's the true test of a successful project."
In addition to enjoying her new space, the homeowner found the experience of working with Shawn and his two-person crew to be exceptionally smooth. "I cannot say enough good things about Shawn," she says. "He was always prompt and at the job site every day—even if just to monitor his subcontractors. We felt he was our partner in the project. His communication skills were wonderful. We have and will continue to recommend his skills and service to our friends."
"The Winstons' bathroom is a beautiful example of what can be done with a dated space," Knoch says. "Together, Carol, Renner and All Phase helped to create a space with great attention to detail and careful craftsmanship throughout."