Written by Jon Shadel | Photos by Jeff Beck | www.huberddesign.com
An architect's stunning design blurs indoor and outdoor space, but poses many challenges for the artful builder.
It began with a desire, and the vision soon followed. The genesis for this stunning vacation home in Eastern Oregon was one family's dream of creating a waterfront retreat where they could spend long summer days with their children, enjoying watersports on the rushing river.
The architect's design stylishly fulfills the family's wish: The home is a compound of living spaces, built along a stream, encompassing a separate guesthouse, guest rooms and a bunkhouse. The organic blurring of indoor and outdoor spaces encourages the family and their guests to freely move outside into nature. The home also recedes into the hillside, giving the impression that it's a part of the landscape.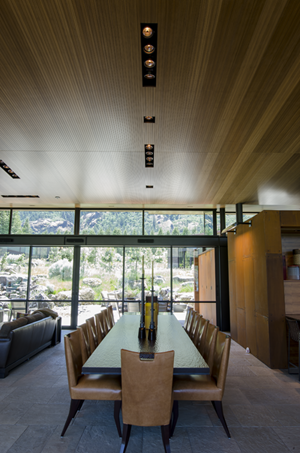 Achieving this synergy between nature and the architectural design — what's organic and what's designed to seem organic — was no easy task, and behind the home's success is a builder who specializes in high-end custom homes.
Tim Huberd, principal of Huberd Design & Construction, strikes a delicate balance: With a background as an architect, designer of custom homes and decades of experience as a contractor, he speaks the language of an architect and possesses the technical expertise to bring their visions to life. But he is also sensitive to the needs of homeowners; this vacation home is a prime demonstration of his skill.
"I am no stranger to complex structures; I embrace these challenges," Tim says. "And there's nothing conventional about this project whatsoever." He explains how the construction of the home required constant problem solving on the fly — something other builders might shy away from.
The home's design posed countless challenges during the build process: For one, the different living spaces required an integrated foundation and heating system. But these were built while the landscaping was also being completed. The water feature at the center of the design also made the process more difficult.
"My role in this process is twofold; first, I am going to find solutions that fulfills the architect's vision," Tim says. "But I'm also going to balance that with solutions that are cost-effective for the homeowner. That's what we accomplished on this project."
It's Tim's appreciation for groundbreaking design that encourages him to take on such challenging tasks — that's how he defines his role as a builder. "There was complexity in every stage of the process," he admits, "but the result is a work of art."
Architect: Barry Gehl, Krannitz Gehl Architects. Interior Design: Barbara Leland, Barbara Leland Interior Design . Landscape: Steven E. Koch, Koch Landscaping Architecture.