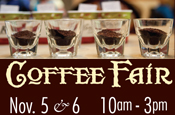 Learn about coffees from around the globe or just how to brew a better cup at home in this two day festival at the World Forestry Center.
Ever wonder why coffee at the cafe tastes better than the coffee you make at home?  "Learn How to Brew the Perfect Cup" while still in your PJs. See, smell, and taste the difference between medium and dark roasts. Or put your favorite coffee in a taste test against others and see who comes out victorious! 

Savor and sip coffees from around the globe as bigwig-to-backyard roasters introduce new products, and roll out retro brewing techniques. Tempt your taste buds with the world's most popular drink. Discover your new favorite roast or blend from some of the Pacific Northwest's premier roasters.
When: November 5 & 6, 10 a.m.-3 p.m.
Where: World Forestry Center, 4033 SW Canyon Road, Portland
How much: $8 adults,  $7 seniors (62+) and $5 children (3-18)