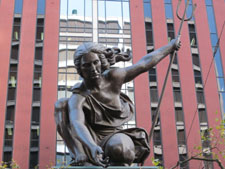 To celebrate the second season of Portlandia, Portland's Central Library is exploring some of the things that make the city special. Up first? Backyard chickens, of course.
Raise Chickens in Your Backyard Sunday, January 15, 1-2:30 p.m.
Build Your Own Terrarium Sunday, January 29, noon-1:30 p.m.
Gardens of Eatin' Sunday, February 12, 1-2:30 p.m.
Portland's Food Carts Sunday, February 26, 1-2:30 p.m.
For more information on the free events, check out multcolib.org.