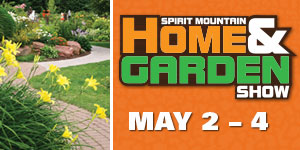 Spirit Mountain Casino presents a FREE three-day Home and Garden Show starting May 2 to May 4. Celebrate the first weekend in May with this outdoor inspiration extravaganza.
The event schedule is as follows:
Friday May 2nd: 3 p.m. – 8 p.m.
Saturday May 3rd: 10 a.m. – 8 p.m.
Sunday May 4th: 10 a.m. – 5 p.m.
Prepare for three days of innovative ideas, ingenious solutions, and affordable options for all of your property's needs. Watch presentations and demonstrations covering all things home and garden, then explore products and tutorials offered by featured businesses, which include COSTCO and Angeney Kime Artisan's Market.
Read more here.