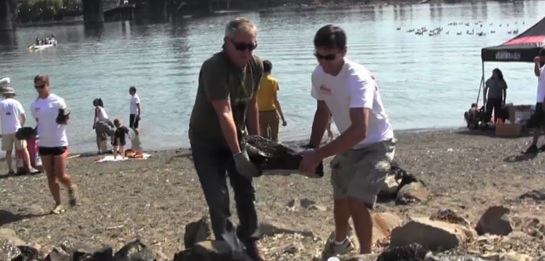 Rallying around the cry, viva la riverlution, people of all ages will gather along the Willamette River on Saturday, June 27th for the first annual Portland Beach Bash and Cleanup. The inaugural event, a kickoff to summer, is presented by the Human Access Project (HAP) and SOLVE and sponsored by Anheuser-Busch, Maletis Beverage, Barefoot Wines, Chipotle and Twisted Tea.
Interested in joining? Register here!
Volunteers will meet at 10am at their choice of either Poet's Beach (eastside of Willamette River under Hawthorne Bridge) or Audrey McCall Beach (westside of Willamette River under Marquam Bridge. The goal is to clean up these two downtown beaches and get them cleaned up and ready for swimming and other public use. Anticipated volunteer attendance is 150, plus a 10 person inmate workcrew.
Work will include picking up trash, weeding and moving riprap rocks from the shore and placing them back on the bank ("unrocking the beach"),. Removing the rock from shallow water will also help improve habitat for juvenile salmon. There will be rocks of every shape and size for all ages.
Following a few hours of beach cleanup, a closed after-party will commence on the patio of Portland Sports Bar and Grill with food, drinks and other treats from our sponsors plus free Chipotle Burrito cards for volunteers. AND the first 50 volunteers will get a free inner tube from Twisted Tea! Anyone interested in volunteering may register at the SOLVE website.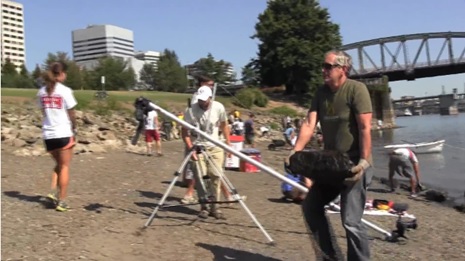 The Portland Beach Bash and Cleanup is the next step in a grass-roots movement to bring attention and a new perspective towards the Willamette River in downtown Portland. The work/party was conceived by the Human Access Project, the same group that puts on The Big Float, an annual river float and beach party. This year, over 3,000 river revelers are expected for TBF V, their 5th annual event on Sunday, July 26. Plans call for live music on a barge, food carts, beer garden, kids' activities and awards for "Most Fabulous" costume and "Most Outlandish" watercraft.
The Human Access Project is a local not-for-profit organization whose mission is to transform Portland's relationship with the Willamette River by creating better access to it, inspiring people to embrace it, and facilitating stewardship of the river and watershed. For more information, go to humanaccessproject.com.
SOLVE is a statewide nonprofit organization that brings people together to improve the environment and build a legacy of stewardship. Over four decades, the organization has grown from a small, grassroots group to a national model for volunteer environmental action. Today, SOLVE mobilizes and trains tens of thousands of volunteers across Oregon to clean up beaches and rivers, and restore watersheds. Visit www.solvoregon.org for more information.