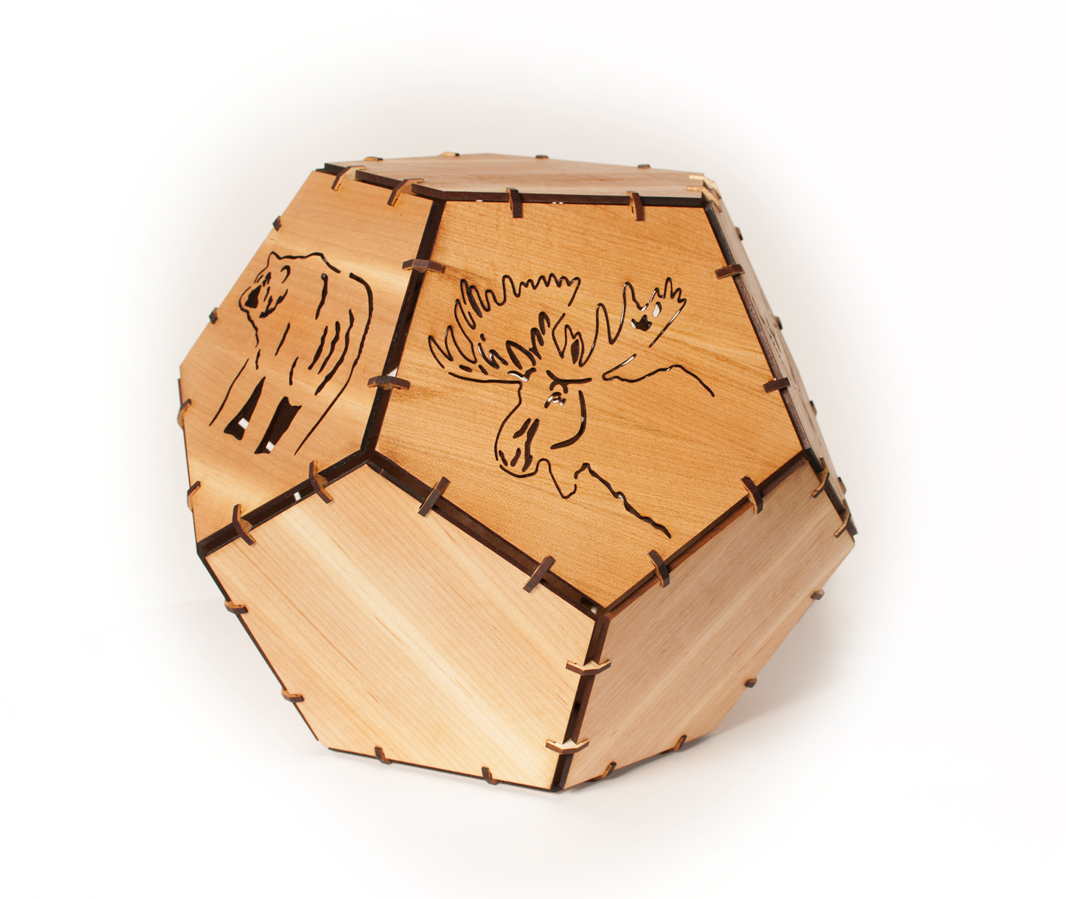 Dodecahedron Lamp by Laike Little , Ace Academy. Photo by Cassandra Jackson
The Challenge: To Make Small Wonders From Wood Remnants
PORTLAND, Ore (Apr. 11, 2015) – Portland's iconic furniture company has an annual design competition among its master woodworkers called Metamortise – the mission is to create unique furniture pieces from leftover scrap materials. The company exhibits the one-of-a-kind pieces on their website and in an event at their downtown showroom starting April 16. Consumers then vote for their favorite piece. One voter is then chosen, at random, to win the piece of their choice.
For the 2016 event, The Joinery partnered with ACE Academy. The Joinery donated scrap wood leftover from the manufacturing facility's larger furniture pieces to the high school students for their projects. The student produced coasters, a lamp, a clock, artwork, puzzles, iPhone cases and iPhone docks to be exhibited at The Joinery's downtown location during Design Week Portland. The items will be for sale starting April 16 as a benefit for ACE Academy.
"It's amazing to see the students with such excitement and pride in what they are learning and creating. The Joinery has provided an opportunity for the students to feel the stress of having a real client, with real deadlines. Some have experienced the disappointment of not completing the task, which is a hard yet very valuable lesson. While others who were able to complete the project, are experiencing the inverse," Angela Wright, ACE Academy Architecture Instructor.
Adhering to the company's sustainability mission of recycling 100% of its wood waste, owner and CEO Jon Blumenauer challenged the teams to think creatively. "The wood takes on a new life as it is upcycled into a different product and, very importantly, the leftovers stay out of the landfill."
The Joinery does not send a scrap of wood, or even a puff of sawdust, to a landfill. All scrap lumber is recycled into new products or donated. The Joinery woodshop boasts a dust collection system and briquette machine that collects all sawdust and transforms it into wood briquettes that are donated to the community. The Joinery master woodworkers Metamortise pieces are available to view starting Thursday, April 14th, online at TheJoinery.com , as well as, at our downtown Portland location at 922 SW Yamhill. The Metamortise kick off event will be held on Saturday, April 16th, from 3-5 pm.

Coffee Table by Jon Cole, The Joinery. Photo by Cassandra Jackson.