Do you ever wonder how I hear about random salvage and scrap places around town? Probably not. Do you care? No? Too bad!
Recently a reader commented that he found some good cast iron pans at Metalwood Salvage. Being curious, I checked out Metalwood's space at Vintage Vendors on NE Sandy, and really liked what I saw.  Their inventory was cool, plus the prices were reasonable. On Metalwood's Facebook page I noticed items they currently had for sale on Craigslist, and I went out to buy a tractor seat. Who doesn't need a tractor seat? Or five? This is the start of my collection – and I got it from Metalwood Salvage for $30, plus a "West" street sign for $30. And then I got a 10% discount because I "liked" their Facebook page. Pretty much I was in love at that point, but hey, I got a tractor seat. I'm hardly impartial. So let me tell you what I learned from the Metalwood folks.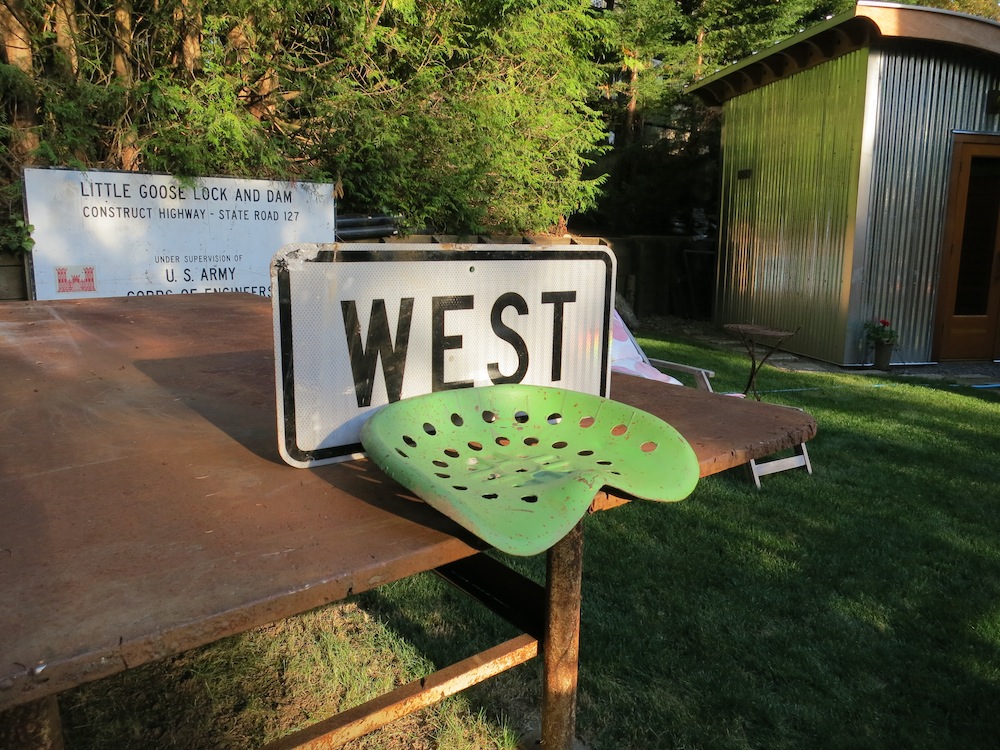 They make furniture out of salvage to sell at reasonable prices. As a matter of fact, some of the other industrial salvage places in town have been spotted buying Metalwood tables and re-selling them for 100 times the price. Totally legal, but why? Oh, I understand why the purchaser would want to re-sell for a 1000% markup, but why would the general public want to buy at that price? Salvage at nutso prices is…nutso. When I asked about their reasonable prices, one of the Metalwood owners casually replied that they want to keep their goods and furniture affordable so everyone can make cool purchases. Per their website, they want to "disrupt the buy–destroy–re-purchase cycle". How nifty is that?
And, as if they needed to up their cool factor, Metalwood Salvage is building a teeny tiny house for The Tiny House Hotel on Alberta.
The icing on the cake? Metalwood Salvage has a storefront opening – hopefully by the middle of September or thereabouts. It's location is on N Prescott, and they recently selected their exterior paint color via their Facebook page. Also, remember that "liking" their Facebook page will give you 10% off on a pre-opening purchase. My recommendation? Check this place out.
Portlander Nancy Ranchel is a self-described accountant, design fan, serial re-modeler, compulsive re-user and blog writer.