David Piper is a man of many identities.
By day, as an associate at SRG Partnership Inc. in Portland, the architect juggles the design and building of commercial structures such as a hospital in Honolulu. By evening, he is husband to his architect-wife, a daddy to their 3½-year-old son and, once he heads down to his basement studio, the potter behind David N. Piper Ceramics.
So is he a ceramic artist who practices architecture to pay the bills or an architect who dabbles in pottery? "I'm an architect who's been serious about ceramics for the last 10 years," says the 39-year-old, who was raised in Irvine, Calif., and graduated from California Polytechnic State University in San Luis Obispo. "After I get home from work and have dinner with my family, I love to duck downstairs and be by myself with my clay. The making of the work is the best thing. I only sell my work because, frankly, I don't need tons of if laying around the house."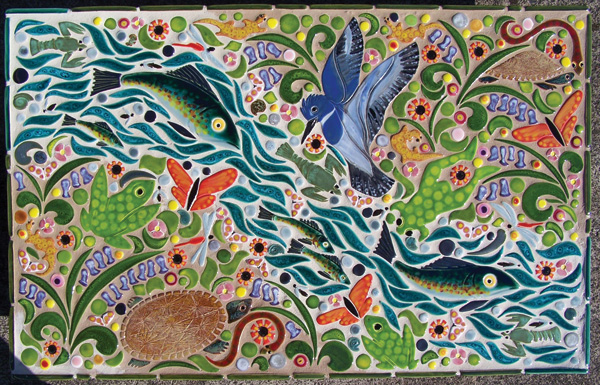 And sell it does. Two years ago, he was a featured artist at The Society of Arts and Crafts Cup Invitational in Boston, and was also one of 20 emerging artists invited to show his wares at an American Craft Council show in Baltimore. "That was an honor," he says. "During the Craft Council show, I ended up getting orders to make hundreds of cups and other pieces, so it took me more than six months of working in my studio after work to get caught up." His setup includes an 80-piece electric kiln in his studio and a gas kiln in his backyard. Five of his saké cups made the cut to appear in 500 Cups: Ceramic Explorations of Utility & Grace, edited by Suzanne J.E. Tourtillott ($25, Lark Books Publishing, 2005).
Once you know Piper designs buildings for a living, you see the love for the linear in his organic modern bowls, plates, sake sets and vessels such as this Grooved Vessel. "I used to do a lot of life drawing when I was in college, and my wife says a lot of my pots have an anthropormorphic shape to them," he says. "I think I'm just abstracting the human form. Drawing people is one of the hardest things to do, artistically, because it's challenging to capture a person's personality quickly."
Piper limits his glazes to a light blue, an ivory or a brown to keep your eye on the shape of what he's turned out on his potter's wheel. "I keep to a simple palette because, for me, my work is about the form, not the glaze," he says. "Occasionally, I'll do some painting on one of my large plates. I really like the muted color of a blue celadon glaze. Sometimes—especially using a blue celadon glaze—I get carbon-trapping on the piece, which means black marks will appear on, say, the lip of a cup. It's always a great surprise when I finally get to open the kiln door and see what's happened to the pieces inside." His Grooved Vessel costs $100 for a 4-inch-wide, 7–inch-tall piece; an 8-inch-wide, 16–inch-tall version sells for $400.
Contact ceramic artist David Piper at 503-754-6652 or go to his website, davidnpiper.com. His work is also for sale at The Contemporary Craft Gallery (724 N.W. Davis St., 503-223-2654 or go to contemporarycrafts.org) in Portland and at the Museum of Craft and Folk Art
(51 Yerba Buena Lane, 415-227-4888 or go to mocfa.org) in San Francisco.