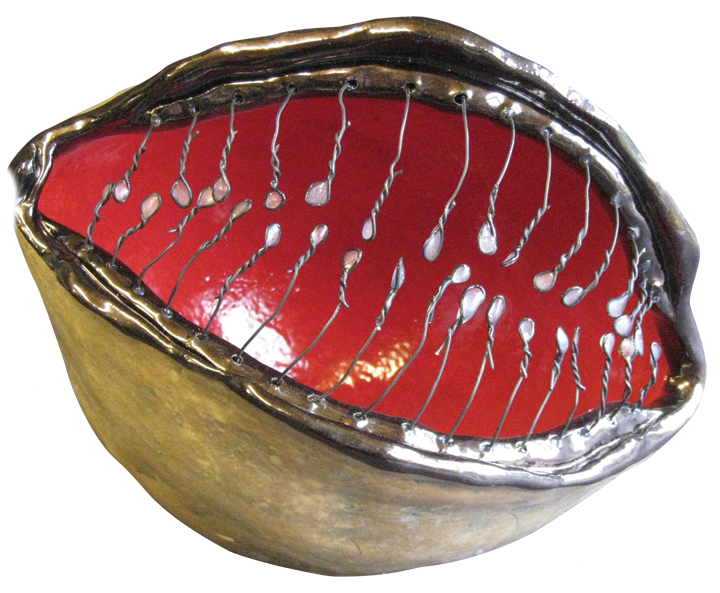 Eighteen-year-old high school senior Sam Ryan took a ceramics class as a freshman at Grant High School in Portland that served as the catalyst for her wanting to become an artist. "When I was younger, I'd never thought I was very good at art," she says. "I'd never thought of myself as a creative person, but then my teacher gave us an assignment to do a sacred box to honor a friend or a family member who'd died. I made one in memory of a friend who'd committed suicide. I really got into making the box and I put a lot of myself into it."
  Ryan, who now considers herself a sculptor, works with ceramics, photographs, metal and paper, and enjoys mixing different materials into her pieces. "I'm doing a lot of digital photography and incorporating it into my sculpture," she says. "Art is very meditative, and I like working through each part of a piece and perfecting it. I like to work with my hands, and I like to work in three dimensions."
  The wire-and-resin lamp (above) is a Venus flytrap lamp and is one of a series of three lamps based on carnivorous plants. Ryan made them in her Advanced Placement art studio class, where she picked a concentration for her projects for the entire year. "The outsides of the lamps are very textured and spiky organic forms with earth tones, but the insides are bright red, oranges and purples," she says. "They light up in a really pretty way. The lamps have a womanly form and fit in with my concentration, which is women's sexuality."
  After graduating from Grant, Ryan plans to spend two years taking general education courses at Portland Community College and then transfer to art school and eventually work as an artist in the Pacific Northwest. "I don't plan on leaving Portland anytime soon," she says. "I love that I live in Portland, which has this awesome creative community." The 6-inch-tall and 10-inch-wide Venus flytrap lamp costs $200.
Contact sculptor Sam Ryan via e-mail at [email protected].