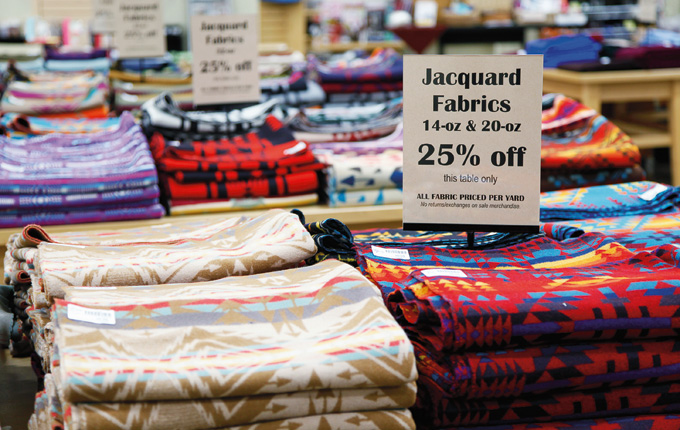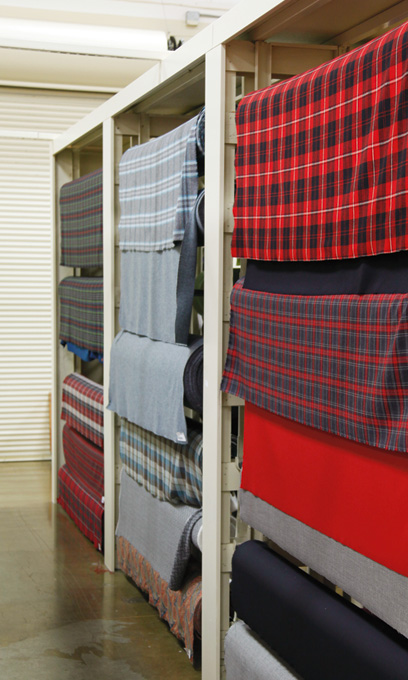 // Photos by Alexandra Shyshkina
With 348 rolls of Pendleton fabrics ($10-$80 per yard), tables of discounted remnants and shelves of Pendleton yarns, the 12,000-square-foot Pendleton Woolen Mill Store in Southeast Portland is a textile-lover's paradise. "People are amazed by our fabrics and supplies," says assistant manager Tawnya McVay.
 Wooden bins hold scraps (50 cents to $5.00 per pound), ranging from long thin strips to large pieces left over when blankets are cut from looms. Friday mornings, a "Truck Report" on the store's blog announces the weekly scrap delivery. "People line up for the large pieces," says McVay. "I've seen people lay out a patchwork quilt on the floor." When you buy materials at the store, you can ask for a label that says "Hand-Tailored from Pendleton" to sew into your finished piece.
Located in one of the company's old mills, the store also offers weekend classes ($25-$40 per class including supplies), including felting, crocheting rugs, whipstitch blanket binding, and making aprons and log carriers.
The store carries the Pendleton Home Collection, and a long wall showcases current blankets. The custom embroidery department can personalize your blanket ($7 for the first seven letters, 60 cents for each additional letter). "One of my favorite things about this store is seeing how creative our customers are," says McVay. 
Pendleton Woolen Mill Store, 8500 S.E. McLoughlin, Portland, 503-535-5786, thewoolenmillstore.blogspot.com