What ceramic artist Claudia Hollister likes about working with porcelain clay is the uncertainty of the material. "It feels so nice, but it can also give you a lot of headaches creatively," she says. "It's one of those materials where the piece designs at least 20 percent of itself."
Growing up in Eugene, Ore., Hollister was constantly coming up with art projects. "I was one of those kids who'd decide to make new 'wardrobes' for my paper dolls and cut out pictures of clothing from magazines," she says.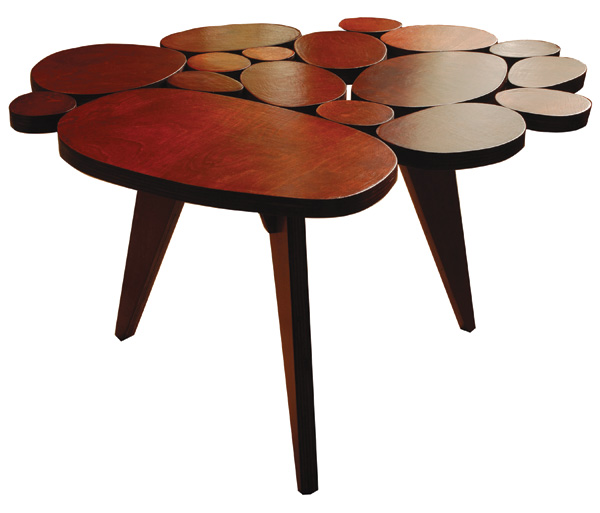 After graduating from the University of Oregon with an art degree, she applied her creative skills to a wide range of products. She used a lost-wax process to make boxes and containers incorporating detailed carvings. She lived on the East Coast, doing reproduction work for the Metropolitan Museum of Art and designing molds for Godiva chocolates. In the mid-1980s, Hollister, who now lives in Portland, began to work mostly in black and white porcelain. "I started with earrings because I could relate to the scale, and then I moved up to larger, more complex pieces," she says.
The majority of Hollister's projects such as the 12-inch by 14-inch abstract fruit (pictured, top right) and the 11-inch by 14-inch Japanese-influenced art tiles in black (below) are custom commissions. "I work in a lot of different techniques and processes," she says. "When you come to my studio, I can lay out different scenarios and designs to think about."
To make these tiles, Hollister applied printmaking principles. "I print them when the tile clay is still wet with black slip, which is a liquid clay, to make the design," she says. "I treat the black slip as if it were ink, but I have a lot less control with this medium than I would with inking. The slip dries very quickly, and it's a one-time shot. I either get it or I blow it." Hollister's tile designs start at $300 per square foot.
Contact ceramic artist Claudia Hollister at 503-636-6684.