Turning 50 this spring was more than a daylong celebration for mixed-media artist Katherine Mead. To commemorate her milestone birthday, the Lake Oswego, Ore., artist spent the previous year creating 50 new works of art, which she unveiled at a show she called "50 at 50" in the gallery space of a Northwest Portland architecture firm in August. "I think curiosity, not botox, keeps you youthful," she says. "I still want to learn, to grow, to reflect—to look back and look ahead. Working on just my own artwork for the year before my 50th birthday was a way to be both introspective and retrospective."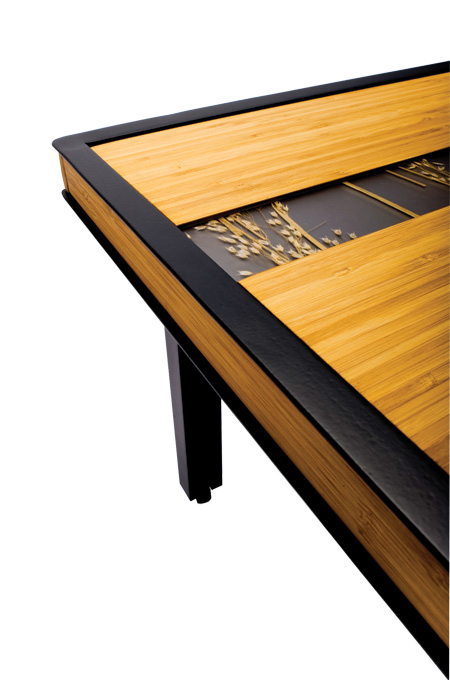 The pieces she created ranged from large mixed-media collages to 6-by-6-inch works she calls "little landscapes." "While driving to Eugene to see my daughter at the University of Oregon, I'd see a million landscapes I wanted to paint," she says. "Every trip down and back, I'd look out the window and I'd tell myself, 'That's a painting! . . . That's a painting! . . . That's a painting!' I kept taking pictures with my cellphone of scenes that I knew I'd paint. They were hard to work on because they were so small, but they looked cool grouped together."
A native of Los Alamitos, Calif., Mead studied interior architecture and design as an art major at Long Beach State College. As Mead Studios, she works as both an interior designer and a graphic designer. "So much art work is poorly lit," she says, giving a shout-out to one of her pet peeves. "I'm obsessed with lighting design. I like to help my clients curate their collections, and then help them light their interiors properly. Remember, you should design around your art collection, not the other way around."
Ten years ago, she started painting.
"I wanted to be The Boss," says the mother of two daughters about what motivated her to take brushes in hand.
"I wanted to be creative in a more experimental way than I could be with the work I was doing for clients. I'd worked so long with constraints, I'd lost some of the ability to be completely open." A former family room now functions as her studio; the entire house, she says, serves as her own personal Art and Design Laboratory.
Back Roads to Brooks, Fifty Divided By Two and Botaniscape are collages from her show. "Fifty Divided by Two commemorates my 25th wedding anniversary," she says of the 24-by-36-inch work on birch plywood. "My aesthetic is modern, but I want my pieces to have a sense of history, too. I love to rescue old things headed for the trash. I repurpose vintage paper into my work—pages from a book of algorithms, old dictionary pages, faded architectural blueprints, vintage dress patterns from the '50s that were printed in black on that tan-brown tissue paper, pieces of my old passports. I don't like a piece of paper to be perfect; I like that aged look. I embed colored tissue paper, too. I buy 500 sheets of aqua tissue paper at a time. I even make my own paper. You wouldn't believe what I send through my laser printer! I keep having to replace my printer. After I get the layers of paper right, I sketch on the paper, then trowel on different colors of oil and acrylic paints to get a yummy texture. It's not unusual for me to end up with 20 or 30 layers of paper and paint." Back Roads to Brooks sells for $495. Fifty Divided By Two costs $1,200. Botaniscape costs $650. Her 6-inch-square landscapes sell for $155 each.
Contact mixed-media artist Katherine Mead at 503-635-0066 or go to katherinemead.com. Her work is also available via the Mary Lou Zeek Gallery (335 State St., 503-581-3229 or go to zeekgallery.com) in Salem, Ore.