Luminosity is a hallmark of the pieces that husband-and-wife glass artists Heather and John Fields produce as Fields & Fields Blown Glass in Portland.
John, 55, was on a course to end up in the corporate world when he took a stained-glass class while studying business at the University of Arkansas. He later studied glass-blowing at the Pratt Fine Arts Center in Seattle and worked at Portland's Savoy Studios. Heather, 47, a Maryland native, graduated from Virginia Commonwealth University's School of the Arts, where she learned the craft of woodworking before switching to molding molten glass. "I loved that glass-making is so fast," says Heather. "Woodworking, by comparison, is slow. Plus, I liked how physical it is to make glass. Glass-blowing is an art and a sport combined."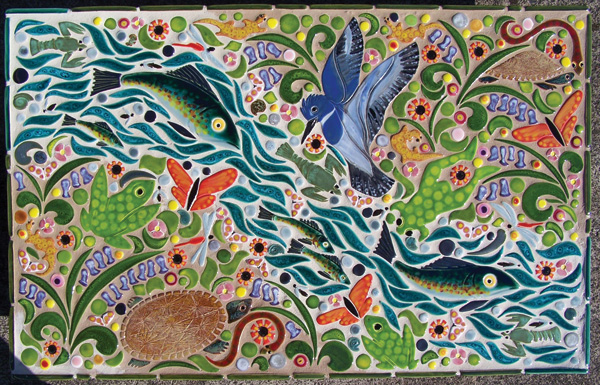 In 1995, the couple started working together. John, who loved the work of Louis Comfort Tiffany, was doing painterly representations of nature. Heather, who names master glass artist William Morris as an inspiration (he was Dale Chihuly's former chief gaffer and retired from glass-making three years ago, preferring to work in bronze), liked organic patterns and luminous colors.
"Our work looked different from each other's back then," says Heather. "John was doing a lot of floral designs, but I didn't share that aesthetic. When I became pregnant with our first daughter three years later, John started blowing some of the designs that I made that were good sellers." She gave birth to the couple's second daughter the next year.
So is there a chance that the glass-blowers' girls could join the family business and ultimately morph Fields & Fields Blown Glass into Fields, Fields, Fields & Fields? "Absolutely not!" says Heather, with a laugh. "The girls like to make things in the studio, but they also see that mommy and daddy work every day of the week, whereas other mommies and daddies have vacation time."
Humoresque is a good example of the couple's current aesthetic. "There's nothing profound about it," says Heather. "We'd been making a lot of pieces topped with Asian-style lids. One day we were messing around in the studio and I turned a little piece of glass into a 3-inch-wide vessel and put it on top of a piece. It didn't look quite right, so I tipped it over and 'spilled' a red bead of glass that looked like a drop of wine. I said to John, 'That's funny!' Which is why we ended up naming it Humoresque. Coming up with a title is always the hardest part of creating a new piece." The vessel has a lustrous soft sheen thanks to a couple layers of powdered glass with lots of silver in it, which creates the chemical reaction that iridizes the finish into its iridescent appearance.
"Glass-blowing is like pole-vaulting: Either you make it over the bar or you don't, and if you don't, you get to immediately try again," says Heather. Humoresque is 16 inches high and 6 1/2 inches wide. It sells for $495.
Contact glass artists Heather and John Fields via their website, fieldsandfieldsblownglass.com. Their work is also available at The Real Mother Goose (901 S.W. Yamhill, 503-223-9510 or go to therealmothergoose.com) in Portland.