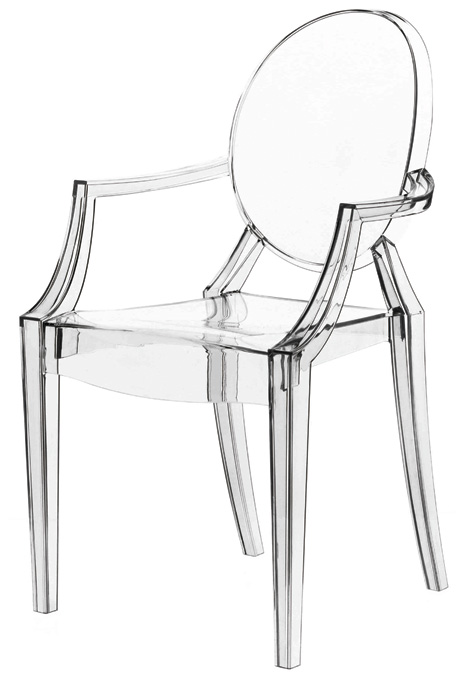 The Louis Ghost chair by Philippe Starck appeared in 2002 like an apparition from the past. The silhouette was a rococo Louis XV. The clear polycarbonate material looked space age slick. In certain light, the chair almost disappeared. It was hauntingly beautiful.
The Starck chair presented a startling new design perspective. It was humorous without being kitsch. It made a strong visual statement yet was barely visible. It recognized and anticipated the eclectic spirit of the most sophisticated consumers, materializing their desires before they even knew what they wanted. If that's not genius it's at least super smart design.
Kartell, which produced the chair, soon came out with other ghostly styles. They offer a transparent Victorian chair, a crystal clear bar stool, and a barely-there baroque table lamp that pays homage to the past without wallowing in reproduction.
They went too far with the Barbie ghost chair. Featuring a likeness of the Mattel doll etched on the seatback doesn't just jump the design shark but gilds it, too.
The haunting continues with ghostly candelabra in Lucite by John Russell, and a ghost clock by Yee-Ling Wan. The timepiece looks like a traditional carriage clock but with a glass front and mirrored back, the face seems to float. Clear acrylic Illusion tables by John Brauer for Essey look as if they're draped with long transparent tablecloths, and actually balance on the tips of the draped "cloth" as though levitating. The perfect tables for séances. Any single ghost item is a conversation piece in itself. But too much of a good thing is just plain scary. 
Louis Ghost Armchair, $410, at Design Within Reach;
Illusion tables by John Brauer for Essey, $300-$450, special order at canoeonline.net.