Sophisticated baby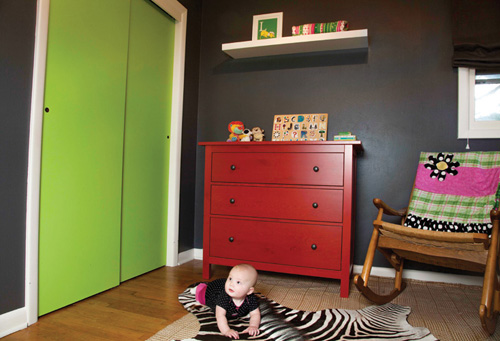 When DeAnn Welker and Nolan Lewis of Tigard prepared their baby nursery, they didn't know if they were having a boy or a girl. They needed the room to be versatile and to grow with their child but weren't sure where to start. They worked with friend and interior designer Anna Beth Chao, who is based in Louisiana, by sending images and receiving advice long distance. The resulting deep charcoal-gray walls, apple-green doors and black-and-white wallpaper designed by Portland cooperative Pattern People (patternpeople.com) is a sophisticated space for baby daughter Lincoln Marie Lewis. The dramatic gray/green color combination (Behr "Dark Ash" eggshell and "Tart Apple" semigloss) is trending up in painted furniture, bedding, towels and exterior paint jobs. V.M.
// Photo of Lincoln by Sierra Breshears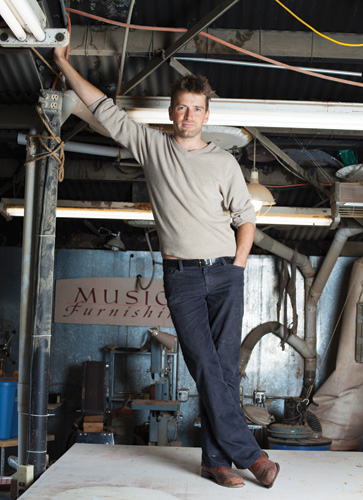 Music Man
Washington native Tor Clausen recently relocated to Portland, bringing his innovative and whimsical wood designs with him. He began making his musical instruments in college, and eventually his hobby became Musical Furnishings. Part furniture, part instrument, the pieces are at once gorgeous home furnishings and creative outlet. "I started with xylophones, morphing them into items that you want to have out and prevalent in your living space," he says. "I simply wanted more people to play instruments with less formality." Over the years his designs have evolved, now including complex designs that feature percussion and chimes. Play the drums on your dining room table that includes 12 separate percussion instruments, or store your child's toys in a handmade cedar chest featuring a xylophone keyboard, instead of just any old boring enclosure. E.H.
$800-$2,900; musicalfurnishings.com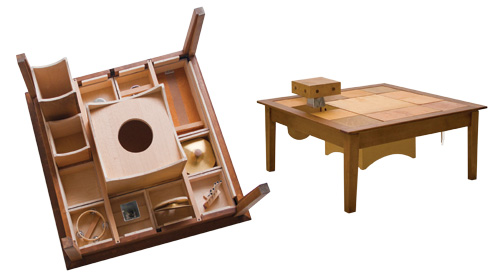 Home blend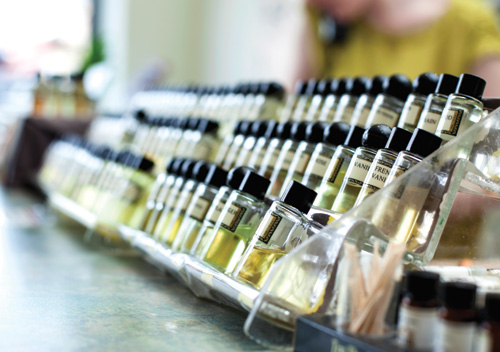 Home is a sensory experience. Tap that most elusive of the five senses with personalized, natural, fragrant blends for the home. Escential Lotions & Oils in Portland opened for business in 1979 and is still one of the best places to take your nose on a tour of the world, from Hawaiian rain to French lily to Egyptian musk. The concentrated scented oils are sold separately in simple glass vials, and they can be mixed with body products or added to diffusers and light-bulb rings for the home. V.M.
From $8 per .25 ounce; escentialonline.com 
---

Lovely letters
Portlander Deirdre Thompson is the artist behind Arts and Rec Letterpress. A designer by day, she wanted to step away from the computer to make her art. "I was looking for a more hands-on, personal and thoughtful process," she says. After scouring Craigslist for over a year, she finally got her first letterpress. "It's an adorable little 5-by-8 Kelsey that had been sitting in someone's basement for over 50 years," Thompson says. From cutting paper to mixing ink, her whole artistic process is now hands-on. Her typographic holiday cards and gift tags are perfect for the season. E.H.
$5-$16; etsy.com/shop/ArtsandRecPress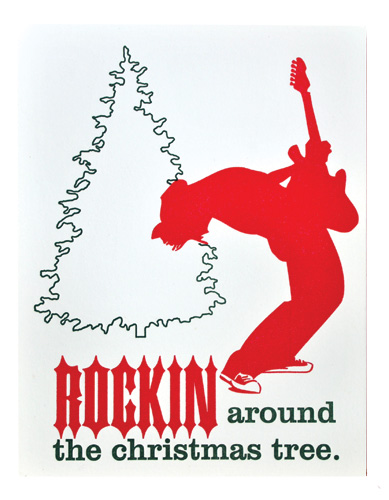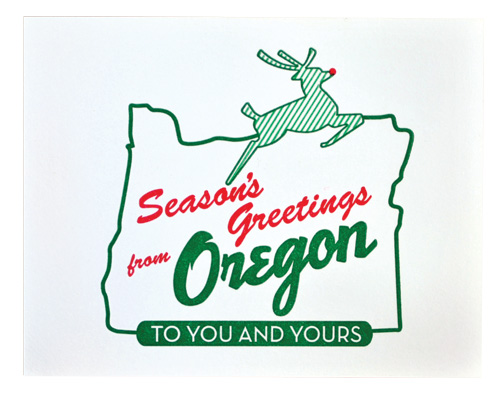 Glass act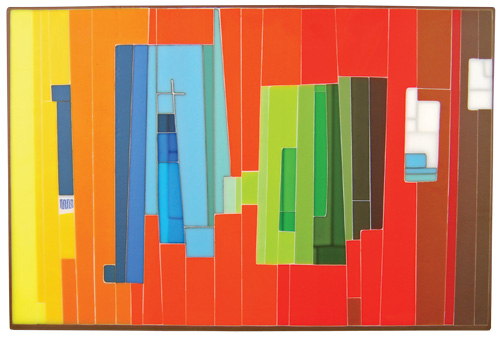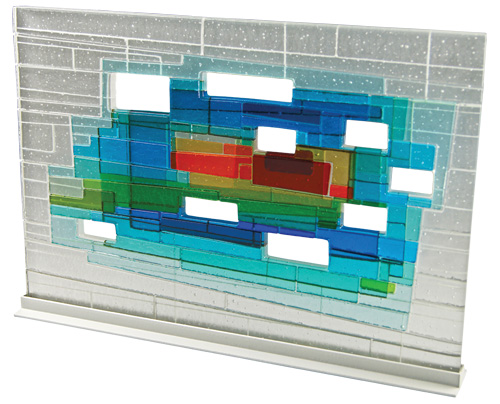 Morgan Madison paints with glass. He cuts, layers, heats and fuses shades of green, blue and gray to form a cubist landscape. When light hits one of his panels, sculptures or plates, it glows.
"Glass has so many personalities," he says. "It can go so many different ways."
After graduating with a degree in drawing from Lewis & Clark, Madison took a job at Bullseye Glass Co. in Portland. Surrounded by glass, glass experts and glass artists, he "couldn't help but fool around" with the material.
He brought his early experiments, "utilitarian fruit bowls and sushi plates," to a street corner during a First Thursday art walk. They quickly sold.
"I was still figuring out what I was doing technically," he says. "I still am. I'm always experimenting, refining."
The basement of his North Portland home serves as an art studio. Sheets of colored glass stand in racks on one wall. Against another wall, stacks of clear plastic boxes hold smaller pieces of glass all sorted by color. There's a small kiln in one corner. A second kiln, the size of a kitchen table, sits in his garage/workshop, along with a glass-grinding tool.
He starts with tiny 3-by-2-inch sketches, working out compositions in colored pencil. The final design is enlarged and drawn directly onto heat-resistant paper. He cuts pieces of glass to shape like puzzle pieces. The entire thing is then heated in a kiln. Translucent and opaque glass, sometimes three layers thick, fuse together. The depth and dimension of the glass is evident in small, semitransparent reveals.
"I'm trying to speak with my voice through glass," says Madison. V.M.
Glass plates start at $100, panels start at $2,000; morganvanmadison.com Bullseye Gallery, Portland; bullseyegallery.com Heidi McBride Gallery, Portland; heidimcbridegallery.com Paul Scott Gallery, Bend; paulscottfineart.com
---
Shiny spouts

Perfect for Oregon's rainy season, Art of Rain, based in Vancouver, Wash., specializes in custom metalwork that includes ornate copper downspouts. Designer Vladimir Sumchenko designs the downspouts, which are whimsical yet functional art pieces. Why have a boring, regular downspout when you could choose between dozens of options to adorn your drain? Animal lovers can get dragonflies, frogs or even elephants to gild their home, or choose a water-wheel design for an interactive moving sculpture. Sumchenko learned his craft in the Ukraine before immigrating to the U.S. in 1997, where he turned his passion into a successful business with his son, Max. The company also creates fountains, range hoods and sculptures, all out of copper and stainless steel. E.H.

$350-$3,100; artofrain.com




 

Work at home

Vintage industrial design has its charm. But the rust and wear that comes with it doesn't always work in the home. F.E. Bennett Co. in Portland sells commercial supplies such as stainless-steel school lockers, warehouse-worthy shelves, casters and brightly colored carts for the workplace that can also look right at home. Shop online and pick up in the Portland store. V.M.

3 lockers, $450; caster, $8.10; cart, $255; febennett.com

Bella boutique

Step into La Bella Casa and be engulfed in an awesome explosion of colors and textures. This carefully curated McMinnville boutique recently celebrated its 13-year anniversary. The adorable shop has gifts for everyone on your list, from cuddle-worthy lush towels to pet accessories to exquisite pottery. We especially like the recycled glass tableware from Fire & Light, available in a rainbow of colors. The brightly hued pieces are handmade and even dishwasher safe. The family-owned shop is a must-stop on your next visit to Oregon wine country. E.H.

6-inch bowl, $16; 8-inch bowl, $26.50; 11-inch bowl, $61; 406 NE Third St., McMinnville; shoplabellacasa.com

 
---
Local luxury

Big, thick butcher-block countertops are a design "do" all over the country. Here in Oregon, Sustainable Northwest Wood in Portland makes Oregon hardwood butcher-block countertops from sustainably harvested local lumber. The for-profit arm of nonprofit Sustainable Northwest gets its wood from various salvage sources and small-scale harvesters. The butcher blocks come in four different wood options: madrone salvaged from Central Point, FSC big leaf maple from Hyla Woods in Gaston, FSC Doug fir from Zigzag Doug Fir and Oregon white oak from Zena Forest in Rickreall. There is nothing like the timeless warmth of a butcher-block counter in the kitchen. E.H.

$26-$36 per square foot; snwwood.com

 

Master glass

Blowing molten sand into colorful translucent shapes seems every bit as mystical as spinning straw to gold. Reinterpreting an "ancient craft in a contemporary style" is how husband-and-wife team Berton and Christy Atherton Schrack describe their Howling Wolf Art Glass creations. They offer hand-blown vases in many shapes and colors. Their small vases, which can be hung or stand flat, are favorites. V.M.

Small hanging vases start at $35; at Portland Saturday Market, portlandsaturdaymarket.com; howlingwolfglass.com 

Burl boards

Kurt Halfen has worked with wood for more than 30 years. Halfen Wood Specialties recently introduced its newest product: one-of-a-kind, custom-engineered burl flooring. No longer relegated to high-end cars or yachts, the burls lend themselves beautifully to floorboards, making swirling patterns underfoot. Made in Lake Oswego, the boards are the only burl floorboards on the market in the world, according to Halfen's daughter, Claudia, who also works in the business. "I have grown up appreciating wood," Claudia says. "I enjoy the fact that every piece of veneer that you touch is different and therefore special." E.H.

$50-$120 per square foot; halfenwoodspecialties.com
---
Stuff it

Rooms, like whiskey, are best neat.

The right storage, shelves, boxes, baskets and organizational doohickeys make it easy to be tidy.

Dodd and Nancy Fischer established Storables in Portland 31 years ago. The idea of selling stuff to store stuff may seem odd. But with five locations in Oregon, Washington and California, it's obvious they're on to something. The store offers everything from wine racks, shoe shelves and storage benches to custom closet systems. It carries big boxes for storing bulky blankets and small divided boxes to keep crafting beads. There are natural woven-wicker baskets and sleek chrome ones. There are myriad gadgets for keeping boot shafts upright and neckties, scarves and belts hung straight, and containers to hold just about everything you can think of and some things you've never considered before.

"Because we're smaller, people think we must be more expensive," says Portland Storables vice president Jeremy Hawkins. "Not true."

That has proven important to customers who want to support local businesses but can't afford to spend more doing it. Storables works with manufacturers to create products exclusive to the store, including commercial-grade metal shelving, wine racks, and bamboo shelves.

So pack up your troubles — and anything else lying around. V.M.

Bamboo three-tier shelf unit, $40; clear plastic storage boxes, $2.50-$20;  storables.com