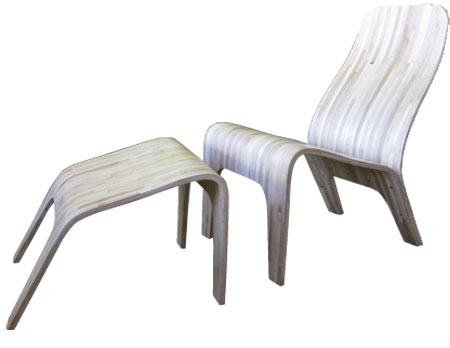 PAGING ALL BOOKWORMS
DAEDALUS BOOKS (2074 N.W. Flanders St., 503-274-7742 or e-mail [email protected]) is a bookstore-in-the-front, warehouse-in-the-back operation that's been in this spot for six years.
Jeremy Breedlove ("No, I'm no relation to that other Breedlove that's been in the news") launched the bookstore in 1997 after he was laid off from a graphic artist job. "But I've been around books my whole life," he says, which explains why the ambience is Avid Reader Perfect. Daedalus specializes in fiction, religion, poetry, philosophy and the classics, but we're coming back to peruse the ARCHITECTURE, PHOTOGRAPHY and RENAISSANCE STUDIES shelves. Ninety percent of the stock is used—and the prices look good, too.
BARRACUDA AND BEADED FLOWERS: WHO KNEW?
You'll feel as if you're in a big city's neighborhood market when you walk the aisles of CITY MARKET NW (735 N.W. 21st Ave., 503-221-3007), a not-so-large purveyor of meats, fish ($8.99 a pound for Idaho Golden trout), super-fresh produce, pasta, wine—and a whole lot more.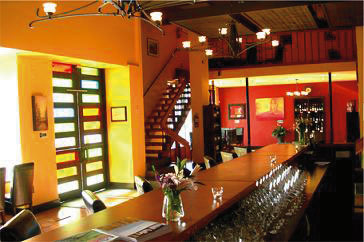 Floral designer Quinn Kyle uses the flowers in front of the City Market NW to make arrangements for weddings, events and "everyday happiness" as FLOWERS AT CITY MARKET (503-752-6633). She also sells the handiwork of Cassie Koslen (503-224-9164 or e-mail her at [email protected]), who made her first beaded rose when she was 11 or 12. "I like how they both emulate and repudiate reality," says Koslen, a Portland writer who's created large hat pins and hairpins, little bouquets, earrings and brooches. "I've never made a tiara, but I wouldn't mind trying!"
FROCK YOURSELF!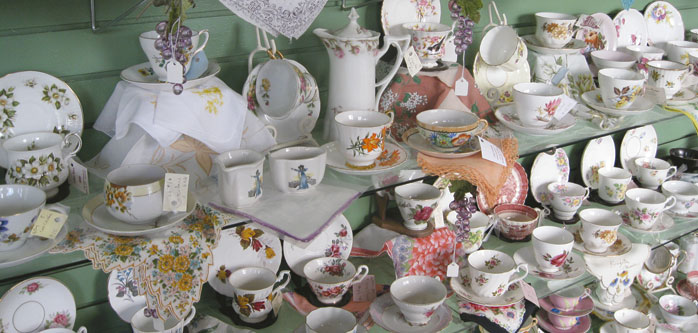 "Do you want to see the most beautiful thing you've ever seen in your life?" asks Alicia Justus (pictured), a former-nanny-turned-artist whom you're likely to have the pleasure of meeting if you drop into KEEP 'EM FLYING (510 N.W. 21st Ave., 503-221-0601), a vintage clothier that draws clients from near and far, including Hollywood film people looking for period attire.
Justus, who's dressed as if she just stepped out of a scene in "Paper Moon," holds up a sophisticated 1920s evening gown ($600) with amazing beadwork, and the women in the shop do a group swoon. "If I'd lived back then and I'd been a wealthy person, I would've worn something like this dress every day!" she says.
Cannibals Gallery owner Pamela Summerfield owns this shop, too. It specializes in high-end clothing from 1860 to 1980. "For the longest time, I thought that was a bellhop cap, but I learned it's a Masonic hat," says Justus, pointing to a fezlike red velvet hat ($49) atop a case filled with vintage jewelry. Stacks of hat boxes add to the shop's ambience.
And then she pulls out a 100-year-old black velvet coat embellished with black needlework that fits as if it were made for you. "It's $450, but it's museum-quality," she says. "Did Pamela tell you she does layaway?"

BY THE NUMBERS
May we suggest: Hop on the 17 Bus from downtown and get off at N.W. Glisan St. and N.W. 21st Ave. Walk toward W. Burnside St. until you get to Cha Taqueria & Bar, at the corner of N.W. Everett St. Sit at an outdoor table or find a table inside and order the mole enchiladas ($7) to sustain you through the next couple of hours.
1) 305 N.W. 21st Ave.—CHA TAQUERIA & BAR. This one-time antiques mall sports a contemporary Mexican look from its concrete floor to the frosted pendants hanging from the ceiling. The food is authentic yummy, too!
2) 2074 N.W. Flanders St.—DAEDALUS BOOKS. This quiet, well-stocked bookstore feels as if you're browsing in an avid reader's library.
3) 2120 N.W. Glisan St.—SAMMY'S FLOWERS. Let your senses take in the buckets and buckets of oh-so-fresh stems.
4) 510 N.W. 21st Ave.—KEEP 'EM FLYING. Are vintage clothes your only vice? Paw through these racks and you're bound to be bad!
5) 511 N.W. 21st Ave.—NOB HILL SHOE REPAIR. Replace your worn-out heels here ($15 a pair), or spring for a Copper Lee handmade cowhide purse ($95) or leash ($25).
6) 518 N.W. 21st Ave.—CANNIBALS GALLERY. Check out this mix of unconventional art, most of it from the hands of self-taught artists with something to say and a love for creatively reusing materials.
7) 2109 N.W. Irving St.—PORTLAND MODERN. Modern vintage furniture and accessories rule in this daylight-basement shop.
8) 735 N.W. 21st Ave.—CITY MARKET NW. Looking for some barracuda to dish up for friends? You'll find it here with organic vegetables, fresh meats, a sidewalk floral splash—and much more!
9) 916 N.W. 21st ave.—21ST AVENUE BICYCLES. Pop into this friendly neighborhood bike shop and pick up some Fun Reflectors for your favorite bike-riding girl or boy.
10) 1108 N.W. 21st Ave.—STELLA'S ON 21ST. Who says a boutique has to focus on one target market? Stella's sells stuff for everyone from babies to babes!