Buttons And Beads

The crafty and the needlearts-challenged alike will find must-haves at BRONZE KOI BEADS (1230 Marine Dr., Suite 101, 503-325-2669). This 1-inch-tall by 3/4-inch vintage ivory button ($12) depicting a little Inuit frivolity would make a great necklace for a long-unemployed friend who's just snagged her next big job. And who couldn't embellish something black (a decorative pillow, the band of your favorite hat) with a school of these inchlong black-eyed fish ($5.95 to $13.95 each) made of oxbone. This small shop has tables and tables of beads and buttons in a wide variety of materials from glass to metal.

Fabric, Notions And A Flashback
Portland still has bustling neighborhoods but few of them still have a fabric store you can duck into when you've got a need for the right shade of, say, navy velvet. Walk into JO-ANN FABRICS (1161 Commercial St., 503-325-3377) for a trip down memory lane when you strolled aisle after aisle in your local fabric store with your could've-been-a-seamstress mom as she fingered the bolts in search of the perfect material to pin her McCalls patterns to. You might be surprised by what you'll find: We couldn't resist buying a girl-monkey mask (do boy monkeys wear bows in their hair?) and an owl mask ($1 each) in a popsicle-stick-like thickness for our budding Picasso in the family to paint.
Pack It In At A Former Cannery!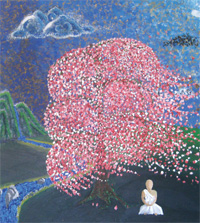 Watch the sea lions frolic from your table at GUNDERSON'S CANNERY CAFÉ (One 6th St., 503-325-8642), which is literally housed over the Columbia River in the former Kinney cannery that dates to 1879 (in the 1950s, a cargo ship outbound with 8,000 tons of grain ran into the building, a portion of which was lost). Breakfast on the Cannery Scramble ($8.50 for three eggs scrambled with bacon and artichokes, potato pancakes and a buttermilk biscuit). The restaurant also dishes up hearty lunches ($13 for a crab and shrimp cake with a small salad).
Locals recommend BAKED ALASKA (One 12th St., 503-325-7414) for its river view and good deals at happy hour. Don't worry about your food arriving scorched at the 3-year-old BLUE SCORCHER BAKERY & CAFÉ (1493 Duane St., 503-338-7473 or go to bluescorcher.com). The café's name refers to the nickname for an 1885 "safety" bicycle and its riders. The sunny spot (left) serves locally roasted Astoria Coffee Roaster organic fair trade coffee, pastries, lunches on artisan breads and organic pies. Yum!
GALLERYS GALORE!

Former Kansan Deborah Starr runs LUNAR BOY GALLERY (1133 Commercial St., 866-395-1566 or go to lunarboygallery.com ). "It's inspiring to work with so many creative people," she says. We liked this Jesse Reno painting ($1,000 for the 24-by-24-inch canvas) and fun pieces like this bee-hive-haired lady by Matte Stephens.
RIVERSEA GALLERY (1160 Commercial St., 503-325-1270 or go to riverseagallery.com ) is the city's oldest (12 years) and largest gallery, thanks to the efforts of owner-curator Jeannine Grafton, who worked for years at The Real Mother Goose in Portland. This is where we spotted the Leena Riker basket that is featured in this issue's "Portfolio" (see this article). Look for contemporary paintings, fine craft, photography, furniture and jewelry here. Actress Naomi Watts even discovered the gallery, buying a walnut desk and several paintings, while in the city to film "The Ring 2."
By the Numbers 
OKAY, HERE'S THE HOW-TO!
May we suggest: Ditch your car near 9th Ave. and Marine Dr. after you arrive in this city of 10,000. Then zig and zag through these well-stocked shops and boutiques. And here's a handy map, click it to open in its own window: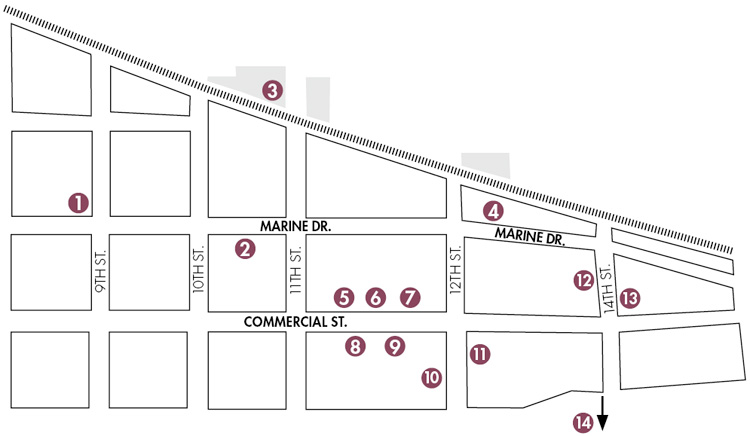 1.) 892 Marine Dr.—PHOG BOUNDER'S ANTIQUE MALL. Ship portraits and all things nautical such as this sailor's knot sampler on plywood make it clear that you're next to the Columbia River and near the Pacific Ocean.
2.) 1045 Marine Dr.—LIGHTBOX PHOTOGRAPHIC GALLERY & FINE PRINTING. Don't miss the mix of reasonably priced fine photography in this beautiful two-story gallery that a Portland couple left the Rose City to recently launch.
3.) 77 11th St.—Pier 11 boutique. Save air fare to Nepal and buy your Himalayan hats, silk throws and too-cute kiddie slippers here.
4.) 1230 Marine Dr., Suite 101— Bronze koi beads. Tabletops of specialty buttons round out this small shop's offerings for crafters.
5.) 1132 Commercial St.—DANISH MAID BAKERY & COFFEE SHOP. So many sweets . . . so little time. Don't head for your hotel without your midnight pinwheel in hand.
6.) 1160 Commercial St.—RIVER- SEA GALLERY. This sprawling gallery has a selection worth seeing.
7.) 1174 Commercial St.—ADAGIO. Japanese woodblock recuts from the 1930s will enchant you here.
8.) 1133 Commercial St.—LUNAR BOY GALLERY. From its retro sign to its quirky offerings, this gallery will make you smile as you check out its pillows, paintings—and more!
9.) 1161 Commercial St.— Jo-ANN Fabrics. Fabrics and novelties such as paintable girl monkey masks are here.
10.) 357 12th St.—HOTEL ELLIOTT. You'll love this renovated 1924 hotel with the comfy beds!
11.) 332 12th St.—JonAthon's Ltd. Vintage jewelry and antiques are sold in this small space.
12.) 229 14th St.—AMBIANCE. We love the shell-shaped soaps and vintage furniture in this boutique.
13.) 258 14th St.—The commodore hotel. A Scandinavian minimalist vibe infuses this hip hotel.
14.) 475 14th St.—VINTAGE HARDWARE. Architectural hardware and upcycled antiques are here.