Newly renamed, Burnside East—the business district between Sandy Blvd. and S.E. Stark St. between 39th and 12th avenues— has both a working class feel and enough boutiques geared to people with good taste to make a trek there worthwhile.
SHE DIGS PLANTS

John James Audubon could happily while away an hour at ARTEMISIA GARDEN NURSERY AND GALLERY (110 S.E. 28th St., 503-232-8224 or go to artemisiaon28th.com ), the 5-year-old shop in which Pacific Northwest College of Art graduates Amy and Michael Aiello artfully showcase their handiwork, other artists' wares—and Mother Nature's, too. In their next-door nursery, you'll find offerings such as Madame Lemoine white lilac bushes ($16) and espaliered apple trees.
The French-American painter, ornithologist and naturalist would know he was among kindred souls as soon as he heard the coos from the shop "dog," a rescued dove named Paloma from the Audubon Society. "I'm going to get him a bigger cage so he can have a bride," says Amy, whose father is a naturalist. Look for Michael's monoprints ($150), bonzai balls sprouting ferns ($24), hanging beakers ($6 to 12) awaiting a single stem or a silver pheasant feather ($2 each), succulents ($4 for a plant in a 2-inch container) and custom terrariums (above, $120). "I'm really into hanging plants these days," Amy says, eyeing her artsy cascade of two dozen tied-together small glass vases. "I can't wait to fill those with air plants or different varieties of mosses!"
IS CHOCOLATE YOUR FOOD GROUP?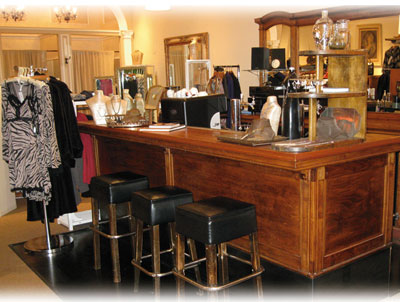 To eat or not to eat? That's the question you'll ponder after you buy one of chocolatier Sara Hart's works of edible art such as this Gilded Swallow (right, $18) at ALMA CHOCOLATE (140 N.E. 28th Ave., 503-517-0262 or go to almachocolate.com ). Hart named her tiny-but-vibrant shop after her grandmother, who taught her to make pies. The swallow is from her Gilded Icons line ($12 to $40 each), which are molded dark chocolates hand-covered in 23K edible gold leaf in iconic shapes such as hearts, buddhas and the Virgin of Guadalupe. Thanks to Venezuelan chocolate, real vanilla, organic cream and butter, and other local ingredients, the chocolates are as good-tasting as they are good-looking. Bon bons and truffles ($2.25 each), toffee ($7 for 4 oz.), cookies, cakes, brownies and chocolate drinks ($3 to $4.50 a cup for liquid love such as the Chocolate Cloud—drinkable ganache!) are here, too.
FROM GOODS FOR GREEN LIVING TO UPCYCLED ART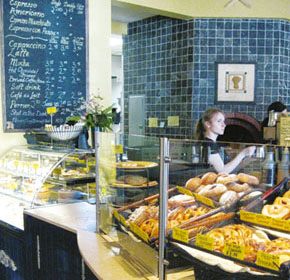 If you tread lightly on the planet, head for NATURAL GOODS (2136 E. Burnside St., 503- 548-4390 or go to localgoodsllc.com ), a "general store" that sells reused, recycled and new biodegradable products that support green living.
"I like that Portland has a reputation for being a liberal town and that it keeps attracting likeminded people like the people who shop here," says Polly Rask, a carfree former hair stylist, who opened the shop six months ago.
Check out the household goods such as Keeper Sacks reusable sandwich bags ($10.25), toiletries and personal hygiene products. We liked the eco-friendly office products such as the Sustainable Group line of binders ($6), folders ($1.25 each) and CD sleeves (40 cents) that the Seattle-based company makes from post-consumer recyclables, which saves trees, saves water and prevents solid waste landing in landfills.
Also notable are the affordable wares from artists who transform reclaimed materials into functional artworks.
HERE'S THE BEEF—AND THE DUCK LIVER MOUSSE AND VENISON PÂTÉ!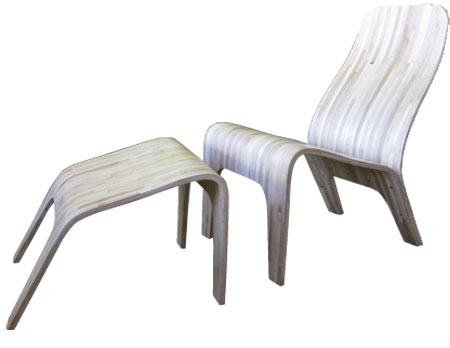 At the LAURELHURST MARKET RESTAURANT AND BUTCHER SHOP (3155 E. Burnside St.; 503-206-3097, restaurant; 503-206-3099, butcher shop; or go to laurelhurstmarket.com ), you can pick up a delicious artisan sandwich ($4 for half; $7 for a whole; that's the Fried Chicken on Kaiser With Creamy Slaw Sandwich) during the day (lunch is served from 11 a.m. to 5 p.m.) along with some house-made venison pâté or duck liver mousse with porcinis ($15 a lb.) for your next dinner party. The restaurant serves dinner in the evenings. The sandwiches come wrapped in—what else?—low-brow brown butcher paper, but the ambience inside (lampshade pendants, concrete floor) and out (espaliered plants in front of a copper-panelclad building) is upscale boho. Refuel here!
SUBTLY FRENCH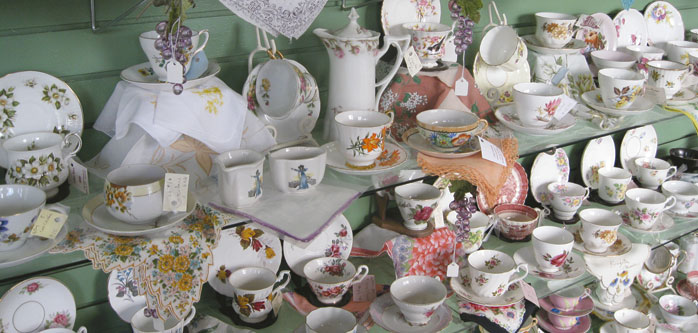 You'll wonder what you've walked into when you enter NATIONALE (2730 E. Burnside St., or go to nationaleportland.blogspot.com ), a tiny shop and gallery that carries what French-born proprietor-curator May Juliette Barruel fancies, mainly art books, records, art and her favorite French candies and soaps such as this nearly 2 3/4-inch-square block of Savon de Marseille soap ($12 for this pretty-in-pink Petales de Rose variety), which has been made since the 18th century. Barruel was raised in the Alps but has been in the states for a decade, so don't expect a beret-wearing ex-pat to sing out "Merci!" or kiss each of your cheeks after you buy a tin of her favorite Les Anis de Flavigny anise candies ($4). "Well, yesterday, I was playing traditional French folk music," she says, "but to do it day after day would be too comical."
FINNISH STYLE, AMERICAN PIE
If good design jolts you as much as a good cup of Ethiopia Yirgacheffe, you'll like the übersleek HEART COFF EE ROASTERS (2211 E. Burnside St., 503-206-6602 or go to heartroasters. com ). The 6-month-old coffee shop is the vision of professional snowboarder Willie ("Vee-lay") Yli-Luoma, a native of Finland. The minimalist interiors feature a coffeebean- hued floor, white subway tile backsplashes, black cabinetry topped with gray-veined granite, vintage Swedish anatomy charts on the walls, and a banquette fronted with tables and green wood-and-metal school chairs. Front and center, though, is an enormous coffee-roasting machine. Order a latte ($2.80 to $3.40) and a piece of Old Fashioned Apple pie from Random Order Coffeehouse & Bakery ($4.50 a slice), take a seat at one of the eyebrow-shaped countertops near the giant roaster and pretend you're in Helsinki.
HOUSEWARES FOR THE SERIOUSLY FUN SET
Offbeat home accessories such as this Lenticular Puppy Placemat ($3), make it a hoot to browse the mix at ZIMZIM DEPARTMENT STORE (2805 S.E. Ankeny St., 503-236-7178). We saw jasmine-scented candles shaped like birds ($2.50 each) that would look great grouped en masse. Or why not, come Halloween, replace your boring doormat with a Thomas Buchheimdesigned black or red doormat ($25) made of PVC plastic with a white Jolly Roger emblazed upon it? There's nothing like a skull and crossbones to let guests know: NO SENSE OF HUMOR, NO ENTRY!
ALL THE PRETTY DRESSES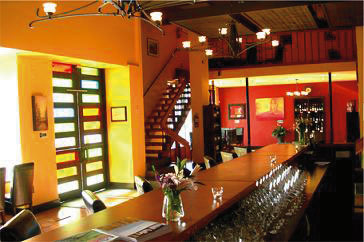 When a special occasion calls for the perfect new dress, check out what's hanging at SOfADA (2937 E. Burnside St., 503-445-2006 or go to sofada.com ), where Portland designer Alice Dobson sells her popular clothing and swimwear lines that are well-loved for their bright colors and wild prints. You'll also find the work of other local designers such as Kelcey Blanton (right, modeling The Chelsea, $175), whose label is Varnish Clothing (go to varnishclothing.com ). "I do mostly knit dresses," says the 24-year-old, who was born in Salem, Ore., and earned a degree in apparel design from the Art Institute of Portland. "I like simple designs with one little thing that makes a garment stand out; I did one dress that has a 'kangeroo' pocket that you can put your hand through all the way from the left side of the dress to the right. And I like to sew with vintage fabric. Honestly, I just like to create things. I like coming up with the idea, the pattern-making, the sewing." So could she be the next "Project Runway" contestant to represent the Rose City? "I could make an outfit in one day, but I don't know how good it would look!" she says.
DESIGNER DRESSES AND ESTATE SALE VASES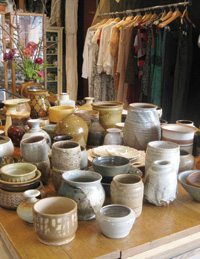 Vintage pottery (starting at $8) shares real estate with clothes from international designers and a few high-end home accessories (a Détacher felt ball costs $355) at UNA (2802 S.E. Ankeny St., 503-235-2326 or go to unamyheartisfull.com ), where Giovanna Parolari masterminds the picks. "I find pottery for the shop wherever and whenever; it's always been in my life," she says. Clothes horses will note the Chan Luu dresses ($185), which are handmade in India, and pieces from Feral Childe ($210 for a dress) and the Turkish label Crea Concept. Il Bisonte purses ($260) and wallets are here, too.
COME AROUND TO THE FELTING TREND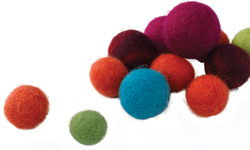 You don't need to knit or felt to have fun perusing the goods at GOSSAMER (2418 E. Burnside St., 503–233-4807 or go to gossamerfiberarts.com ). Proprietor Rose Sabel-Dodge ran the Portland Waldorf School Store for nearly a decade before the weaver-knitter-sewer turned to her love for the needle arts and opened this boutique two years ago. We love these marble-sized felted balls (six for $1) to heap up in a small bowl. Carl Sagan and Stephen Hawking devotees will want to snap up Bobbie Sue Schindler's "stab art" wool portraits of the supernovas ($65 for Hawking). Popular supplies include 100 percent Merino wool felt from Holland ($30 per yard), 100 percent wool batting from Quakers in Pennsylvania ($14.50 per pound) and plant-dyed wools ($8 per pound). If you end up with a hankering to felt, check into the shop's many classes.
FABRIC CITY
From the updated 1950s neon sign that tops ThE WHOLE 9 YARDS (1820 E. Burnside St., 503-223-2880 or go to w9yards.com ) to the retro chartreuse counter in the tassel and trim department to the names given to some of the custom furniture (we're talking about you, Big Fun Chair!), you just know corporate suits aren't behind this fun, well-stocked fabric store. The artsy co-owners are, in fact, Amy Estrin and Jamie Eoff, the husband-and-wife duo who relocated the store from the main drag in the Pearl District two years ago to this former neon sign shop, where they sell hundreds and hundreds of bolts of drapery, upholstery and slipcovering fabrics (think chenilles, tapestries, jacquards and velvets) in their now-19-year-old business. We loved (top swatch to bottom) this black-and-khaki modern print ($30 a yard), Pau Hana ($22 a yard) and Canton Bazaar ($21 a yard).