Museum patrons and theatergoers know from the odd shop nestled in between arts institutions off the South Park blocks such as the Portland Art Museum, the Portland Center for the Performing Arts (think the Arlene Schnitzer Concert Hall and the Newmark Theatre) and the Oregon Historical Society. Some of these specialty shops, though, merit a standing ovation of their own.
FILLED TO THE BRIM WITH WORLD-CLASS BRIMS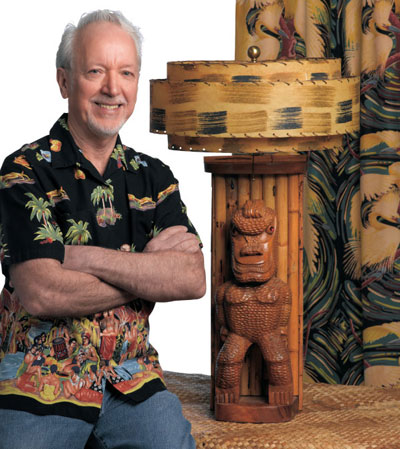 Whether you're looking for a ribbon-embellished straw hat or matching Tilley Airflo hats ($78 for the floatable Canadian-made hat with a secret pocket in its crown and a sweat-wicking forehead band!) for you and your 4-year-old, JOHN HELMER (969 S.W. Broadway, 503-223-4976 or go to johnhelmer.com) is your go-to outfitter.
Since 1982, the dapper John Helmer III has owned the newly remodeled haberdashery that his grandfather started in 1921. The boutique sells menswear such as Gitman Bros. shirts ($95) and Alden Shoe Company shoes ($345 for the Indy Boot), and shelves of fedoras, hand-woven Panama hats ($58 to $445), berets, Flapper-style cloches, straw hats and cocktail hats such as this pink Vixen  ($98). Helmer hats aren't just a Portland phenom; the company ships its chapeaus to 48 countries around the world.

If you're lucky, Cynthia Thayer (left), the women's headwear buyer, will be working. She's as knowledgeable about hats as she is good-natured. "Oh, your head isn't so huge; you're about a 7 1/4," she says, sizing up my noggin after I divulge that I share a hat size with my dad and, come every birthday, my mom reminds me that the size of my head almost did her in when she birthed me.
"I was a very good John Helmer customer before I started working here," says Thayer, a "hat addict" since she was 12 and whose husband tops out her hat collection at 32. "When I buy a new one, I'm supposed to let an old one go, but I'm up to 34."
NEED ART? GO HERE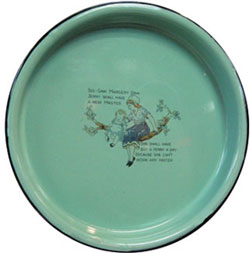 If you're living with a blank wall in the best room of your house because you can't afford the oversized canvas you really want to live with forever, join the Portland art museum and start accessing the Portland art museum Rental sales gallery (1237 S.W. 10th Ave., 503-224-0674 or e-mail [email protected]).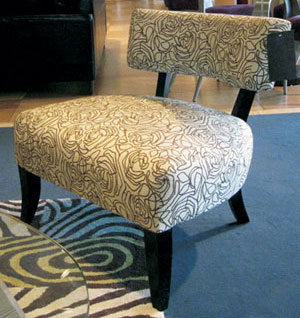 Founded in 1959 as a nonprofit organization, the gallery showcases and rents the works of more than 250 Pacific Northwest artists. Included in the mix are some 600 pieces of art from more than 2,000 inventoried works that include oil, acrylic and watercolor paintings; wood, metal and stone sculptures; framed prints, drawings, photographs and collages. We liked this William Kucha basalt-and-steel sculpture (left) called Odd Family. You can rent the 12.6-inch-tall piece (it's 8 inches wide by 6 inches deep) for three months for $128 or purchase it for $2,400.
Rental fees—which range from $40 to $400 for three months—are based on the purchase price of the artwork. So what happens if you fall in love with a rented canvas? Just buy it. In fact, the gallery deducts half of your rental fee from the price of the artwork. Sounds like a plan!
 MOD MERCH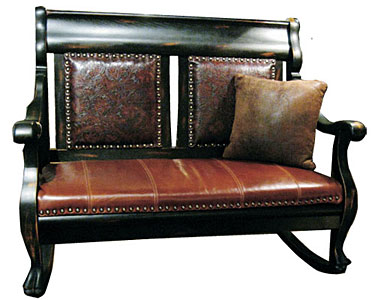 ARTFUL GOODS (1233 S.W. 10th Ave., 503-295-3022 or go to artfulgoods.com), a contemporary gallery and gift shop, carries well-designed fare such as Mr. and Mrs. Hangup Wall Hooks by Black + Blum ($28 for the stainless-steel, roughly 4-inch-wide by 5-inch-tall couple), whose upturned "arms" are ready to take on the task of holding your favorite robe or jacket. We also liked the white porcelain Manga Chat Plates, which Japanese designer Ikuko Nakazawa designed in 2007 for the Museum of Modern Art in New York; the platters are shaped to look like the talk bubbles in Japanese comics, called manga ($48 for a trio that includes a small, medium and large plate). The gallery shows work from creatives such as Southern Californian Tim Biskup, Claudia Delado Porter (who was born in Mexico) and several Portland artists, including Kimmie Hutchins.

INSTANT ANCESTORS AND HOUSE PORTRAITS, TOO
 Hang out with the history buffs at the OREGON HISTORICAL SOCIETY RESEARCH LIBRARY (1200 S.W. Park Ave., 503-306-5248 or go to ohs.org). Before you pay your $11 admission fee (society membership—$25 for students; $60 for individuals—includes free library usage) and take the elevator up to the fourth floor, though, repeat, "Rules Are Good" as a mantra. That way you won't get frustrated when the staffer sitting at a desk near the elevator greets you with a rundown of rules: Purses aren't allowed in the library (there's a bank of lockable metal lockers near the elevator to stash yours in). You can't take notes with a pen; use a pencil. You can't use your cellphone (finally, sanity!).
That said, using the library is worth such inconveniences. I had fun pawing through the card catalogs filled with photographs such as this 1912 portrait (below; copies cost $10 to $350, based on size) of Rose McKinley and an unnamed child that Salem, Ore., photographer Tom Cronise took and searching a folder filled with shots of my neighborhood (after I put on a pair of white gloves, per The Rules) in search of photos of my 1906 house (Portland architect Donna Wax found this one of her home).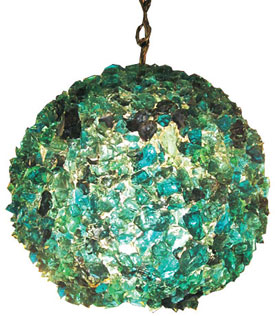 "People always point to a historic photo of their street and say, 'If only the photographer would've turned around; my house is right over here,'" says research librarian Scott Daniels.
FLOWER POWER: SUPPORT LOCAL FARMERS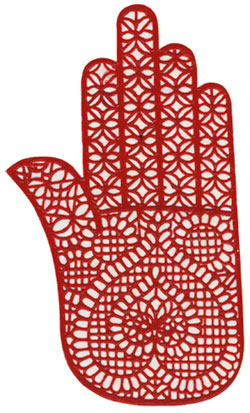 It's nearly impossible to beat the prices on the bouquets of flowers at Trader Joe's, but flower lovers know you can't match the freshness of the just-picked flowers at the WEDNESDAY DOWNTOWN MARKET at Shemanski Park on the South Park Parks (the South Park block bounded by S.W. Park avenues, S.W. Salmon and S.W. Main St., or check out the market's website at portlandfarmersmarket.org).
  Held from 10 a.m. to 2 p.m. on Wednesdays (until Oct. 27), this smaller outpost of the Portland Farmers' Market always has a nice selection of seasonal flowers that changes with the season (think lilacs to peonies to dahlias to heirloom roses to cockscomb to sweet peas to berries to perfect-for-decorating-for-Halloween cornstalks and pumpkins).
You'll also find just-picked veggies, breads and pastries, artisan cheeses, specialty meats—and street food that's so good and reasonably priced that it entices office workers to step away from their own farms: Their cube farm, that is. 
BARS FOR CHOCOLATE—AND BISTRO FARE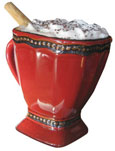 Drinking chocolate is the beverage of choice at CACAO (712 S.W. Salmon St., 503-274-9510 or go to cacaodrinkchocolate.com), which fills a small space in the corner on the first level of the Heathman Hotel. We loved how our chocolate macchiato ($2.75, right) coated our tongue with melted chocolate, then jolted us awake to be on our way as we finished shopping the district. Imported chocolate bars—some from as far away as the West Coast of Africa—and pretty confections ($2.50 for a Caramel Fleur-de-sel
topped with a toasted nut from DePaula Confections, which specializes in European-style filled chocolates) pack a big impression in such a teeny space.
Head for the bar at HIGGINS RESTAURANT AND BAR (1239 S.W. Broadway, 503-222-9070) to get in on a bistro menu that includes a cup of soup of the day ($7) or dishes such as oven-roasted heirloom potatoes with red pepper rouille ($8.50). Yum!
TOP 'O THE MORNING TO YOU, SHAMROCK HEAD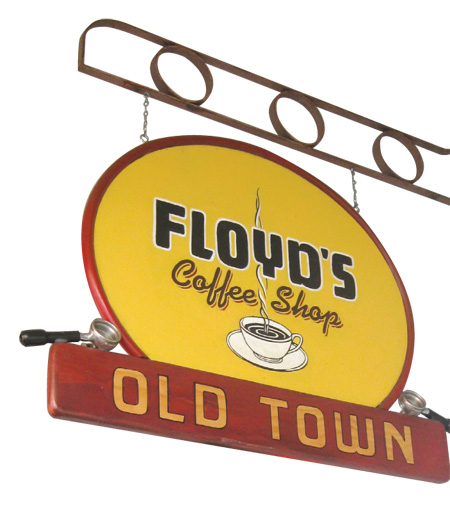 We figured we would find Irish linen handkerchiefs and Belleek Irish china in ATHLEEN'S OF DUBLIN (737 S.W. Salmon St., 503-224-4869 or go to kathleensofdublin.com), but we didn't count on finding these cute little rubber duckies (three for $1.95).  Before you relegate the shamrock-painted cuties to the kiddie pool, know that a Portland sales manager bought flocks and flocks of them to motivate his sales crew. 
If you come from Irish stock, you can pay tribute to your heritage on your front door with the Claddagh Door Knocker ($65), which is decorated with a symbol specific to the Irish (hands signify friendship, a heart stands for love and a crown speaks of loyalty).
BEYOND THE TOTE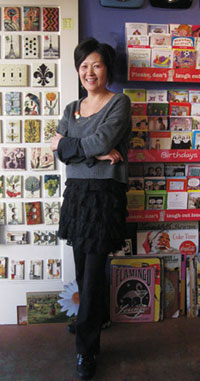 If you're thinking about not ducking into the Portland art museum gift shop (1219 S.W. Park Ave., 503-276-4321 or go to portlandartmuseum.org) because you've left your tote years behind you, think again. This museum gift shop has a playful mix of quality goods, starting with the table of oh-so-affordable 11/2-inch-wide silver beaded cuffs ($10 each) and nearly 2-inch-wide beaded bracelets ($24, left).
"A lot of museum shops want to splash their logo on tote bags, but who wants that?" asks manager Michelle Betcone, who was a buyer for Nordstrom in Seattle for nine years before taking over the gift shop five years ago. Her lively mix includes Escama Studio handbags made in Brazil of recycled aluminum pull tabs ($67 for a clutch), artsy silk Ambika scarfs embellished with eyelash-like half-circles ($20), and an assortment of
glass eggs.