Thanks to my good buddy Eve (Sounds like I'm on a CB radio, doesn't? Hey, good buddy, there's a Smokey at mile marker 40 on the 10!), I now know that if I'm ever in Canada, there's a store I have to hit.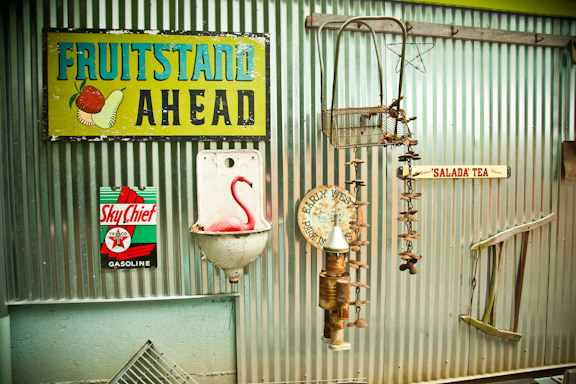 A general rule for my life is this: Never head north / only go south. It's sunnier on the southern routes. Nevertheless, if ever in Canada it would be good to alleviate the cold by shopping. Check out this site. Cool salvage / deconstruction store, for sure. Dimensional lumber, barn wood, roof tiles, tin tiles, hardware, doors — heaven for a salvage nut like me (and, maybe you). But what if you're not officially at the salvage nut level yet? What if you love salvage but are totally stymied by it: How to use it, project ideas, where to start? Allow me to help. This post is for those of you who have wandered into a salvage store like this one, loved the inventory, but had no idea how to use it. To assist, here's your "how to shop in a salvage store / deconstruction service" tutorial. Beginners only. Below is a list of typical inventory you will find in a store with salvaged building materials, and potential projects to get you thinking. Thinking about what? About how to use salvage in your house during 2015. The trick is to start small. Start with a backsplash or a gate. Get your sea legs, and work up to the big stuff.
1. Salvaged metal roofing or siding is a wonderfully versatile material. I have a fence made out of it, plus my garage is covered with it. Inside your house it works for an accent wall or room
dividers (frame the corrugated and put the panels on casters or hang them from barn door sliders). Have you ever come across an old screen door and wondered what to do with it? Try backing it with corrugated metal like this. Need a garden shed? Use some corrugated! It even works in the kitchen.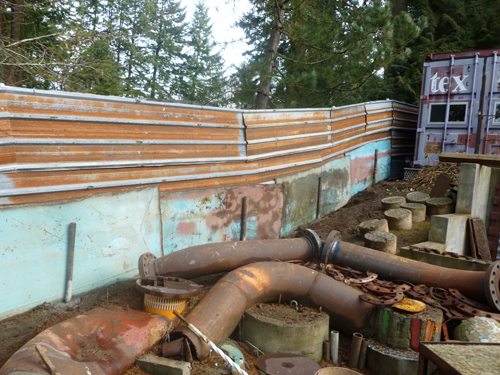 2. Structural lumber. How about a simple platform bed? No tools required, but get help to move the wood into the house to you don't bang up the walls or throw out your back.
3. Vintage siding, paneling, or barn wood makes a great accent wall, backsplash, kitchen island,  kitchen cabinets, a headboard, flooring — and can even be used for a vintage bathroom. Take as much variation in the wood as you can handle. Your room will truly be one of a kind. Tin ceiling tile or tin roof tile. For a small area jolt, use it on your kitchen backsplash, or for a headboard or headboard wall. Want to go even smaller? Frame an old mirror in this tile; it's a cool look.
5. Industrial sinks or hardware. These items are statement pieces in a bath or kitchen.
6. An industrial or salvaged door is most impressive when used as a door. Forget rules about matching wood or color, just use the door any way you can! And remember, you get more design points if you hang the door from vintage hardware and an old piece of pipe. Also, whether on its side or mounted vertically, a door or pair of doors will make excellent headboards. There's always the table / desk option for your old door, but the simplest thing to do with one sweet door is to prop it against the wall as art.
The best ideas for salvage beginners are those involving no work (platform bed) or minimal work (desk top from an old door). You won't be a beginner for long. Trust me, once you get started using salvage around the house, you won't be able to stop. It's too much fun.