Produced by the marketing department of Oregon Home
Ever been trapped on a crowded freeway at rush hour and wish you could have walked to work? Well, that's exactly what happened to Mark Welker. A recruiter for a major insurance company, Welker grew weary of the nearly one-hour drive into Portland from his home in Canby.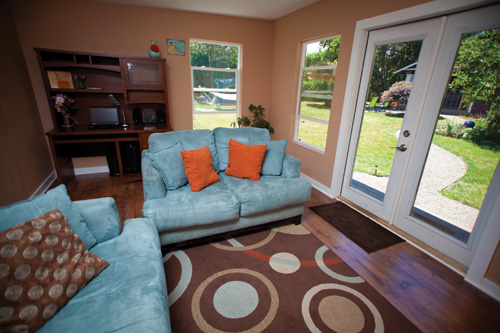 // Photos by Adam Wickham
Last September that all changed. He called MakeSomeRoom, a builder of small, standalone home offices. MakeSomeRoom built a 200-square-foot office in his back yard. Now instead of battling rush hour, he walks 30 steps to his office.
"MakeSomeRoom's solution made perfect sense for me. I save money, time and I'm a lot less stressed," said Welker.
Welker is part of a growing movement, says MakeSomeRoom's owner, Matt Melton.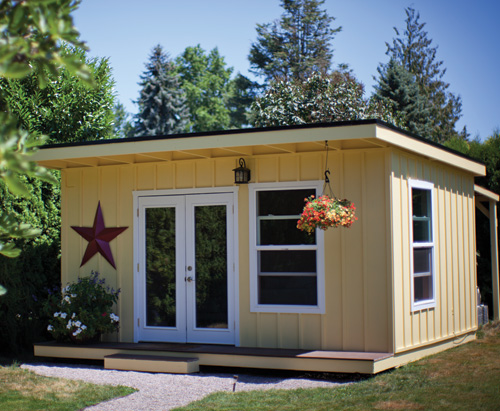 "These backyard studios are huge in Europe as an affordable way to add usable space to your home. A few years ago, you couldn't find but a few of these in the states, but they are growing in popularity as people look for creative ways to add more living space without doing a home renovation," Melton says.
His company offers 120, 140 and 200-square-foot units. They are finished with recessed lighting, standard outlets, phone and cable jacks, insulated floors, walls and ceiling, and even a porch light. These attractive units offer distinct advantages over prefabricated outbuildings, which require additional work to be fully functional. MakeSomeRoom's studios are designed so that, once they are built, they are ready to use. "There's no extra work required by the customer," Melton says.
Melton says uses for MakeSomeRoom's studios go beyond the home office. "There is a lot of interest for use as a room for a hobby, as a man cave or even as a space for older kids to claim as their own hang-out," he says. "I even have an author considering building one for a quiet space that will allow her to focus on her writing. The possibilities are endless. 
For more information please visit makesomeroom.net.