By Nancy Ranchel
It's time to get outside. We're having freakishly gorgeous weather in Portland, and inside activities can resume in late October. Plus it's the solstice. I'm guessing you usually slaughter a goat, cover yourself with blood, and dance around some stone figurine. Isn't that getting a little old? This year, let's do something really crazy: make something for your outdoor living space out of salvage. Your skin and the goat will thank you.
Need some ideas? I'm here to oblige!
If you're like me, you've been planting and cleaning and replacing broken pots. Fertilizing, getting muddy, cleaning furniture covers. Maybe you found a family of mice living in your outdoor cushions. Did you swear a blue streak? Well let's move on from all that dirt and mouse poop. Stop and take a fresh look at that patio, deck, or garden and figure out how to make it even cooler than you ever imagined – without buying new stuff.
1. How's your patio furniture? If it's totally shambolic, here's the plan. Grab a vintage tablecloth or curtain that's sitting around the house, and cover up your ugly table for a short-term fix. Do the same with the chairs. Next, check out this Pinterest board for patio furniture made from wooden pallets. Where to get the pallets? Wong's Building Supply usually has a pile sitting in their parking lot, free for the taking. Get your booty over there, load up the car, break out the drill set you got for your last birthday, and get to work.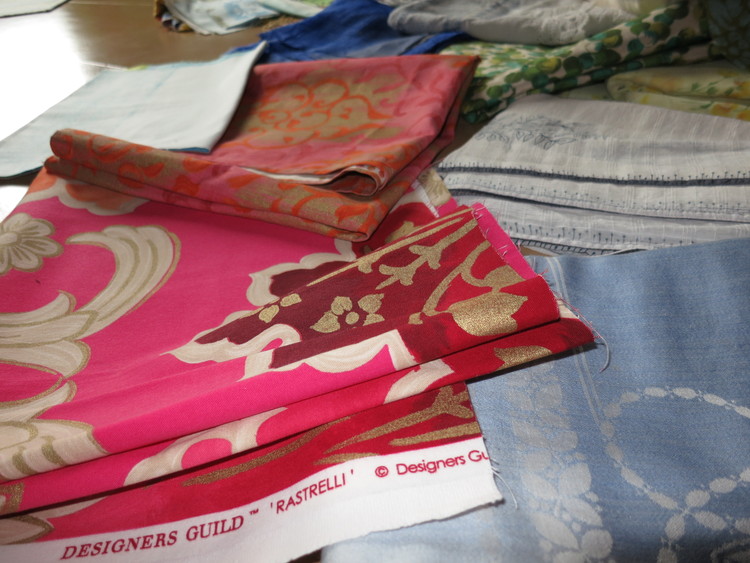 2. Once you've got a plan for the pallet furniture, start the rehab on your outdoor pillows, otherwise knows as one of the great frustrations of life. If you don't have storage for them they are likely to rot in the winter. If you do have storage, the mice are likely to find them and set up a condo facility in their nice fluffy fill. Trust me, this is a thing. And, this is where a scrap fabric collection comes in handy. Use those gorgeous old tablecloths and curtains to recover your old pillows. If you have a big enough piece of fabric, or a set of cool old curtains, you can even make a matching set of covers for all your damn pillows. Old beach towels also work well for this project: fold or trim them to the correct size and add tie closures (like you see on some drapes). This allows easy removal for washing. Don't go to Target and buy more pillows. That's just throwing away good money on a bad product for the mice to enjoy next winter. In this old post there's a link to a how-to re: using plastic bags as pillow fill, in case you need fill, too!)
3. If your planters are broken and / or ugly, don't go buy new ones. Unless you are rigorous about bringing those new planters in every year, they will break. Look around your house for creative containers. My favorites are old metal buckets and tins (like Saltine cans from the 60s or a coffee tin from whenever). I used to collect old metal picnic and bread baskets – for what reason I have no idea – and now I drill
holes in the bottom of them and use them for planters. Other container options: coffee cans, old pans, your old hibachi. Basically, anything that will hold dirt is good for a planter. And metal doesn't freeze and break in the winter.
4. Are you craving an outdoor room, or at least some shade? Can you picture a camper awning? Attach some hooks to the side of your house (cup hooks can work) and use them to attach any of the bigger scrap fabric items I keep mentioning (or old sari silk!) to the wall of your house. Attach the opposite end of the fabric to poles (old curtain rods, wooden dowels, whatever) and make yourself some shade.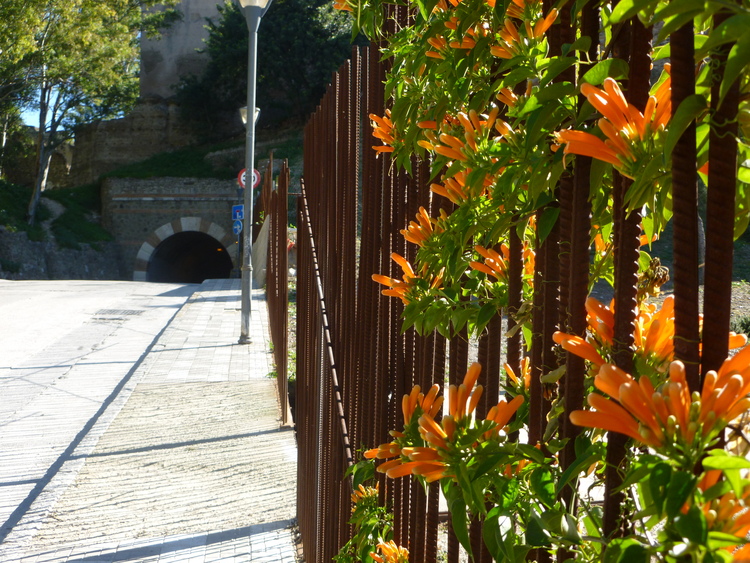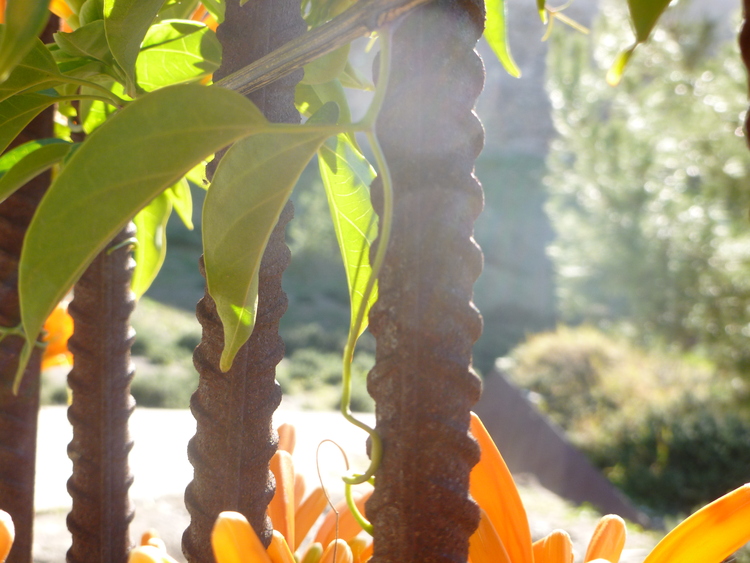 5. Do you need a new fence? Try making one out of old skis. Or rebar, as in Pics 2 and 3 (above). Your fence introduces your house to the world. Make it a memorable introduction rather than like every other house on the street.
Now, I'm not a total doofus – I'm aware that the thought of using mis-matched coffee cans as planters might make some of you break out in hives. Given that, if you need to shop, here are some suggestions:
– Mossy Creek on the coast for pots and birdbaths made by local artists.
– Loll Furniture made from recycled milk jugs if you want to splurge. And these don't even need furniture covers in the winter. They're recycled plastic, baby! Just wash 'em off. I want to go this route, because I hate furniture covers.
– Freecycle and Craigslist for low cost or free options. People have been posting available patio furniture every week on Freecycle lately. Go crazy and put a post on Freecycle with your "wanted" item (metal bistro table with chairs, for example). Who knows, maybe the universe will provide!
OK, you know what you need to do. Renovate that outdoor area. Think salvage. Don't think Costco. And enjoy this gorgeous weather!